If you couldn't guess from the name, the Boom Swimmer is a mid-range waterproof Bluetooth speaker, with an inventive tail attachment that sets it apart from other speakers in the same price bracket.
The Swimmer is small, made of a soft rubber, which is one colour for the most part, with a contrasting plastic grill covering the speaker itself. Onto this you can screw one of two attachments, either the headline tail or a small suction cup. Made of the same rubber material, the tail can be contorted into various shapes, acting as a stand for the speaker or as a loop/hook to attach it to a bike or a pole. It's incredibly nifty, allowing you to use the speaker in any circumstance, even if it can be a little tricky getting it to balance when used as a stand. If all else fails you can mount it on a wall using the suction cup, which can easily take its weight.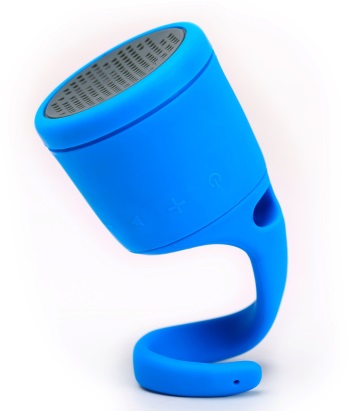 This adaptability combined with the fact it is waterproof – up to thirty minutes at a depth of one meter – means that the Swimmer really can be used anywhere. While reviewing it, the speaker has acted as in car entertainment, background music for a small party, and most often as the source for a shower sing-a-long.
Happily, the Swimmer is incredibly easy to set up and use as well. Holding the Bluetooth button for 3 seconds sets it searching for devices to pair with, after which my laptop and iPhone automatically connected to it when it was turned on. Other than the Bluetooth and power buttons there are volume controls and a play button, arranged neatly along the bottom near the tail attachment, with a small blue light letting you know when the device is on, as well as a clear announcement telling you when it has been turned on or off. Boom boast that the Swimmer has an eight-hour battery life on full volume, though it is longer at less, with a two hour charge time – a micro USB socket is hidden under the base attachment, with a cable included to charge it from your computer.
Of course none of this would matter if the sound quality wasn't up to scratch, but fortunately it is. I was pleasantly surprised at how good the audio is when I first used the Swimmer, with voices particularly clear. The only real downside is that the bass is fairly quiet, but from a speaker this size and at this price range you wouldn't really expect any better. The volume is reasonably loud as well, enough to fill a moderately sized room and plenty if, like me, you use this as a bathroom speaker.
The Swimmer does have a few issues beyond the sound quality though. The rubberised texture gets marked incredibly easily – as a portable speaker it is more likely to get knocked and scratched anyway, so this is a bigger issue, and while its Bluetooth range is fairly impressive, comfortable at ten meters or so, walls and other obstructions can dramatically lower this. At one point the source was just over two metres away, separated by an internal wall and the sound began to break up.
Neither of these are deal breakers however. For its size and price, the Boom Swimmer is a great wireless speaker with excellent audio quality. That it is waterproof and can be mounted in several ways thanks to its twisting tail is only a bonus.
Review unit supplied by manufacturer.