Release Date
July 10, 2015.
F1 2015's biggest problem is a unique one: it does too good a job of replicating the sport it's based on.
That might sound mental, but bear with me. This season – and the last for that matter, which is also included in-game – has been dominated by Mercedes. All but one race this season has been won by the Silver Arrows, with both drivers on the podium every weekend. Behind them sit Ferrari, just ahead of Williams, with a slightly more competitive battle further back. Races have been dry and flat, with the outcome mostly forgone after the first couple of laps.
As in the sport, so it is in the game. Every race in a season has a Merc on pole, with Ferrari scraping one or two victories if the AI is left to its own devices. One car having a massive advantage doesn't bode well for a racing game. Past racers have gotten around it by limiting vehicle makes, adjusting power, adding in rubber-banding or providing alternate routes to balance the scales, but F1 2015 can't do any of that, constrained as it is by the sport that licenses it.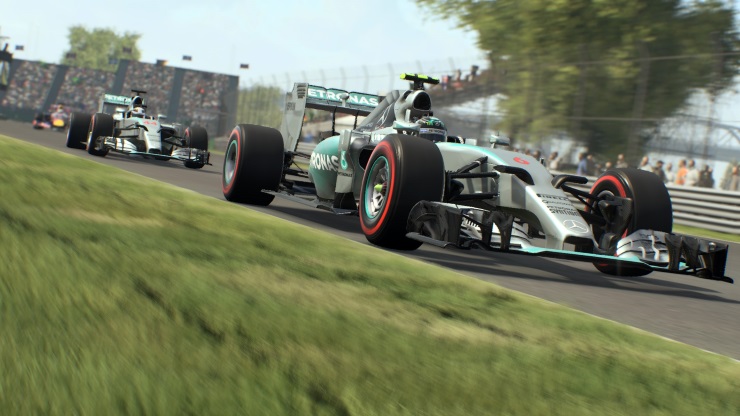 F1 has always had teams that are measurably better than the others, and to counter this Codemasters has provided a career mode in its F1 games, starting you off in a slower team and making you earn the right to drive for Ferrari or Red Bull. Until now, that is. Its replacement is a single championship season, for which you pick a real-life driver to play as. Sure it provides context for your racing, but on finishing a season you're rewarded with the message: "Nice one, now why not try as a different driver." That's it. It means there is zero point driving for the always-back-of-the-grid Manor, most of the mid-field teams or even Ferrari and Williams. Be Mercedes or you won't win.
Well, that's not entirely true. Unsure as to whether there was a multi-season aspect to the championship mode, I started off as Torro Rosso, thinking I'd earn my stripes. Picking the "experienced at racing games" option to start with, I dived into my first race, and was astounded when I won by several seconds. Expert difficulty followed, again with too little competition, and it was the highest Legendary setting with several assists turned off that finally made things to my liking. Tweaking the difficulty setting to provide good racing is nothing out of the ordinary, but the need to go to the highest straight away – when I'm not that good at racing games – was strange.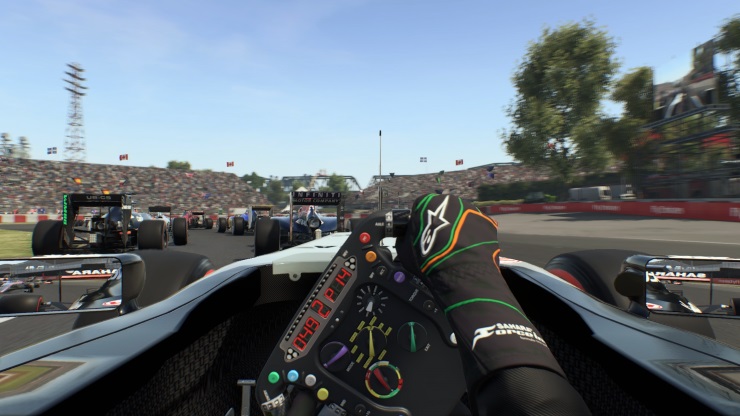 To cement that F1 feel, each race session now has a short, TV-style intro, narrated by commenters David Croft and Anthony Davidson. It mirrors the TV content pretty well, with incidental dialogue about the Driver's Championship or a Team's new driver for this season. Similarly, to change settings in the pits before a session, an engineer now hands you a touch pad – as the drivers in real life get to review data. Both are nice touches, but after a while you'll find yourself automatically skipping the pre-race nattering and cursing the 10-seconds it takes for the touchscreen to be passed to you where before there was a menu that activated immediately.
Another new feature is the enhanced dialogue with your race engineer. When on track you can now hold L1 to bring up a list of questions to ask your team, with his responses coming out of the pad speaker on PS4. It's a great touch, but unfortunately a bit unwieldy to use, too distracting to use anywhere but the straights, and even then problematic if you're trying to overtake or defend your line.
And it's a pity because underneath all of this, on track F1 2015 can be pretty fun. Downforce glues cars to the track, and it's a joy to thrash every available millisecond out of a lap. The racing, when you get into one of those mid-field battles is excellent. The AI is aggressive, defending vigorously and making brave late-braking manoeuvres into tight corners. There's a hint of double standards though: the AI will just turn in and hit you if you try to undertake them into a corner, but expect you to leave them room when they try the same thing, earning you a penalty. That said, they're not infallible, earning penalties themselves for cutting corners and straying off the track.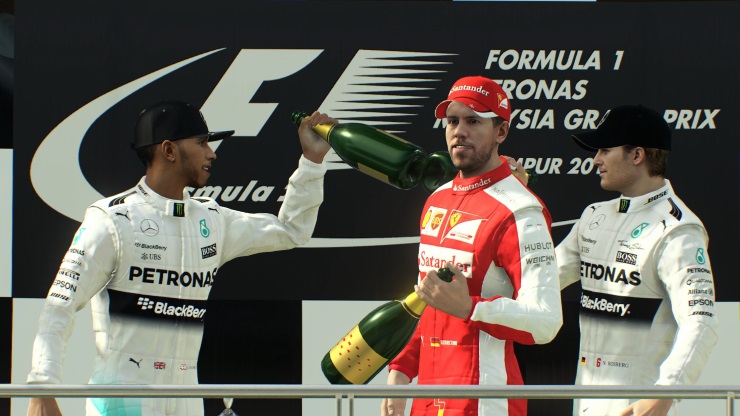 It can look damn fine as well. Not as good as DriveClub or Project CARS, but F1 2015 does have its moments – the Singapore night race is a particular highlight – and the TV-presentation stuff has all the licensed graphics and such, although driver likenesses are recognisable at best. The good stuff doesn't justify the bad, though. A lack of modes severely lets it down, with online and time trial alongside a Pro Championship mode – which is essentially a regular season on hardest difficulty – only there to pad out the main menu.
F1 2015 is in a tough bind, then. If every car was as quick as the Mercedes it wouldn't be F1 2015, but because there's no career mode to build up to driving for them, no need to earn your place with the Silver Arrows, there's no real sense of progression, and certainly no point driving for anyone else, which ironically is where the best action is hidden. Unless you absolutely must have an F1 game this year – and Project CARS' unlicensed Formula A doesn't do it for you – F1 2015 isn't the racing game for you.
Review code provided by publisher.
Positives
Realistic interpretation of the 2015 season.
Cars handle well.
TV presentation.
Negatives
Too realistic an interpretation of the 2015 season.
Lack of modes.
Zero progression.
F1 2015 mimics the 2015 season in every aspect, unfortunately that includes the bad ones, too.