Release Date
November 6, 2023
Unless you pour in hours and hours into Football Manager, it's harder to notice how the incremental tweaks affect the enduring seasons of their popular management series. Football Manager 2024 has made a variety of changes, but unless you're a series veteran, it's unlikely it'll do much to pull you in. Saying that, the latest iteration is about as complete an experience as you're going to get before the big overhaul that is set to come with next year's release.
What you do get with Football Manager 2024 is a fantastic and detailed title that allows you to control every element of your manager career. Going into the job at Derby County in League One was never going to be easy, but having the option to change training regimes and player goals, create deep and nuanced tactics while delving into a promising youth team, and bringing in new players at the same time as building the morale of the current squad in the face of adversity offered plenty of challenges.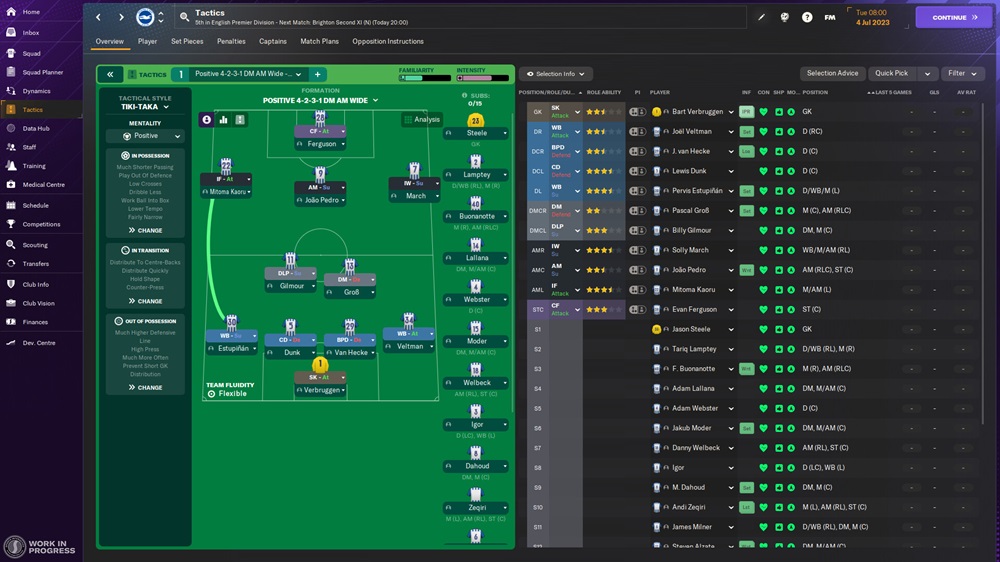 It's not obvious at first, but having the ability to streamline staff meetings and filter out what's on the agenda made these interactions more focused on the problems at hand. Improving player performance and experimenting with tactics is more unforgiving thanks to improved AI, taking me some time to find my feet and start to rise up the league. It wasn't until halfway through my first season did I start to feel like the changes were starting to take shape, and Football Manager 2024 gives you hundreds of ways in how you can get the best out of your players and staff.
If you're coming in fresh, Football Manager 2024 offers plenty of help in getting your head around every element of football management. There's a healthy tutorial if you're wanting to be responsible for every key decision and job, or you can dish out roles for your assistant manager and backroom staff if there's a specific focus you'd rather get stuck into. As your inbox continues to fill and new decisions arrive with every passing day, you'll start to understand the pressures of Ten Hag, minus the collapsing roof and rogue wingers.
When it comes to the new features, transfers have received some improvements when it comes to finding players who'll fit in with your tactical vision and AI teams wanting to loan out your younger players. I was looking for a strong and experienced full back for Derby, and 34-year old Oscar Murillo was brought to my attention based on the tactics I was utilising in matches. Your staff will search for players who'll fit the mould and then it's up to you to see if they're worth pursuing. The AI of competing managers has also been improved, and you'll find many of your younger players targeted to fill specific criteria.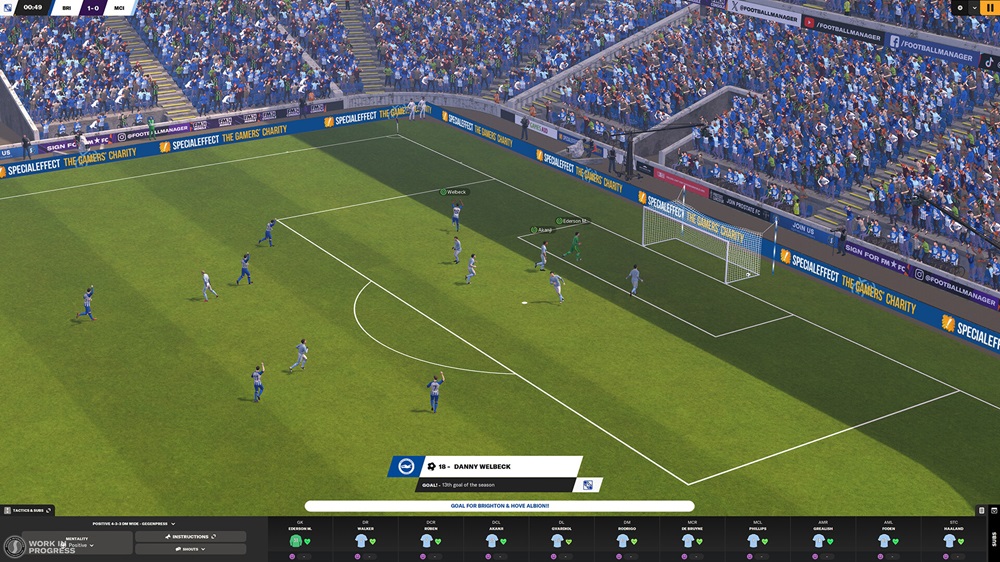 This means that when a player gets loaned out, they're going to hopefully get minutes while improving on traits that'll hopefully benefit you upon their return. Managers look for areas where they're lacking and will ask to loan youth players in an attempt to improve their squads while also benefitting you. This doesn't just affect youth players, as you'll find members of your squad approached if their form and performance is decent, or whether their style fits well with opposing team tactics. Another big change comes to offloading players who don't fit within your tactics any longer.
It was always a bit of a laborious task when it came to selling players, but the new intermediary role helps you to shift them to other teams if their agent isn't playing ball. It's never a given, but the new role gives you a better chance to offload someone by generating interest in them. Needing this role isn't always necessary, though. You can now consult with agents who'll give you a better understanding of a player's value if you're desperate to shift them. Factors like whether a player wants to leave or if they're happy at the club all play into this process, adding more variety to transfers.
Football Manager 2024 also helps you to build morale and trust through targets for your players. By choosing targets for players, it gives them something to focus on, such as scoring more goals over a set amount of time. Selecting a target leads to making them promises, and if they manage to achieve said target, it's important to make good on your promises. Failing to do so will lead to problems later on, so keeping a close eye on how players are progressing towards their targets is important. You can keep a close eye on their progress, which adds to a more personal approach to player-manager relationships.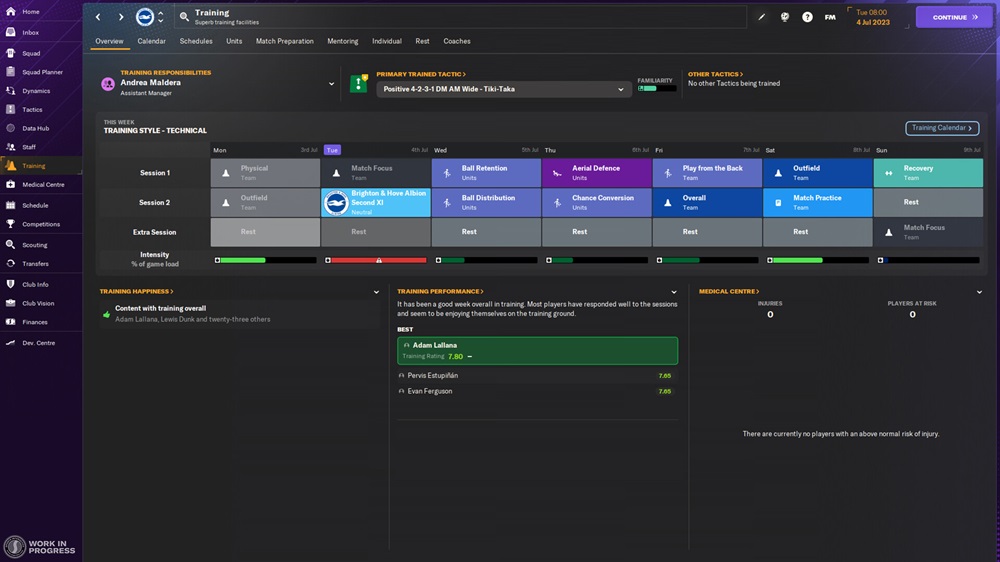 Building morale in your squad can also happen through how you handle criticisms from journalists, critics, and former and current players. Former Rams Igor Stimac, Wayne Rooney, and Will Hughes all raised concerns at certain points in the season, passing judgment on specific player's form or decisions on how I handled transfers. The way you respond can affect your team's morale, so it's important to be smart on how you handle these individual's comments.
The visuals on matchday have been improved when it comes to player movements. Watching full matches or highlights flow a lot better, and ball movement down the pitch through smart player passing has clearly seen an upgrade. The variety of shots and crosses are seldom repeated, and despite losses being a bitter pill to swallow, it's more enjoyable watching games unfold thanks to the realism and variety in how teams play the game. The lighting looks refined, and stadiums are crisper, with the general look on matchday better than last year.
Football Manager 2024 is about as complete as it can possibly be, with the majority of the game feeling unchanged from last year. The new improvements do help to improve transfers, as well as give you more control in getting the best from your players, and the visual improvements make watching matches unfold more enjoyable than last year. Having the opportunity to load last year's save is fantastic, as there will be players who want to continue their previous careers, and the inclusion of the J League makes perfect sense given SEGA are the publishers behind it. Overall, FM24 is a superb management sim that has plenty for football fans to get stuck into.
Positives
More support in the transfer market
Improving players is more involved
Visuals are better
Plenty of options to build your club
Negatives
Many areas similar to last year
Football Manager 2024 has seen some strong improvements to the transfer market and improving your team, making for a superb sports sim.