Release Date
November 8, 2022
Sports Interactive has spent plenty of time over the years refining its football management series to the point where each new entry is tweaked within an inch of its life to give fans the most realistic game it can. Football Manager 2023 doesn't have any big bombastic features that'll revolutionise the way you play, but it adds some improvements that keep the franchise head and shoulders above the rest. Obviously, it's well worth playing if you want the latest squads, rules, and leagues, but is there enough to separate it from last year?
In a way, no there isn't. It's hard to improve on the level of detail now seen in the Football Manager series. To get the most out of FM23, you're going to need to be a fan of football. Not one of those occasional watchers of an international tournament that thinks they know everything about football after one group match (sorry, Dad), but one who spends hours reading and analysing pages upon pages of data and statistics to make incremental changes to your tactics in an effort to squeeze every ounce of performance out of your team.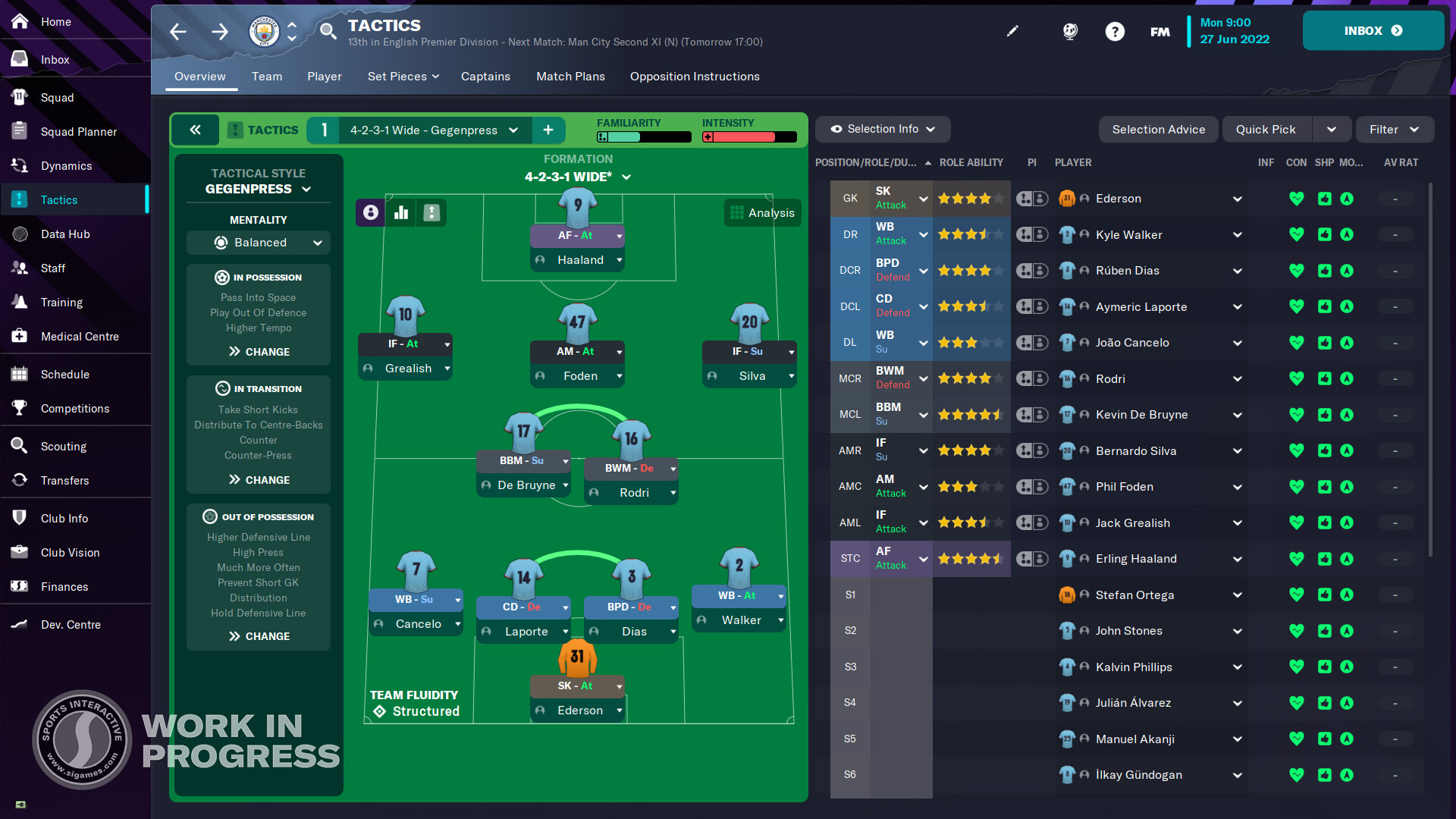 You're not going to get as much out of Football Manager 2023 unless you are prepared to do just this. As such, you might not see a ton of difference from last year's. There's a new squad planner that makes it easier to plan out your line-ups and transfer picks; a revamped scouting system that helps you to find better suited players to sign; and a reliance on talking to player's agents that aim to give you more control over your squad. It's not hugely noticeable, but rather slips in nicely to your day-to-day activities when not on the pitch. Some of the annoyances are still there, however, such as lengthy transfer negotiations and press and player meetings that frustrate when the wrong thing is said.
Another addition is the inclusion of supporter feedback through something called the Supporter Confidence System. Much like Malcolm Glazer still owning Manchester United, it never feels like the fans have any real sway with your decisions. The effort put in by Sports Interactive is seen at a much deeper level rather than on the surface. For example, opposing managers are supposed to make dynamic changes to their decision-making during matches, but I couldn't tell you when or where this happened as it simply felt like any other match from previous seasons, where natural changes occur to counter my team's performance.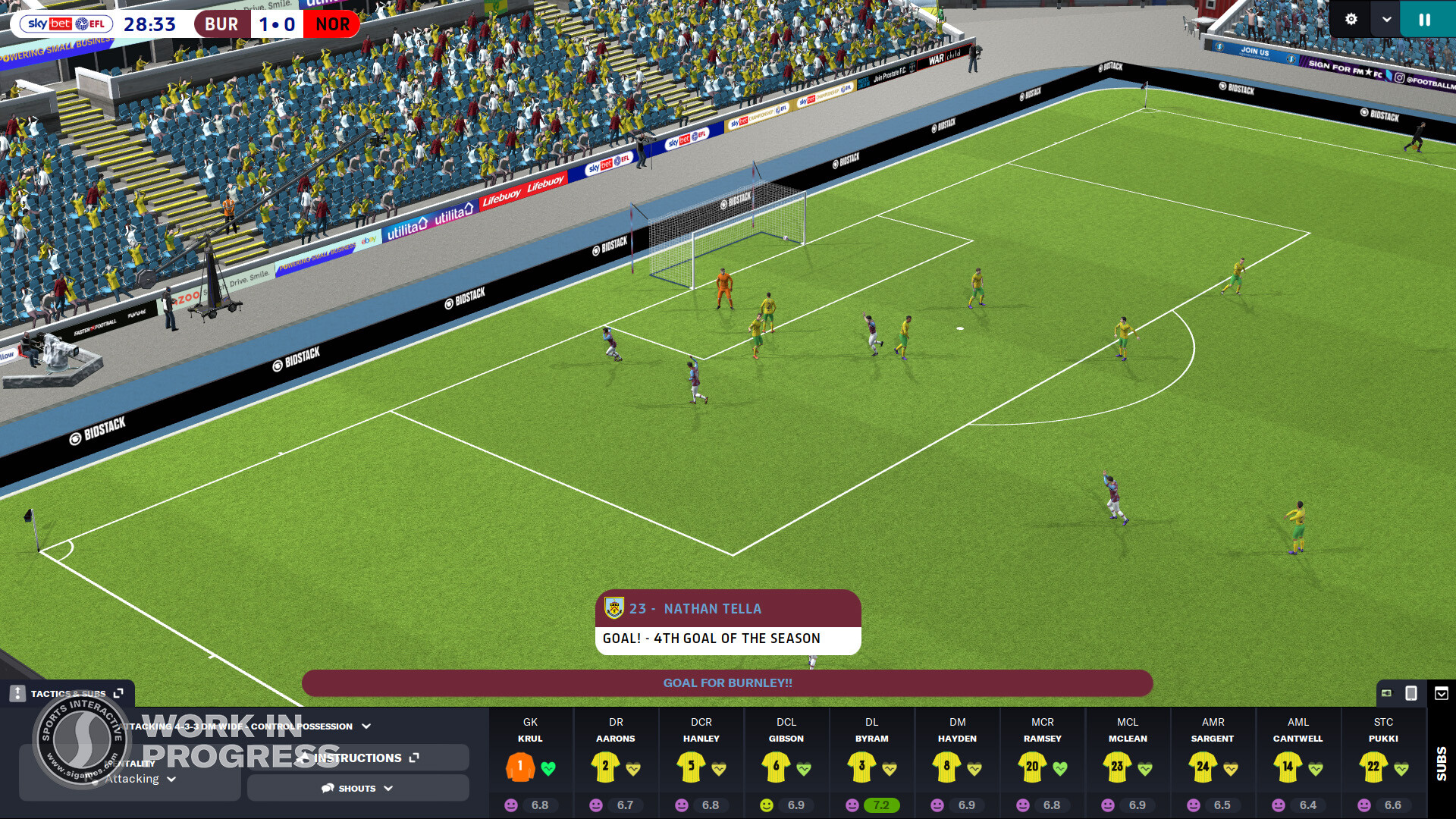 Despite these additions not being hugely impactful, Football Manager 2023 is an incredible management sim. Every single decision in regards to training regimes, transfer discussions, tactics, injuries, and more can be played with, giving you unprecedented control on how your team performs. You can be as hands-on as you wish, or distribute responsibilities to your assistant manager and backroom staff. It's always satisfying taking a team up the leagues, and the new Dynamic Manager Timeline lets you view all your achievements in glorious detail after every season.
You get out as much as you put in. Hardcore fans will play countless seasons with every new entry in the franchise, and there's so much on offer to keep you enthralled. The more you play, the better Football Manager 2023 becomes, and I can't fault Sports Interactive for the amount of effort they've put into every facet of club management. You'll grow close to your board through constant meetings to discuss potential prospects or changes to your tactics on a Saturday afternoon, take great joy in building up young prospects into Haaland-esque goal machines, and generally just building your team into trophy hoarders.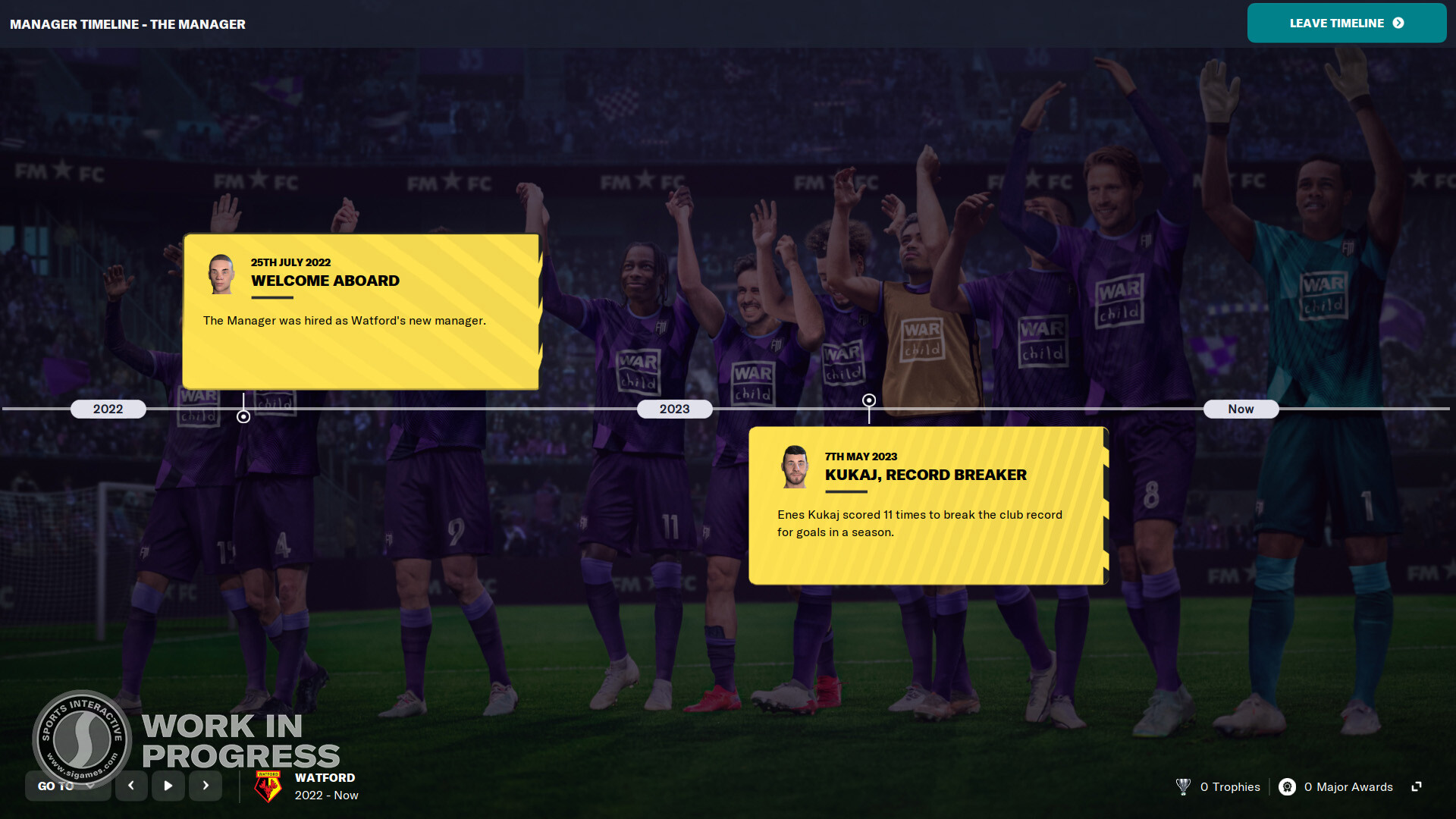 One improvement I did notice, however, is the presentation during matches. One issue with previous entries was how robotic some of the players moved. Breaks down the wings were linear and less fluid, and goalkeepers were static when anticipating a shot on goal. Now, players move more freely, and it does feel like watching proper football sometimes. Going through seasons as Derby County is never going to get me into the Champions League regardless of how good I am, but those wanting to hear 'the championsssss' blare out, complete with realistic graphics from the competition, finally get it this year. There's also licensing for the Europa League and Conference, which provides a better spectacle for those competing.
Football Manager 2023 is a fantastic management sim, providing plenty of detail in how you run your club. There might not be any obvious improvements outside of the inclusion of licensed UEFA tournaments, but the more you play, the better the game becomes. The improvements into how matches unravel on the pitch was a welcoming one, especially as the bulk of your enjoyment comes from seeing how your gameplan unfolds on the football field. While not hugely dissimilar from FM22, it's an obvious addition for fans who have come to love the hard work put in by Sports Interactive over the years.
Positives
An incredible amount of depth
Inclusion of licensed UEFA tournaments
Improved player movement
Negatives
Additional features aren't impactful
Fans don't have plenty of sway
Football Manager 2023 offers plenty of depth for fans wanting to fully immerse themselves, but there aren't a ton of noticeable improvements. It's still an incredible game, but those wanting to see a huge step-up from last year's won't really find it here.