Release Date
November 9, 2021
Last year's Football Manager was like a drug to me. I played more hours than I care to admit, loving the amount of detail there was in every department. Football Manager 2022 is just as engaging. Not only do you control every aspect of your team, from backroom staff to youth players, transfers to training, and everything in between. While there aren't a ton of changes to the 'office' side of things, there's just enough to warrant you to switch to FM22 and start a new managerial career all over again.
Football Manager 2022: Smarter AI and smoother matchday visuals
Perhaps the most notable change is how the game looks when matches are playing out. Dodgy player decisions would see crosses go all over the place, and passes weren't always played how they should in last year's. Thanks to a new engine, players are much smarter, and move more fluidly. Some of the long balls my players made would fall beautifully at the foot of a winger. Crosses were better placed to land in the best position for a striker to head or boot it in the goal. Occasionally, the keeper would knock the ball out, but a player would take the opportunity to shoot on the fly and get a goal.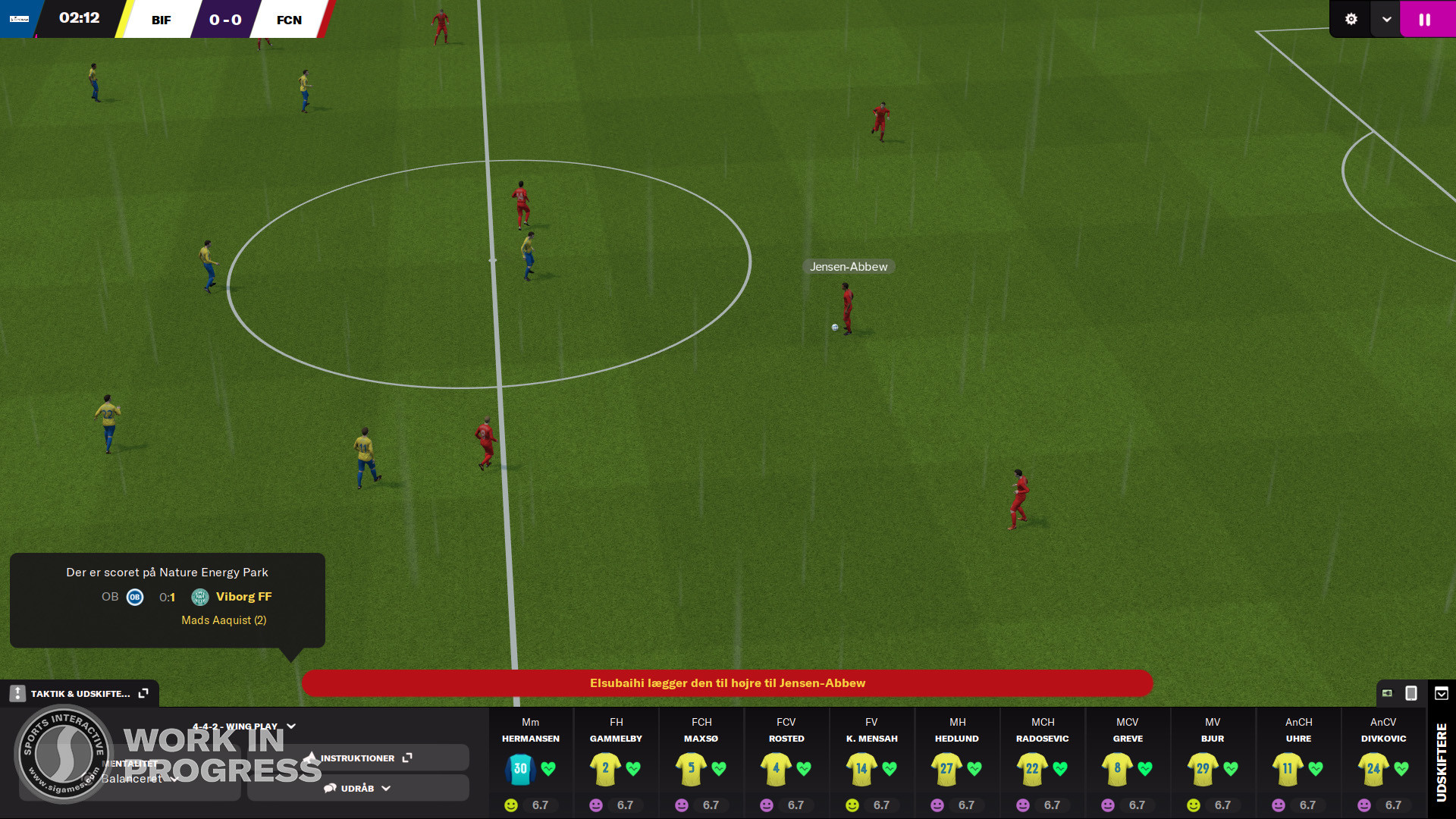 Defensively, the AI will choose to put more pressure on opposing players. The line of defence press against the counter attack while still holding formation. It's great to see your tactical decisions in visual form because it wasn't always clear before. Players pass to others in open space if they can't find a clear root on the attack. In open possession, players will move into space and get ready for the ball. It's noticeable from the go and a welcome improvement for those who enjoy watching their team actually play. The decision-making of the players is much clearer, and the effects of a loss of stamina are noticeable, especially in the final third of a match.
Give me all the data
In terms of the backroom menus, much of it remains the same. With FM21 being such an immersive and detailed game, I was happy to see much of it return this year. Saying that, there're still some new menus and reports for managers to get their teeth stuck into. A key thing for any manager is to understand where improvements can be made. After you've played a few matches at the start of a regular season, the Data Hub opens up. It provides tons of valuable information on how your team is performing in every single way imaginable. It's a dense highway of info to help understand every facet of your team's performance that gives you plenty of areas with room for improvement.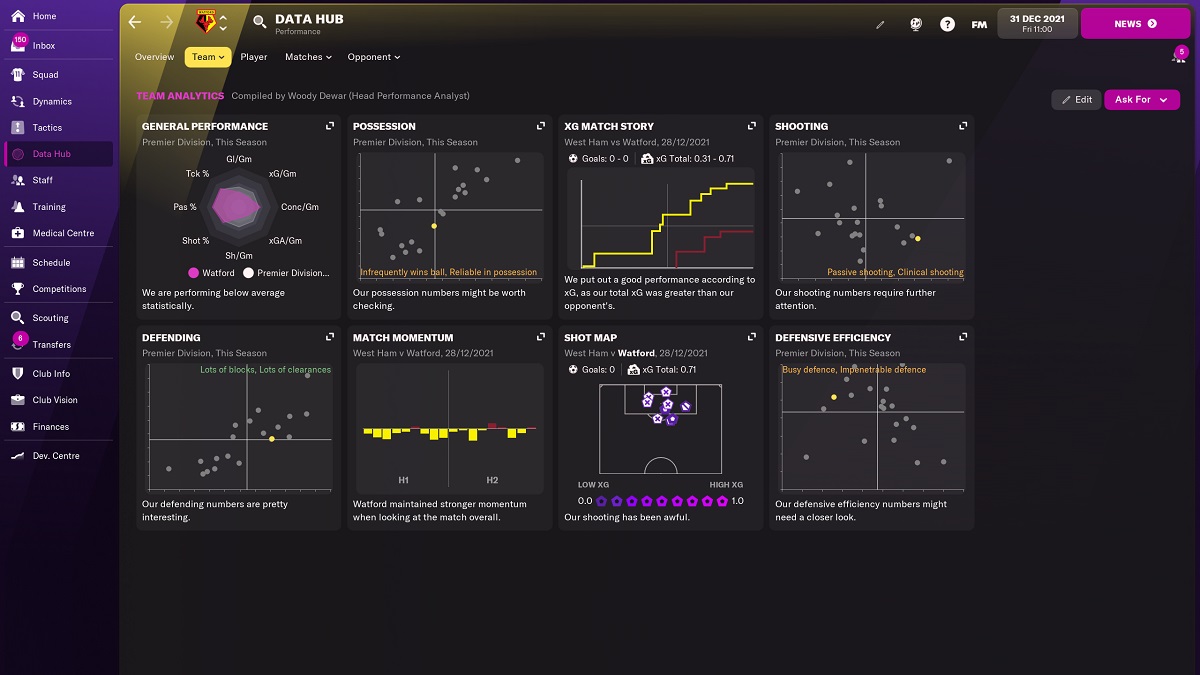 Exploring the Data Hub will send you deeper down the rabbit hole. Of course, it can be overlooked. However, if you're one of those managers that spend hours working on ways to make as many improvements as possible, this will be like heaven to you. It offers a guide to your attacking and defending, general performance, and key findings that give updates on everything from long range passes to the overall momentum during your last match. Going even further, there's analysis into individual players as well. Personally, I didn't spend a lot of time in the Data Hub, but it's perfect for the football nerds out there.
Football Manager 2022: Scout's honour
As manager of Chelsea, I was welcomed into the club with open arms. Although it was all nicey nicey in the early stages of my career, I was keen to bolster the squad by finding the right player for the right role. When scouring the transfer market, players now have a price range that might fluctuate as the window rolls on. Agents can be spoken to with more conversation options to get an idea of whether their client is interested or not. When it comes to the final day of the transfer window, deadline day is much more flamboyant. The drama that goes with real-world deadline days is almost always a thrilling 24 hours. Take this year's, when in the morning Christiano Ronaldo was on his way to Manchester City, only to return to Manchester United in the afternoon.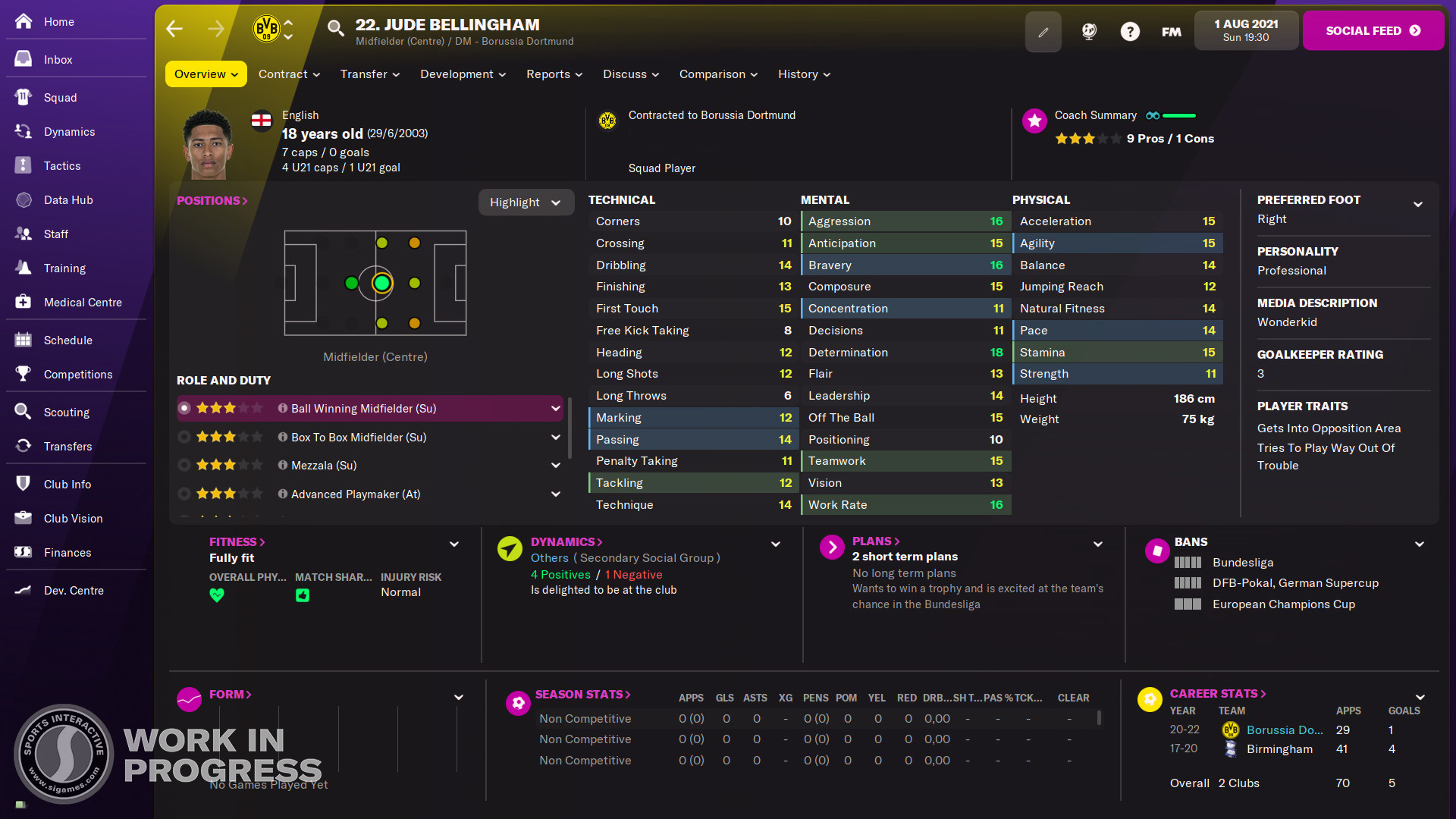 In those final hours, teams might reduce the price of a player. Other teams might swoop in and grab a world class player, forcing you to maybe rethink your options. Social media is ablaze, much like in real life. You're given a run down of people's opinions and the latest transfers, all taking place in its own drop-down menu. I appreciated how Sports Interactive has taken the time to make deadline day feel special in Football Manager 2022. The thrills and anxiety is present as you make last-minute decisions or enter negotiations with very little time remaining.
One team, one dream
Staff Meetings are another new feature that help to keep you on track to reach your targets. They can be undertaken weekly, every fortnight, or every month. Here, you'll be given advice on coaches or backroom staff to employ and manage; players on the transfer list that are worth a look at; and potential targets to replace players who are being approached by other teams or have contracts running out. One of the first times I agreed with my team about signing a new player, I had to go and talk to Roman Abramovich. I asked for an extra £20 million and he shot me down, saying we should make do with what we had.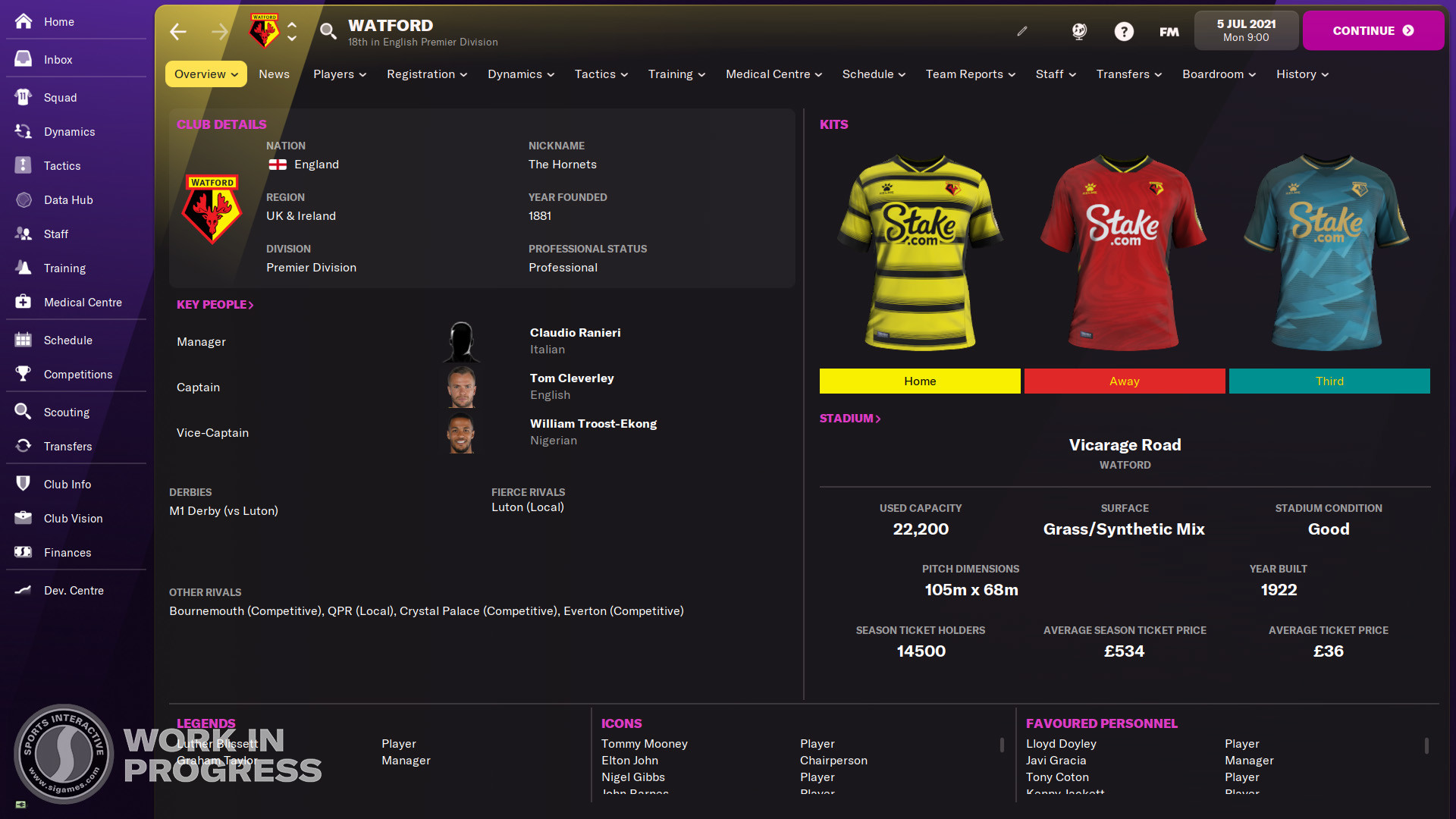 Sometimes, these meetings might focus on specific player training. If your assistant manager or coaching staff see a weakness in a player's performance, they'll bring it to your attention. You'll also get recommendations about general improvements to your younger players, or who might shine in a particular role. One thing I liked about staff meetings was that I could argue the toss or make alternative suggestions. They weren't set in stone, and it felt like we, as a united front, were doing what we all thought was best for the club. It reduces the amount of emails you have to read, as they can often be a real chore to get through.
Football Manager 2022: The best of the bunch
Football Manager 2022 has seen some impressive improvements to an already wonderful game. With so much business to preside over, it's a football fan's dream. You can be as hands-on or off as you wish. Can't be bothered to attend training or press conferences? Assign it to someone else. Whatever you want to take charge of, the options are endless. The new staff meetings are a welcomed feature, and the visual improvements to 3D matches are more than noticeable. Finally, the improvements to transfers, both big and small, make signing players a truly rewarding experience.
Positives
Complete control in every aspect of football management
New improvements to matchday are welcome
Staff Meetings are great
Transfers are better than ever
Negatives
Too many emails!
Football Manager 2022 is about as close to the real thing as you can get, with some nice improvements that make it the ultimate experience.