Release Date
December 2, 2014.
With Telltale Games' Game of Thrones being so entrenched with the HBO television series, only read on if you have watched the TV show up to the end of season three. Spoilers for Iron From Ice have been kept to an absolute minimum in this review.
George R.R. Martin became a household name to many when his book series A Song of Fire and Ice was adapted for television by HBO. Its success on the small screen rivals almost everything in the entertainment spectrum in the last few years. Telltale Games, with their recent successes of adapting The Walking Dead, Fables and Borderlands, are now turning their attention to Westeros and suffice to say, like the TV show, the opening episode is explosive.
Iron from Ice begins at the tail-end of season three, when Robb Stark, his mother Catelyn, his wife Talisa and his men are slaughtered at the hands of Lord Frey and Lord Bolton, in what has become known as the "Red Wedding." Just outside the bloody scene, you are introduced to House Forrester. In northern Westeros, House Forrester controls the Ironwood forest within their stronghold of Ironrath. Ironwood is a much sought-after resource, as it's used for crafting some of the strongest weapons in all of the seven kingdoms. The Whitehills, bitter rivals to the Forresters, are loyal to Lord Bolton, whereas House Forrester was devoted to the Starks – obviously, after that fateful night, many things changed for the people of Ironrath.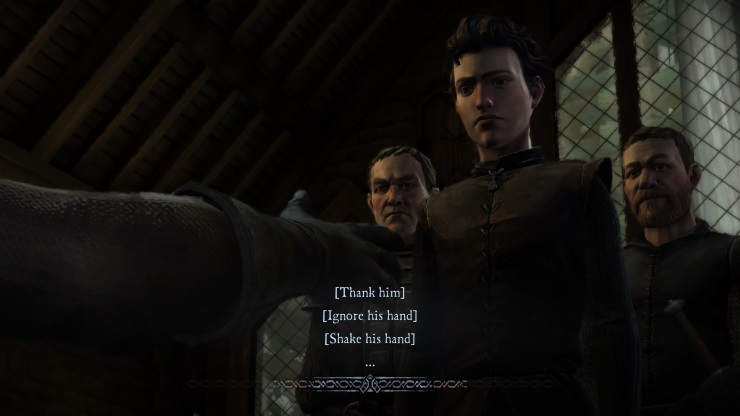 For the past two years, Telltale's gameplay formula has been the same. Conversations take place between characters in which you have, for the most part, four different dialogue options, and action sequences take place via quicktime events. There're a few sections where you're allowed to walk around a very confined space and interact with certain things, but other than that, you're meant to simply enjoy the story right in front of you. With Iron from Ice introducing a lot of faces that will be new to even die-hard fans, boredom isn't an issue, but some variation on the now-established mechanic would be welcome. The story appears to be strong and an overhaul is certainly not necessary, but a little tinkering with the system would be refreshing, perhaps even adding a puzzle or two.
From the moment Ramin Djawadi's now famous theme music plays and your screen is displaying the map of Westeros, it's clear that Telltale's Game of Thrones is modelled on the TV show in almost every sense. Due to the large cast of characters, an episode of HBO's hit series will usually jump between five or six different arcs happening simultaneously and the developer is attempting to do the exact same thing, here. You play as Lord Forrester's squire, Gared Tuttle, Ethan (his son) and his eldest daughter Mira, who is serving as a handmaiden in King's Landing.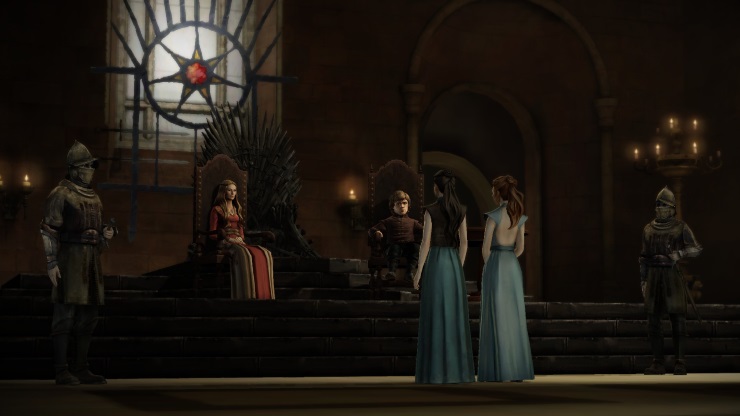 While Telltale's titles allow you to portray your character as you like with different dialogue options, Ethan Forrester does fall flat in comparison to the more emotionally engaging portrayals of Mira and Gared. Regardless of whether you decide to play him as a tough, no nonsense young man or a timid little boy, his delivery is rarely different. And with the amount of A-List talent voicing their TV characters in Iron from Ice, it's important for these never-before-seen characters to come up to the level of their counterparts. Lena Headey as Cersei Lannister and Iwan Rheon as Ramsay Bolton stand out from the pack, though – their performances are fantastic. Ramsay Bolton's slimy, creepy delivery and Cersei's want for power are just as evident here as in any episode of the TV show.
Technically, there were some minor issues regarding character models popping in and out, but it didn't happen often and we're told it's a problem you won't have to deal with once Iron from Ice is out. However, it's not too easy on the eyes. While most of the character models look quite good, background textures are so rough they can be distracting. While Gared is getting a wound tended to at Ironrath, you can see a blurry mantelpiece and wall-mounted weapons with distorted handles, taking the focus away from the foreground. It's commonplace to see muddy, sometimes pixelated, objects in Game of Thrones. Hopefully as the series continues this will improve.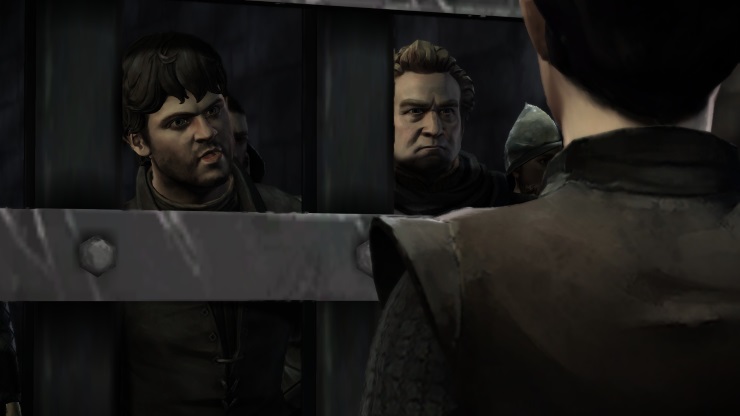 Worries can be quashed, though. This is clearly a series that developer Telltale Games has much love for and with the vast lore at their fingertips, there are many different avenues they can go down. There's a solid base here upon which to build a really engrossing story that will compliment the TV show, with the script and performances already at a high standard. That said, the gameplay isn't revolutionary as it's still very much a "pick the line you want them to say" affair and the visuals can be jarring. Of course, fans will love visiting areas like King's Landing and finding themselves in the middle of such landmark occasions as the infamous Red Wedding.
Note: Adam tested the Xbox One version and his experience mirrored that of Colm's, with one exception. During a mid-episode scene the game hard-crashed and booted him back to the dashboard. Minimal progress was lost (minutes, at most) and this problem couldn't be replicated, so the Xbox One edition is a solid version of the game, and also recommended.
Review codes were supplied by publisher.
Positives
Structured like the TV show
Fantastic performances
Great script
Negatives
Backgrounds look rough
No real challenge
Fans of the TV show can breath a sigh of relief as, even with graphical hiccups, the foundation for an engrossing story is there.