Huawei is a phone manufacturer you possibly haven't heard of before. It goes against the normal methods of handset distribution by being available online only and not being tied into a network or contract. This setup certainly helps with the attractive price point that comes neatly under the £150.00 mark. It's almost half of what you would pay for a Sony or Samsung Android device, so if you are willing to consider other options available you, then read on.
It's a fairly large phone, to begin with. Measuring roughly 153mm x 77mm, it's almost fitting into a cross between a phone and a mini tablet, though at only 8.6mm thick, it makes it easier to fit in the hand and reduces the feeling you're carrying a tablet. It can be difficult to operate one handed (my thumb was not be able to cover all of the 5.5" screen), but in fairness, I have the same issue with the smaller Xperia Z3. Though text entry normally happens on the bottom part of the screen, it is not necessarily a problem for day to day use.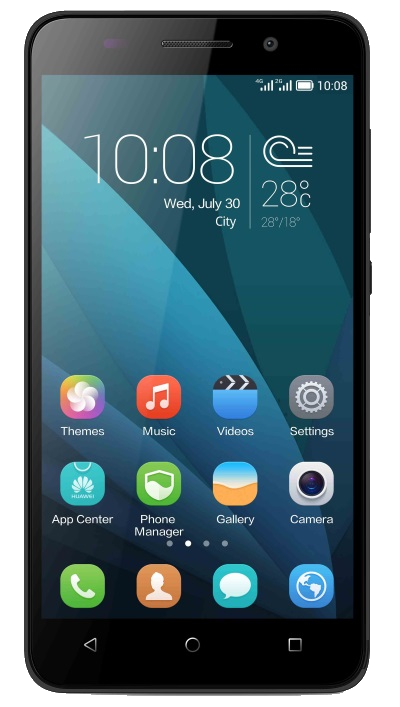 The build of the Honor 4X is the first place where you can see the costs have been reduced, the screen doesn't come with the expected Gorilla Glass that you would see on other phones so Huawei has added an additional protective screen in its place which should protect from any accidental scrapes. The second place is the casing of the phone, which is plastic rather than metal. Now this is not a major issue in itself, as common practice for any phone is to purchase a case for full protection as soon as you buy it, though the matte cross-hatched backing on the white phone I had quickly picked up some black marks from sitting in my car on the normal commute that were difficult to remove because of the feel. It's a small complaint but could be frustrating for anyone who likes to keep their tech as pristine as they can.
A micro USB slot can be found on the bottom of the phone, with the volume rocker and power button on the right hand side of the unit. Both feel solid to use and quickly become second nature to find after regular use. The main navigation when the phone is active isn't part of the screen and so is not backlit, which means a bit of fumbling in any unlit or poorly lit environments. Opening the back of the Honor 4X will give you access to two SIM ports as well as the MicroSD and the 3000mAh battery (which can't be removed).
Sitting in the background controlling the show is either KitKat (v4.4.2) or Lollipop (v5.0) Android OS. Setup of the phone is simple, as once I had signed in using my Google accounts, I had downloaded all of my favourite apps and games within the first hour, and had my emails up and running and ready to go. It was then just a case of syncing the Honor 4X with the various included Google Apps to give me access to all my Photos and Drive Documents. Huawei have added in their own emotion interface instead of running with the standard Android ones, and some of them aren't clear or are overly cartoony – these take a while to get used to, but seeing as you can customise where the icons appear on the home page and other screens, you'll be able to arrange things how you like as per the normal standard Android fare. One thing in the Honor's favour is that navigation is smooth and extremely fast. Loading times for apps compared to my normal phone in some cases were slightly quicker, and this is down to the 1.2HGz 64Bit A53 processor, which rarely struggled with anything that I threw at it.
I tested the Honor 4X with a number of apps and games and I can report that with even some of the more processor hungry games out there, it performed without a hitch. I rarely noticed slow down or frame drop, and the games were quick to boot up from the loading screen. Visuals are crisp and clear and this is where the size of the screen pays dividends for those who are wanting their gaming without the need to squint to see the details. It was the same watching any media on the Honor 4X, YouTube videos played well and so did any other streamed films.
I regularly listen to either podcasts or music on my travels and, once again, I didn't notice anything to cause me concern. The bass was decent enough and didn't drown out anything in the higher ranges, even when plugging it in to the car directly using the 3.5mm jack. Voices were clear and easy to pick out as well. All in all, as a media device it did what I needed it to do.
The front facing camera gives you 5 megapixels, while the back is almost triple that at 13. For a phone of this price range, the results that can be achieved are impressive. There are a range of video options available for you to use, including 1080p for all you hobby YouTubers out there, the camera is able to capture the most vibrant colours and does well when you zoom in for close ups, as well as including the various filters and picture effects you expect to find with the suite of camera options. I only found some real issues with filming and photography when there were extreme changes to lighting conditions, too bright and the colours were occasionally washed out if enough time wasn't given for adjustment. At the same time, a lack of light could darken the images and any videos shot. If you were willing to take this into account, then be prepared to be pleased with the results you will achieve with the Honor 4X.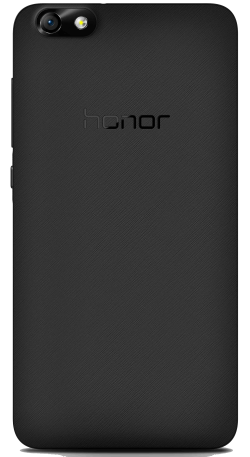 One thing you will need to consider very quickly once you buy the Honor 4X is some additional memory. While there is 2GB initially available, once you have half a dozen larger games and apps installed on the device (and record yourself a decent number of photographs and video), then you will need to take advantage of the MicroSD support for up to 32GB. Though to most smartphone owners this will not come as a surprise. For those less app and game happy, it'll provide you with enough storage in its standard form, especially if you are using Google's Photo and Drive apps.
Where it truly wins is the exceptional battery life. I found it almost impossible to drain the battery through normal day to day usage. Even after extensive gaming and YouTube sessions, I did not have to make the usual dash for a power source that you would expect to find with some of the more expensive flagship devices. Going back to my normal phone of choice was disappointing as the battery in comparison was like trying to keep a pint of water in cupped hands. You can easily get more than a day from normal use from the Honor 4X, which is a delight.
When I was testing the Honor 4X, I wasn't expecting to be as surprised with what they have achieved for such an affordable price tag. To compare it with some of main flagship models isn't particularly fair, even though there were not many areas where it loses out. There have been some concessions with regards to the overall build quality in order to reduce costs, and some may object to the plastic feel over the metal finish one gets with the more well-known branded smartphones. The lack of Gorilla Glass means a proper protective case is probably a must to avoid any serious screen scratches. While there are slight issues with regards to the camera, this is something that could maybe be rectified with a software update. The only other issue is that with the lack of presence in the high street – would you consider purchasing a smartphone you have not been able to physically see for yourself?
Simply put, if you are looking for a champagne smartphone on a budget and are happy not to be tied into a contract or need to own the latest well-known brand, then for £150 there aren't many arguments against ordering the Honor 4X as your next smartphone.