If, like so many people for the last few years, you're a full time remote worker, you've probably got an established home office set-up already. Even if you have, you might be in the market for a new bluetooth headset that's comfortable enough to wear all day, and of a high enough quality to maintain a level of professionalism. If so, look no further than the GO Work Pop wireless bluetooth headset from JLAB.
The smaller, more lightweight cousin of the JLAB GO Work headset, the Pop is incredibly comfortable and easy to wear thanks to its overall weight of just 100g. It has soft foam ear cups, a thin plastic-coated band that comes in a range of colours (the ones I reviewed are black, but there are more options available), and a sleek design.
At first glance, they do look less sturdy and, dare I say, cheaper than you'd like, but because they're light they're also surprisingly resilient to being dropped or tousled about in a backpack should you need to take them out with you. Everything can be controlled via multi-function buttons on the ear cups. You can change tracks, adjust the volume, and the EQ2 allows some control over the audio levels.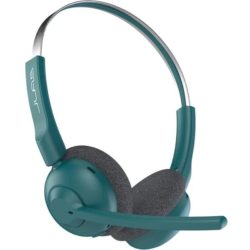 As for the bluetooth functionality itself, the GO Work Pop are able to connect to Bluetooth 5.3, and can switch seamlessly between two paired devices. If you're on a zoom call at your desktop, you can easily jump back to playing music through your phone or taking calls once your meeting is done without having to unpair them and reconnect. It sounds like a small thing, but it's a useful feature.
The headset features a MEMS noice-cancelling microphone which, while non-detachable, will swing up out of your way when you're not on a call. It being noise-cancelling is a great help if you happen to work from a busy home, although it's not a perfect version of the tech. Still, when taken alongside the very decent audio output it's a great bonus. The Pop features 40mm dynamic audio drivers that are perfectly adequate for both conversation and listening to music or podcasts.
Perhaps the major selling point of the GO Work Pop is the battery life. The manufacturer boasts 50-hour of use when fully charged. While that may be true, I have had to charge them at least once and I certainly haven't used them for upwards of 50 – 100 hours – although they may never have been fully charged. That said, it may be based on what you're using them for during a given period.
Anyone looking for a comfortable, lightweight working headset could do worse than entertain the GO Work Pop from JLAB. At around £39 at the time of writing, they're affordable, easy to use, multi-functional, and won't regularly die on you in the middle of a call or conference.