Release Date
February 7, 2017.
It has been a long time since I have been in the dating game; married for nearly fourteen years it is hard to remember just how utterly cringe making dates can be, particularly first dates. There is the worry over your appearance, the stilted conversations and muted disagreements, the agonising over what to eat so that you don't end up bloated and farting at the end and then the awkward decision to either ask for a second date or decide it's not worth it. It's awful, and after playing Kitty Powers Matchmaker, a surprisingly amusing dating simulator, all I can say is that I am glad I don't have to go through this angst any more.
You are tasked with running a dating agency by the titular Kitty Powers, the wonderful drag persona of the lead developer, Richard Franke. To do this you are given access to Kitty Powers' little black book of contacts and you have to make matches for the clients that walk through your door. Each client and potential date is randomly generated and has a minimal amount of information attached to them: sexual preference, star sign, occupation, three likes and their preferred physical characteristics in a potential mate which are limited to only eye and hair colour. Furthermore, each character is assigned a broad archetype: Geeky, Sporty, Hipster, Edgy etc. As you play further and unlock more information you can begin to match clients based on whether they are introvert or extrovert, whether they would consider themselves a romantic or more "spicy" as well as a few more options. Obviously your chances of success are greater if you match people with similar characteristics, but the game does allow for you to make some chalk and cheese prospects providing you are successful with the various mini-games each date presents you with.
Every date takes the same format. You make the selection from your black book and then choose a restaurant to eat at. Each restaurant is indicated by a flag for the type of cuisine on offer, they are then put into envelopes and you have to keep your eye on your preferred one as they are shuffled around in front of you. In the beginning you only have four choices so it is fairly easy to keep track of the one you want, but as you progress in the game, clients become more picky about where they would like to eat and so the pressure of correctly choosing the right envelope starts to mount. Once on the date you then select the dish your client vaguely describes "I'd like something hot with white meat," and then get down to your first topic of conversation which is chosen by pulling a lever for a fruit machine style of choice. If only conversation topics were this easy! During the conversations you are at the mercy a little bit as to how your client will respond to their date's answers, but you can nudge them a little by playing a game of Wheel of Misfortune where if it lands on a green quadrant you get away with your little white lie, on a red one you are exposed and earn a first strike. Three strikes during the course of the date and your client will walk out.
There are a number of scenarios that occur in each date and they all essentially boil down to a mini-game. There is a simon says type game to compliment the chef, a maths game to work out the correct percentage to tip the waiter and countless memory games that might require you to recall a set of desserts and their order, or your date's appearance or which waiter served you.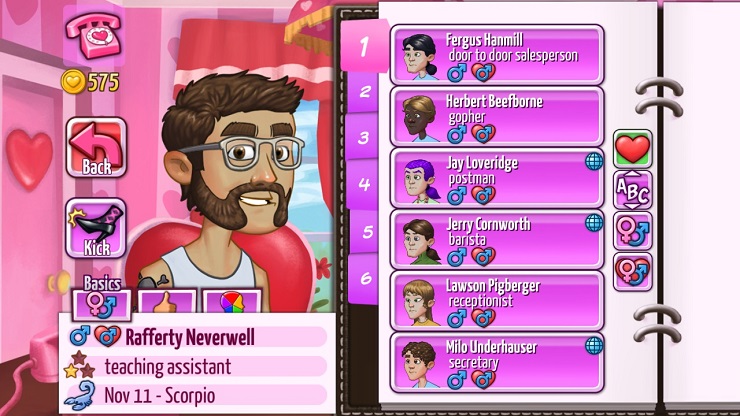 If your date is successful and your client manages to charm them and they become a couple, you will receive a tip from both the client and their date as well as a boost in your reputation, which will in turn attract more affluent clients to the agency. The money earned can be spent on a number of things like another page in Kitty's black book, or perhaps a stylist that can be used before each date to make your client more physically appealing.
While it lacks much variation, Kitty Powers Matchmaker is surprisingly addictive. It has clearly been designed with a mobile platform in mind as the repetitive nature of the game perfectly suits the small chunks of play associated with mobile games. There are attempts to keep you engaged for longer through the addition of more restaurants, pages in the black book as well as the pre-date stylist, but ultimately the core gameplay loop doesn't hold up to extended play on console where it does show its limitations a little sooner, as typically you play for longer periods of time. However, the wittiness of some of the writing and the tongue-in-cheek parodies of typical character archetypes lend a lovely kitsch charm to the game. Kitty herself is a fantastic compere for your frequently hapless dates, offering encouragement and camp "shade" in equal parts, and certainly for small moments of time, Kitty Powers Matchmaker is fabulous fun…darling.
Positives
Surprisingly amusing
Wonderful self-awareness
Kitty Powers is fabulous
Negatives
Doesn't offer much challenge
Lacks a bit of variety
Kitty Powers Matchmaker has a wonderful kitsch charm to it, delightfully self-aware and witty. It does start to show its limitations after extended play, but overall it is great fun and pretty much nails the awful dating experience.