Release Date
September 12, 2017.
I love motorsports, of almost any variety, but NASCAR is one of the few that I simply have never been able to get into. Perhaps it's because I'm not from the US, but I just struggle to enjoy watching cars go around in an almost literal circle for hours. That said, I came away from last year's NASCAR Heat Evolution having enjoyed the experience somewhat. This year's game has dropped the 'Evolution' from the title, but adds an extra layer to its career mode instead.
You'll start off in the Camping World Truck Series this time, as you struggle to find your way into a team. Oddly, you'll have to watch the calendar days tick by as you wait to see if you'll be offered a seat in each race, which drags out the time between races. When you do get an offer, you'll be given an objective; fulfill that objective and you'll be given a decent payout and that team will consider you for a full drive next season. The more teams you perform for, the better the payouts and the higher the chance of top contract offers coming in. Once you sign for a team proper, you'll also be offered a seat in select Xfinity Series cars between truck races throughout the next season. Eventually, you'll work your way up to racing in the Monster Energy NASCAR Cup, the top level of the sport, and make your bid to become the overall champion.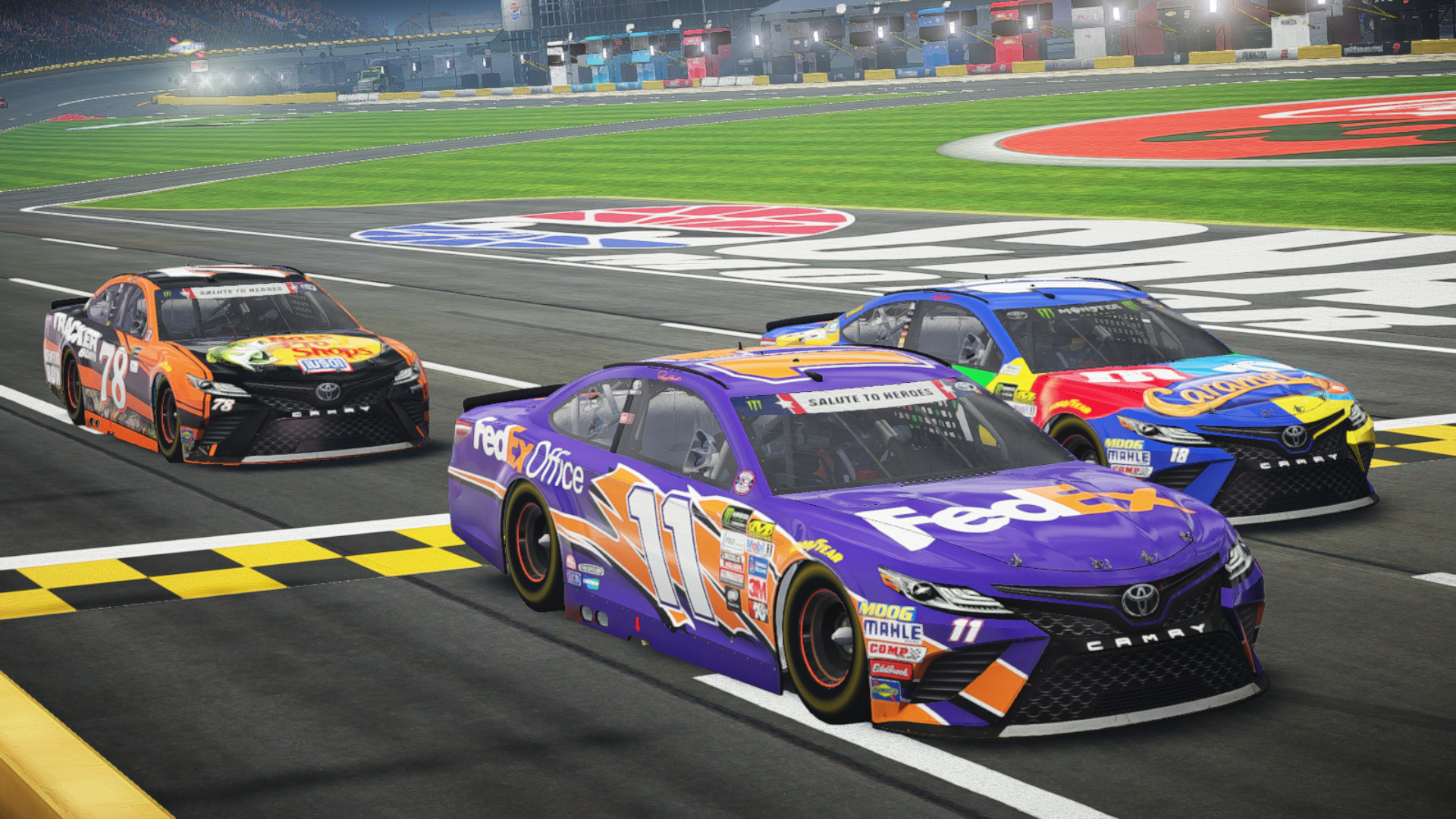 The full NASCAR roster appears in Heat 2, from the trucks up to the top field of drivers, along with the officially licensed tracks. Racing on these tracks isn't as simple as holding down the accelerator and pushing left every now and again; there is a lot of patience and skill involved, and you'll need to learn each track before racing. Some require gentle easing of the pressure on the right trigger, so you don't overcook it and end up hitting the outer barrier, while others even need you to brake to make sure you hit the optimum speed and angle through the turn. Whether you're playing through the career or just jumping into a quick race, you can decide whether to include full practice and qualifying before the race, as well as the usual array of difficulty and race length options. If you want, you can have every race at 100% length, for the most authentic experience possible. Or if you enjoy casual masochism.
NASCAR Heat 2 revels in its authenticity. It's not entirely realistic, with its arcade handling and physics, but it provides an entertaining and challenging flavour of gameplay that just makes you feel like you're participating in an official race. It has decidedly fewer yellow flag incidents though, to break the flow of races. I've never watched a NASCAR race that didn't include at least a few yellow flags, bunching up the field and slowing everything down. Like the real thing however, these delays offer you the option to pit, which might play perfectly into your hands if you're in a longer race and could use some fresh tyres. Like I said, it's an authentic experience.
It's a shame then, that technical problems plague the gameplay once again. It does at least look a little better than NASCAR Heat Evolution, but it's still not troubling the rest of the field for visuals; and its framerate is all over the place. Turn on the rear mirror and it'll noticeably dip, which is still bizarre when many of today's racers are comfortably hitting 60fps with far better graphical fidelity. Worse, there are many moments when the game stutters violently, as it loads in a radio comment from your engineer. If this happens when you're approaching a corner like it did on a few occasions with me, you're probably going into the wall. Or you're causing a pile-up. Quite frankly, I find it difficult to believe this wasn't caught during testing.
I did still enjoy my time with this one, despite the technical nightmares and the drawn-out nature of its career mode. Developing rivalries with fellow racers makes for exciting racing, but there's little doubt that only fans of the sport will find any longevity in NASCAR Heat 2, as long as they can forgive the performance issues.
Positives
Accessible handling
Challenging and rewarding
Negatives
Career mode is weirdly slow to start
Unlikely to appeal to non-fans
Horrendous frame drops
Despite adding a bit extra to this year's career mode, there are some technical issues that plague the experience. Shame really, because NASCAR Heat 2 can be quite fun at times.