Release Date
September 29, 2017
Bandai Namco Entertainment has put out quite a few great releases in recent times and the list is even bigger if you import Asia and Japan exclusive releases. In recent times, the company has been doing English Asia Exclusive titles like Gundam Breaker 3 and SD GUNDAM G GENERATIONS GENESIS. The problem with a lot of licensed games is the licensing that in a lot of cases won't allow said games to be released in some territories or on some platforms. Gundam Versus is the latest in a long running series of games that began in arcades and eventually made its way to consoles. I'm glad they decided to localize this because it is a blast to play, but it could've used a better localization.
Gundam Versus is an arcade style 3D brawler fighting game experience with big robots destroying each other. That's your quick and dirty summary of what the game is for those unfamiliar with the Gundam IP in general. If you enjoy playing games like Virtual On or even ARMS, there's a lot to love here. Matches take place in a large environment with a few barriers and obstacles allowing you to strategize your movements and your aim is to defeat your opponent(s) by depleting their team health gauge. The main 2v2 mode has each side being represented by two playable units that have their own cost. Once a unit is defeated, their cost is subtracted from the team gauge. Stronger units have a higher team cost so defeating them will get the team gauge to zero quicker. There's a 3v3 mode that is more chaotic but not really much fun. It even has issues online. The 2v2, Survival modes, and even the 1-on-1 modes play great online and offline if you choose to spar against CPU opponents.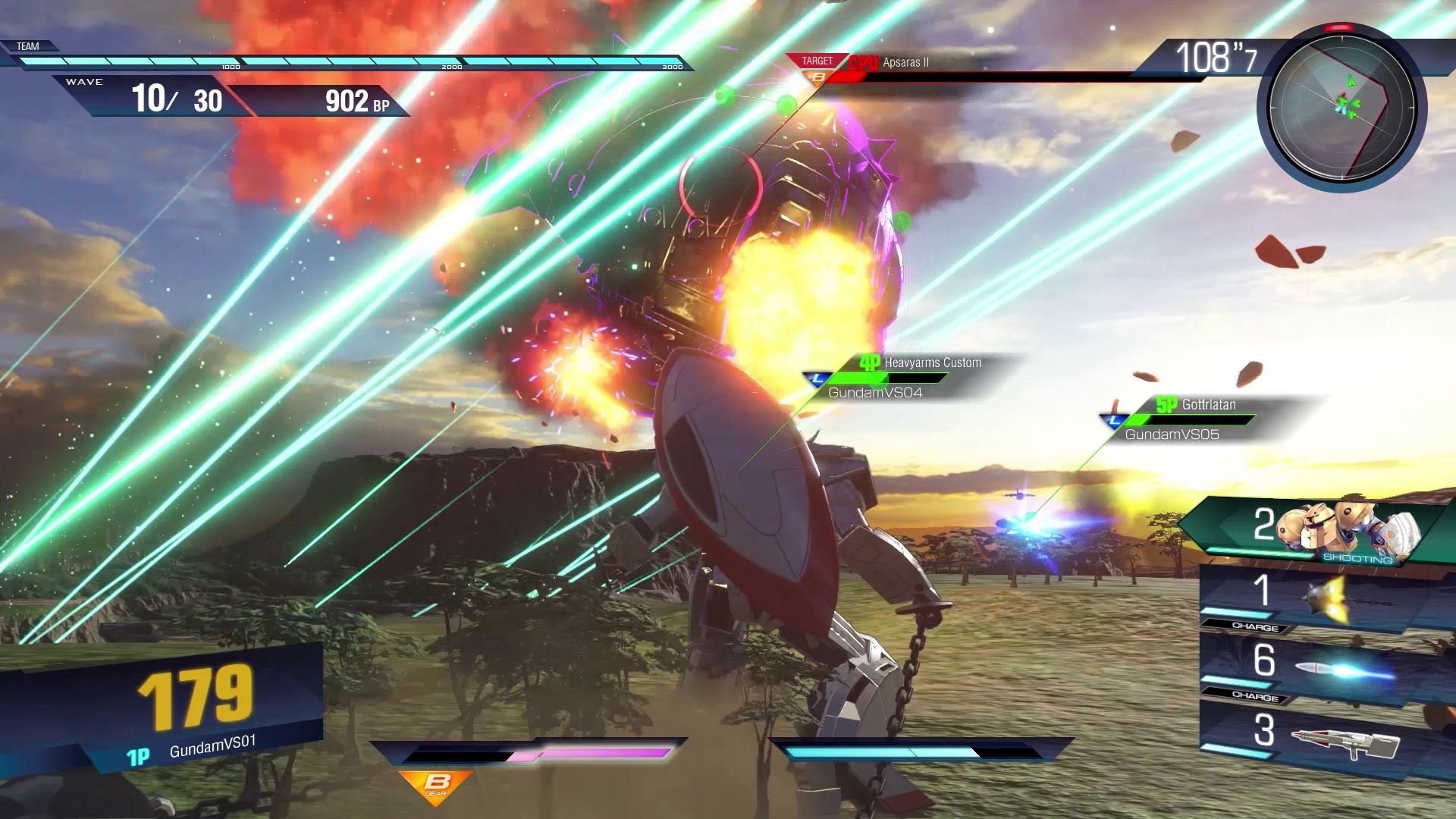 You are always locked onto one opponent and there's a lot to take in when you just get started. You need to keep track of your partner's health gauge, your team health gauge, your boost meter, and your burst meter all while paying close attention to the target lock colour. This indicates range and is one more thing to get used to tracking. The other big mechanic is boost gauge management. You can boost dash, boost step, and more, while making sure you don't overheat. This system takes a bit of getting used to and might even require working with the D-Pad instead of the left stick for some people.
Visuals are mostly great. Each suit is detailed and the animations are all very nice. Outside of the 3v3 mode which has noticeable drops in a lot of places, the game runs at a smooth 60fps. This comes at a cost though, because out of the various environments you play in, a few look really bland and dated. The online interface and the offline customization ones are good but could've been better. Expect to spend some time initially to get your bearings before fooling around online. The survival mode is great to play both online and offline.
My biggest gripe is the lack of an offline split screen mode. I would even take a 30fps one over nothing because this would be a great party game. Other than this, Bandai Namco did a serviceable localization. Not everything is subtitled with Japanese voice acting. There are also songs you can set on a unit by unit basis. These are all in Japanese and you are forced to preview by Gundam release to get the song you like. Again this is something that isn't essential to the main gameplay but shows that the care that Gundam deserves was not put into this release. Worldwide servers and aiming for a worldwide audience is good but things like this will restrict sales to only the fans of the IP and not other people.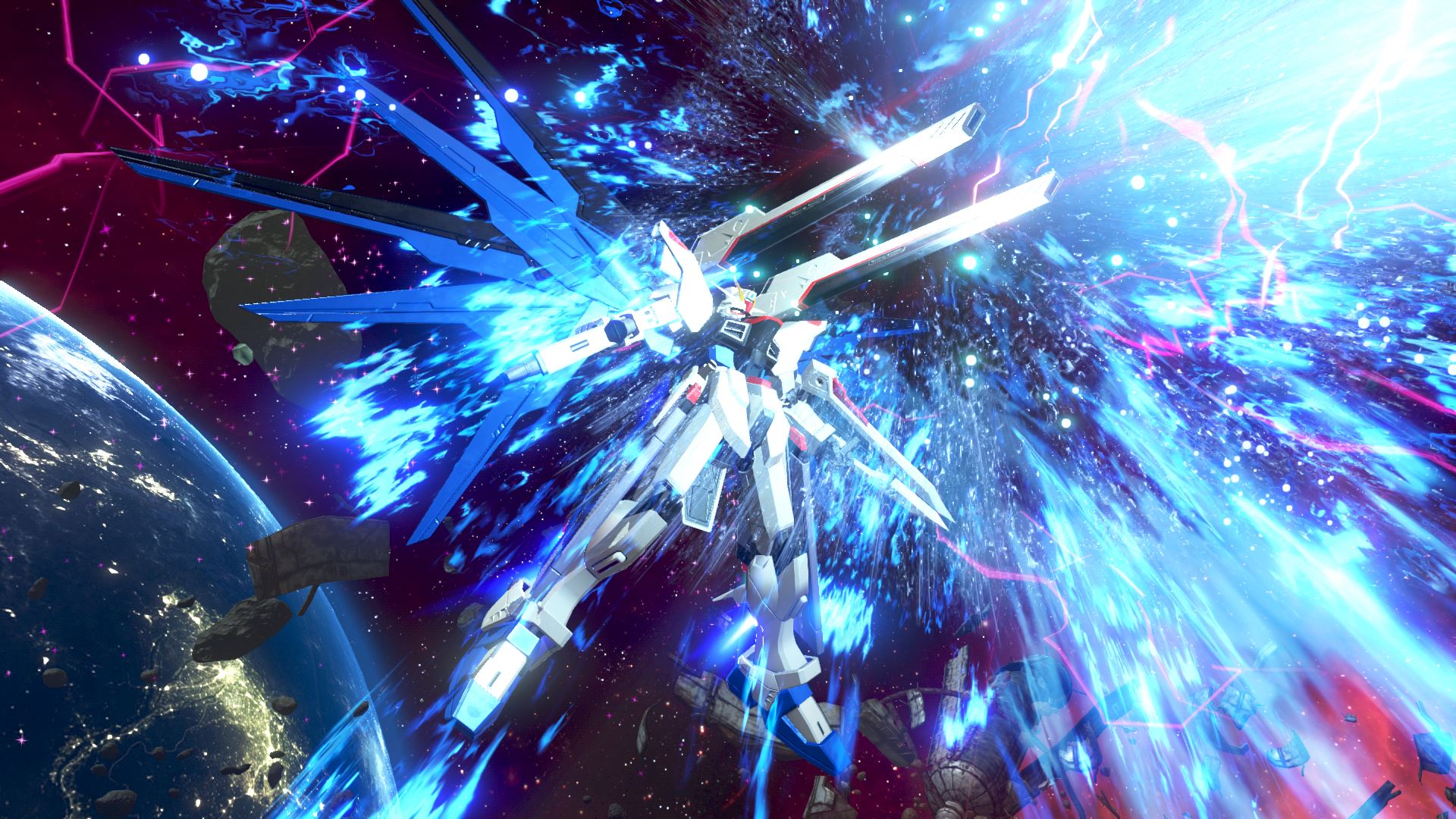 Speaking of the music, I was surprised to see so many of the licensed tracks make their way into the European release. I thought we'd get a generic score instead like we did with AOT – Wings of Freedom. My experience online over the last week has been mostly perfect. The 3v3 mode takes ages to find a game but the others had me in game in a minute at maximum. The region setting is set to your own region and not worldwide by default so I recommend changing that if you'd like quicker games. Worldwide servers will hopefully help this release have life for a while.
Gundam Versus is an great game not just for fans of Gundam but for anyone looking for a fun multiplayer focused arcade game to play online. Being a Gundam fan is just icing on the cake here with the plethora of fan service. I just wish they had subtitled everything because there's a lot of dialogue that, while not essential for combat, would've added to the experience. I'm delighted that this has been released in the West because, while slightly flawed, it is well worth your time.
Positives
Plays like a dream
Loads of online modes
Team based synergy in 2v2 is fantastic
Negatives
No splitscreen
Lazy localization
A superb game for any arcade style fighting game fan who is looking for fun mecha action but one that could've done with a better set of offline modes.