Release Date
September 15, 2017.
EA's NHL series is perhaps one of the finest sports games to play because there's very little to learn, and it has a fantastic training program in place to make sure even the newest hockey fan will get it from the get go. Unfortunately, NHL 18 does very little extra this year. The gameplay has had tweaks here and there, such as the newly added offensive deke moves and more control when defending, but outside of the actual games, it all feels flat, especially when games like Madden NFL and FIFA have had their own story modes and much more.
Before we get into the meat of NHL 18, this year sees an improved basis for training and the fundamentals of ice hockey via the Training Camp. By visiting you'll get to learn everything you need to be an adequate hockey player, through training exercises and videos from Hockey Canada. One of the best features from recent games is the Coach Feedback after each period of a game where you'll be giving a grade for different areas such as defence and offence, and in NHL 18 it'll incorporate the training videos from Training Camp, giving the option to watch them with the click of a button. With both the On-Ice Trainer and the Training Camp, you're given plenty of help to learn and improve your game.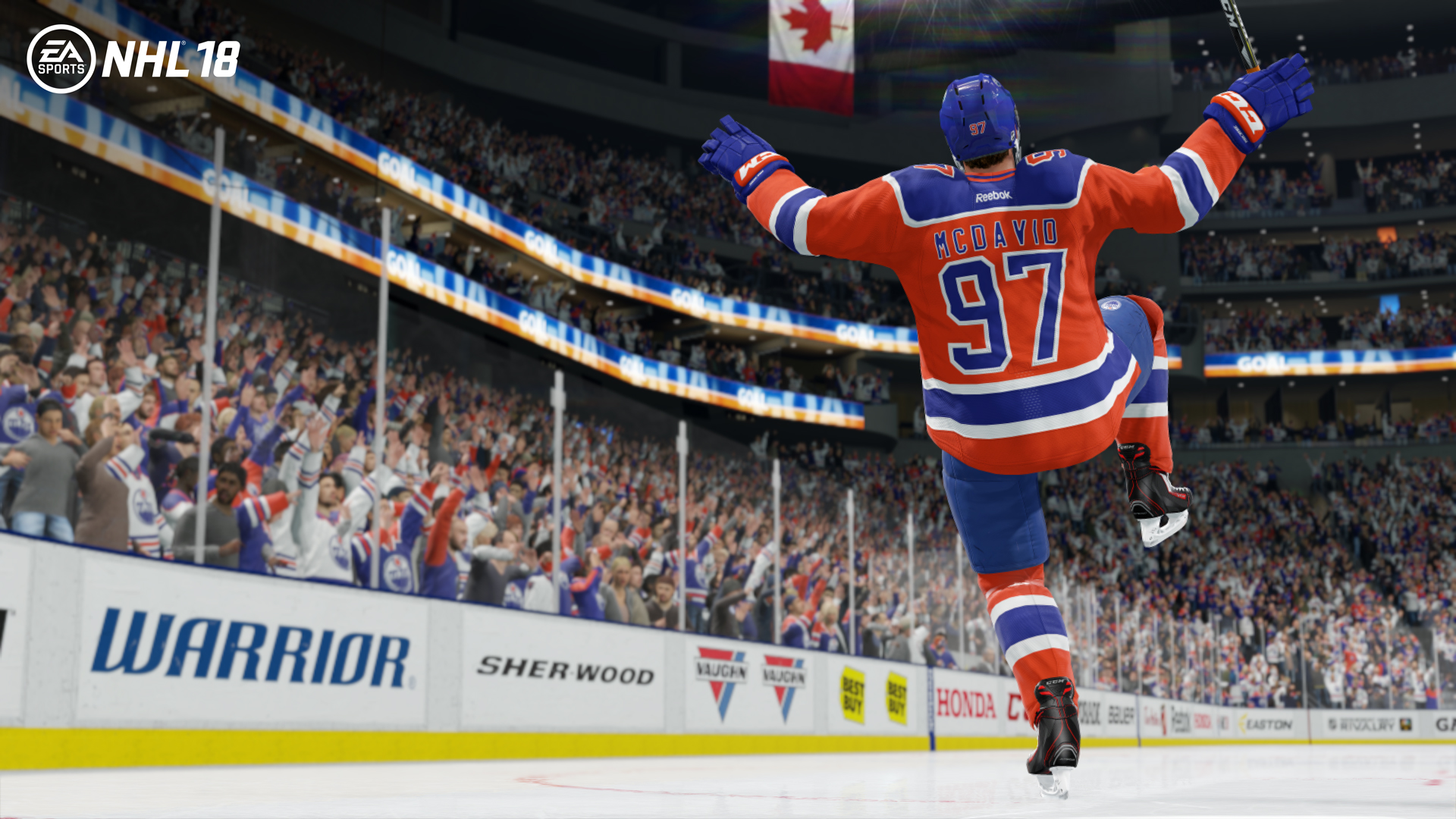 On the ice, not much has changed. There are new dekes at your disposal so you do have more control over the puck, but shooting and passing doesn't feel hugely different. The one thing that does feel the most improved is the defence, or defending the puck with your stick. Poke checks feel a lot more vital, and much more precise when attempting to take the puck from your opposition. Tackling is identical, and passing is still fluid like last year, but as already mentioned remains untouched.
NHL 18's biggest addition is the NHL Threes mode, and easily the most fun. It eliminates all the simulation and adds a sense of craziness to the action. The commentary switches to a similar style as the NBA Jam games, and the action on the puck never stops due to the scrapping of icing and the offside rule. Pick an NHL team, or choose their mascots instead to really mix things up. You can alter total of goals you need to score to win, along with some other rules, giving you control over how these games are played. There are certain 'rules' involved in Threes whereby goals scored at certain times will be worth 3, and at the same time will deduct a goal of your opposition, so getting this right can have a big impact on the game. There's also a campaign to get stuck into which sees you touring the country trying to dominate all over.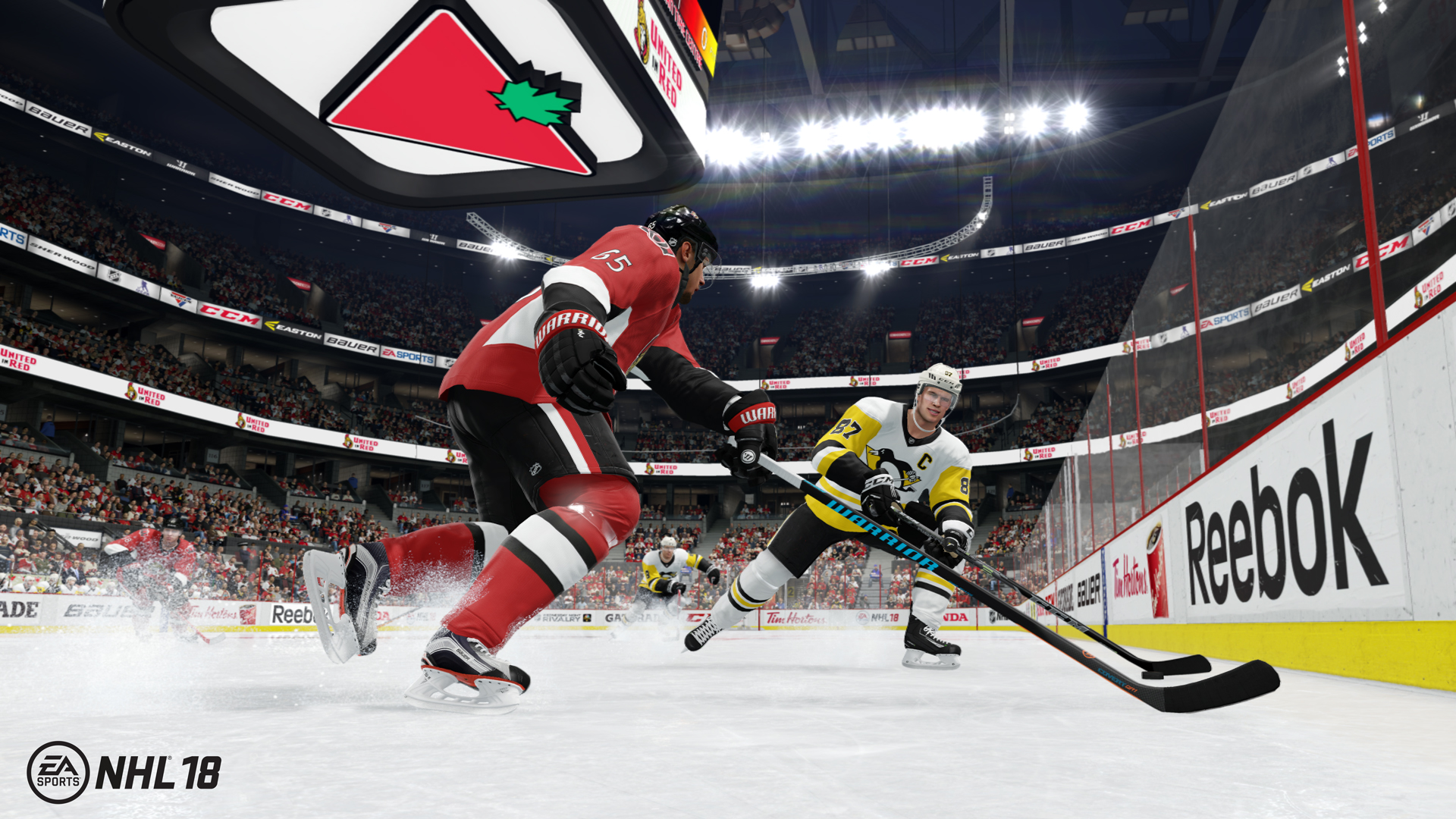 Whilst most of the Franchise mode remains unchanged, you can now try the Expansion Draft mode and build your own hockey team from scratch, or play as the Vegas Golden Knights. It's the best change to the mode, which hasn't really changed much beyond this – but for hockey fans, Franchise Mode was already rather robust. If you participate in the Expansion Draft and decide to take on a brand-new team, you can choose your hometown, uniform, and even create your very own mascot. If you don't fancy playing as either of these two options, you can still take any of the other teams and decide which players to protect during the draft, and then rebuild and focus on your dream of holding the Stanley Cup.
Many of the other modes haven't received any substantial changes this year. Ultimate Team is practically the same except you can now do specific challenges to earn more points much like Madden. The wonderful EASHL now allows for 3v3 online competition which is more liberating as you're not as restricted as before, especially when you're up against a team showcasing real control on the puck. One of my favourite modes in most sports games is the Be a Pro mode, and with the exception of asking for a trade during the season, it's a carbon copy of last year. It's all about refining the modes that have gotten NHL to the point it's at, but there aren't enough improvements to make it anything to write home about.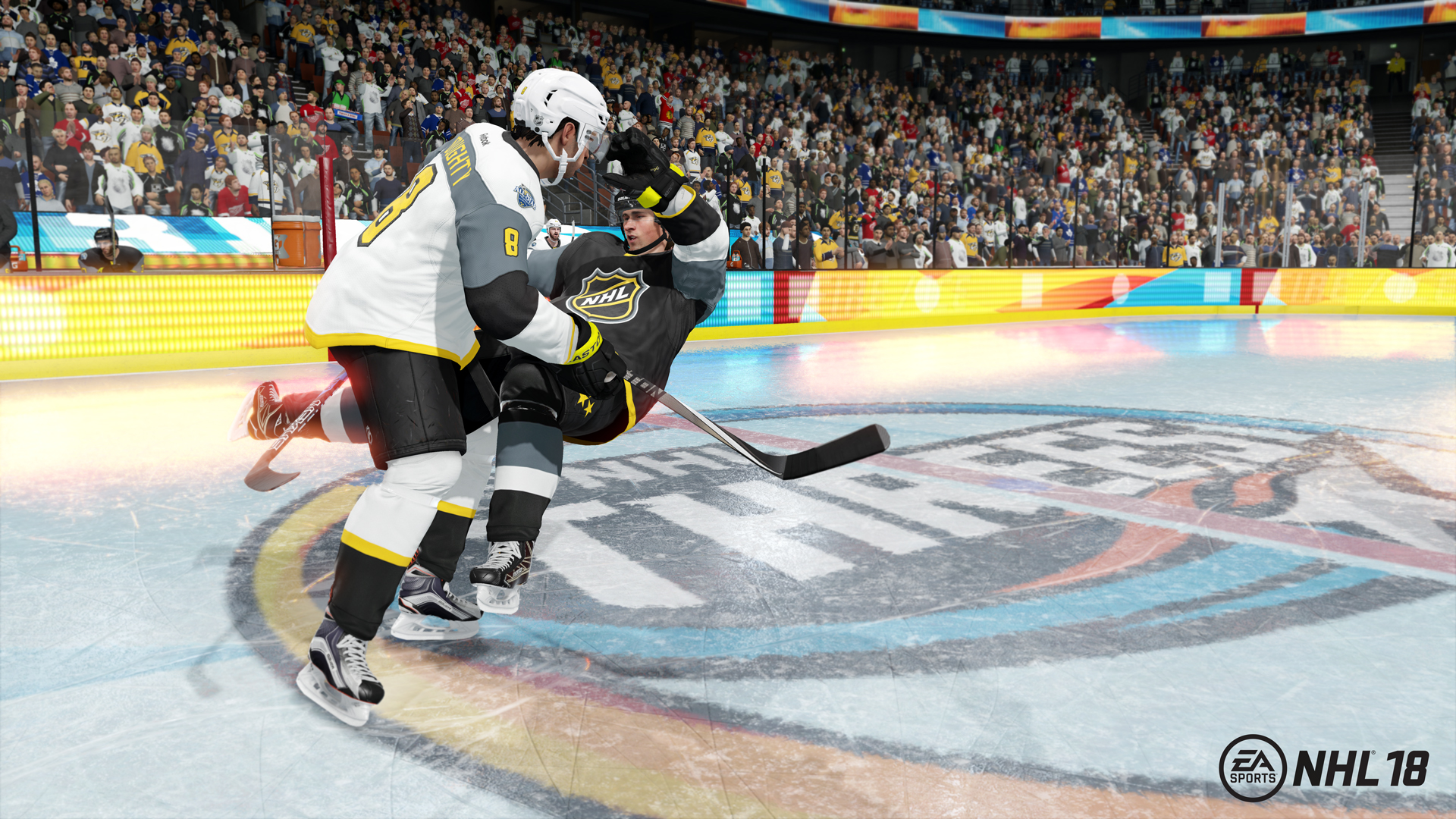 Where EA's NHL has always shined is in the presentation, but the NBC coverage seems to be practically the same as last year, and as great it is to see Doc Emrick and Eddie Olczyk on commentary again, it's becoming stale. The in-game animations are great, but the facial expressions aren't as sharp as they could be, including the referees. It's still impressive, but when 2K are dominating in this area, it becomes noticeable.
NHL 18 is a great hockey game, but when it's the only one on the market, it's easy to get tired of the same kind of modes and seldom improvements. Gameplay is paramount, though, and playing a game feels responsive and satisfying, especially when your scoring that all important goal. NHL Threes is a welcome addition to the game, and by far its best feature this year, along with the games themselves, but if you're still perfectly happy playing last year's, I'd suggest you save your money.
Positives
Great gameplay
Training Camp is really useful
NHL Threes is fun
Negatives
Commentary is too familiar
Modes see seldom change
Animations don't seem to have been updated
It's still a great hockey game, and NHL Threes is a great addition, but beyond that it's very much the same game as last year's.