Release Date
September 18, 2015.
Chelsea have already smashed my Arsenal in the community shield (5-1, actually), so I wasn't relishing the chance to play them again in the league. Diego Costa was an absolute animal up front, he won every header, and is strong as a bull against Koscielny and Mertesacker. But I've signed Benatia from Bayern Munich, and I've switched to a 4-4-2, giving Giroud more support up top (and bringing him to life in the opening league games), so I'm hopeful.
But Costa is still just so, so good. I can't hold him off for long, so when a stunning through-ball from Hazard unlocks my back four, Chelsea are back ahead at 2-1. And that's them, they're parking the bus now, they want the win. I'm all over them: the Ox is running wild on the wing, and even Giroud is winning headers, but I can't beat Courtois, and as time goes on, I'm losing the impetus, and the game is slipping away.
Then a ball from Wilshere finds Sanchez, and I jink round two defenders. The space has opened up, and I thunder one into the top right corner, which causes me to leap out of my seat and punch the air. From the other room a woman says "what are you doing?", but I ignore it. It's 2-2, and the best moment I've had in a game all year. The match ends 2-2, but it feels like a win. It feels like real life. No, fuck it, it feels better than real life because I'm playing as Arsenal, and Wilshere isn't injured, the teams aren't really called Chelsea and Arsenal, and I'm not watching a terrible Bolton Wanderers lose every bloody game.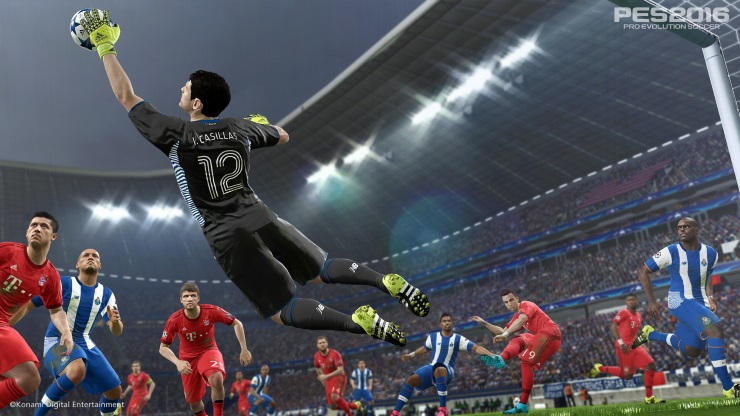 Moments like that are frequent in PES 2016, which I can confidently say (at time of writing), is the best football game I've ever played. While there are parts that feel similar to 2015 (shooting is still wonderful), it's the additions that make it – the large ones, and the small ones that add up to become large. An enormous amount of animations have been added, making so much of what you do on the field feel contextual, without requiring you to hold loads of buttons down. A backheel is the same button as the pass, as is a rabona (I had to ask my kids what that was called, apparently there's a fake rabona now, too). Every part of it feels designed to let you just play it, and it's wonderful for it. Even the delayed passing issue has been toned right down, meaning your build up play can be lightning fast. All of it just happens when you want it to, it just feels like it's been made by a team that understands football.
Best of all, lots of teams; even down to individual players, feel distinct – even individual. Playing that Chelsea side, you can see how hard the battle was for me. Against Bournemouth I romped it, just outclassing them in every area, but then a European match against PSG felt different again. The commentary pointed out David Luiz being more of a midfielder than a defender, which bore fruit as he kept marauding through the centre, but would still be there to stop the cross on the line at the death. Ibrahimovic, once the player to use, has aged, and while still brilliant, is eminently easier to tackle now, due to his diminishing pace.
Elsewhere, a player like Tevez is a mini-Aguero. Skillful, quick, but also tough to muscle off the ball. Someone like Walcott is fast, but he's not strong. Even he feels different from Oxlade-Chamberlain, who will attempt the more audacious volleys in the box. It's great, giving a real sense of grounded reality to the superstars we want to emulate in a videogame version of football, and with the addition of bad weather, it means that every match has a unique ebb and flow to it, which feels superb.
Master League has seen a significant revamp, looking more like FIFA's career mode now. Boxes full of important information are on show, with greater depth than ever. The silly cut-scenes remain, and while league matches still feel like, well, league matches, having the Champions League license is still a massive bonus for Konami, lending importance to something that should feel different and special. Promoting youth players with a professional contract will boost their confidence, and having certain types of players (star player, leader, maestro, legend) in your squad give you bonuses, like increasing your match-day gate – people will buy Sanchez and Ozil shirts, giving you an important bonus. As they level up, they will increase in importance to you and your team. The fact you have to pay your wages from your budget still gives that feel or responsibility: if you overspend buying players, it'll warn you, but crucially, not stop you – resulting in financial ruin, and the sack. This is the best the mode has been, make no mistake.
MyClub has also seen large, impactful new additions. Rather than being stuck with a rubbish player, if you show faith in them and play them, you can level them up slowly but surely. Up to a maximum of level thirty, even the very best players can start at level one and need to be played to improve. Their stats will grow as they play and gain experience, adding a real feeling of progression. Even better, you can take those you don't want and convert them into a trainer (after which, they leave the club), instantly giving a stat boost to another player of your choice. Nobody ever feels wasted thanks to this, and just like Master League, MyClub feels as though it's been truly innovated upon. Konami knew this mode needed work to compete with FIFA's Ultimate Team, and have delivered in a big, big way.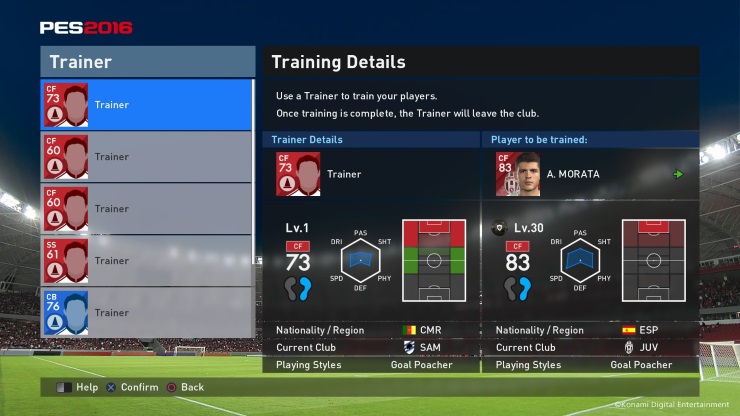 It's not perfect, of course: the crowd still looks terrible, and the commentary has had an overhaul which is successful for the most part, but also features some truly comical orgasm-sounding player names when they shoot. It wouldn't be so bad, but it's every other time you take a shot that has Drury screaming their name and it just sounds daft – imagine "ALEXIS SANCHEZ!" being screamed every two to three shots. There are also some explanations of menu options that feel a little awkwardly done (and the menus themselves are largely the same overall), but that's par for the course with PES these days. The only gameplay negative worth noting is the lack of fouls. It was a problem in 2015 and it's a problem now. Obvious fouls appear to go ignored, and you can go multiple matches on the trot without actually seeing a break in play due to a foul. Of course you'll get the whistle blown if you attempt to actually kill someone with a sliding tackle (though PES still has the best sliding tackle in a modern game), and a lack of refereeing is definitely better than a ref blowing every few seconds, but honestly, this part of the game should be better.
But when your biggest complaints are related to the crowd, refs, and commentary, you know you've a special game on your hands. Sure, it doesn't have all the licenses, but on the pitch, where it actually matters, PES 2016 is phenomenal. You'll have a day off from playing it and forget, but then return and remember how truly special it feels to just play football. It's the best football game I've played in as long as I can remember (and I've just about played them all), and an utterly essential purchase. PES 2016 is the best there is, and the best there's been in a very long time. How crazy it is to think that Konami has made the two best games of 2015.
Review code provided by publisher.
Positives
Gameplay is just sensational.
Significant upgrades to myClub.
The animations and collision detection is top notch.
Negatives
Commentary is still hit or miss.
Refs let too much go.
An utterly essential purchase. PES 2016 is the best there is, and the best there's been in a very long time.