When you've handled as many headsets as we have, you start to get a sense for the quality of a set based just on the feel of it. Heavy doesn't always equal higher value but the materials and design give away a lot. Now and then, a manufacturer can surprise you, though, throwing in some extra features you wouldn't expect and still maintaining a competitive price.
The QPAD QH-25 7.1 Surround headset, as an example, is a budget buy. Coming in under £40, it nevertheless packs in a few additional features you wouldn't necessarily expect in such a relatively inexpensive device.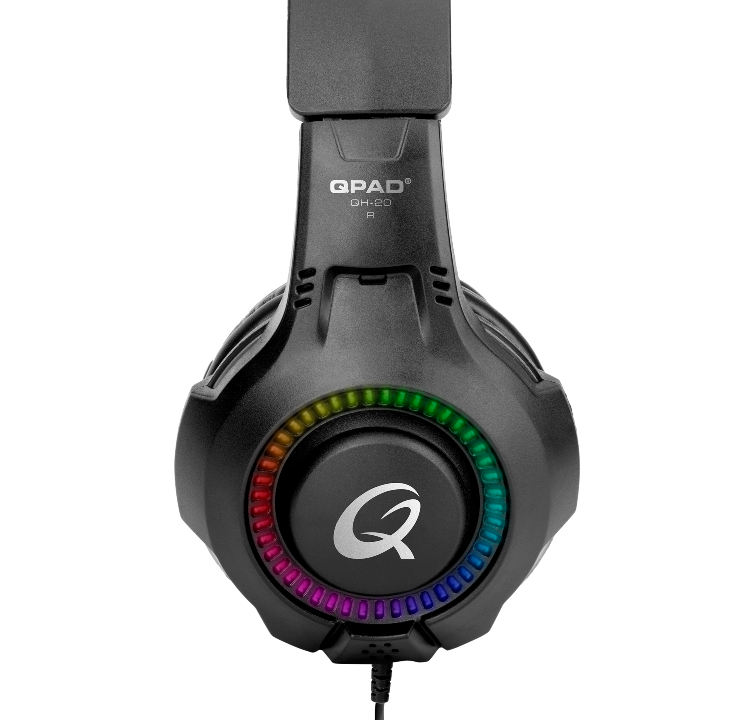 For a start, it boasts RGB lighting in the cups, which is almost a must-have these days among YouTubers and streamers. It's inclusion here though is both good and bad. It's good because it's unexpected and, frankly, usually reserved for more expensive models; it's bad because the implementation isn't great. For a start, the colour combinations seem very limited, cycling the primaries without many hues in between. Also, it requires a USB plug in to activate them, which is fine if you're playing on pc but can be a bit awkward on console. Having an extra chunk of wire with a dangling USB on the tip isn't the end of the world, but it's not a great look and can make the QH-25 feel a little ungainly.
Likewise, the 7.1 surround element is reliant on a seperate USB adapter. Again, it's a nice feature to have, but it's implemented a little clumsily – especially as the 40mm drivers produce a very decent sound quality on their own. They're not going to rival anything on the upper end of the market, but the sound is clear whether using the headset with a console, PC, or smart device. It's almost like the manufacturer felt erroneously under-confident and added bells and whistles to fix a problem that wasn't there.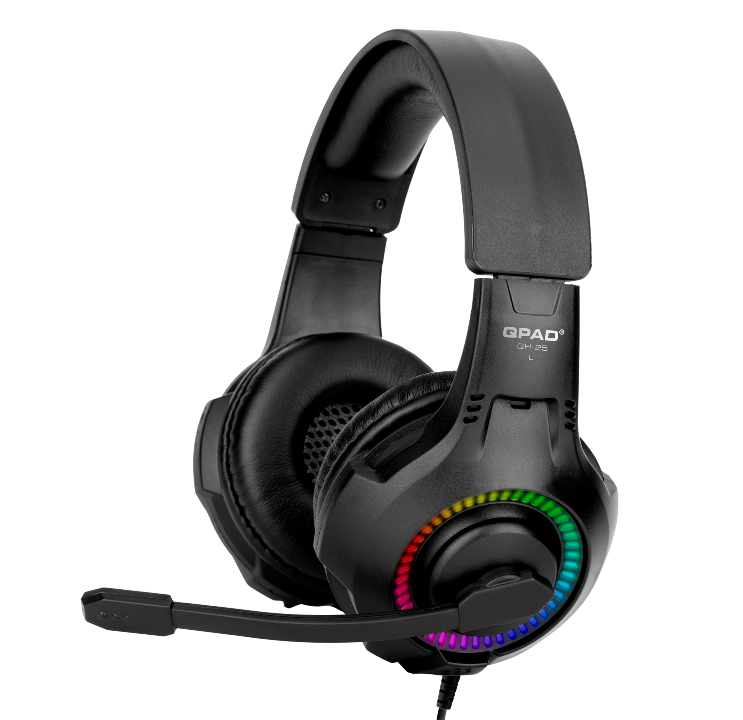 The QPAD QH-25 does feel a little cheap though. The plastic is sturdy and durable, and you'll barely feel them on your head because they're so lightweight, but the overall design walks a very thin line between minimalist and lacking. Also, the on-ear cups are less comfortable than larger, over-ear cups, but that's mostly down to personal preference.
For under £40 this is a perfectly functional headset that really doesn't need the superfluous extras. It's always nice to get more for your money, but I'd rather features were absent than implemented poorly. That being said, for the pricetag the QH-25 is a fairly sturdy and comparatively feature-rich option, even if it's not the prettiest.