Release Date
January 9, 2018.
I discovered Will O'Neill through Actual Sunlight. Somehow this game got on my wishlist on Steam and I ended up buying it soon after reading a review written by a friend. I never ended up playing it because most of my Steam library may as well be a text file with game names at this point and I had learned it was coming to the Vita. Actual Sunlight on the Vita was a short but memorable experience that made a lot of sense given what some friends were experiencing at the time. It was a succinct interactive fiction experience and I was a fan of Will ever since. I already played Little Red Lie, his follow up effort, on iPhone and was glad to revisit it on Vita and see how it translated to the best visual novel platform.
If you've played games like Corpse Party or To The Moon, you will feel at home here when it comes to the controls at least. Little Red Lie has two distinct tales going on together. The first is about Sarah and her family. The second is about Arthur who is seemingly in a much better position. The narratives here are great for many reasons. Will O'Neill manages to tell stories masterfully and they are great in their own right but what makes them stick with you beyond the game is how certain aspects always hit home. Regardless of your current position in life, Little Red Lie will have things you have either done yourself or considered doing be it in lying to yourself or others for the gain of something. Both stories will have bits that resonate with you or people you know.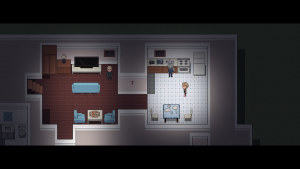 I've always enjoyed old school RPG maker like games. There's a combination of two different aesthetics here. The first is the RPG maker like characters and environments. The second is lovely art that is basically this game's cutscenes. The art looks gorgeous on iPhone in full screen and the environments are very well done. One little thing I noticed is how the music and the intro cards for the engine and tools used to make Little Red Lie sync up. Speaking of the music, it is very nice and appropriate here but nothing I would listen to outside the game.
Having played this on iPad, iPhone, and Vita, it is interesting seeing how this has been adapted to various platforms. On iPhone, you can experience this in portrait mode using your thumb to control everything. I love it when adventure or visual novel games do this. The Dragon Quest ports also allow for portrait play and it is appreciated because it makes playing these games much easier while travelling. The unfortunate thing about the iOS port is the iPad version doesn't support landscape and there is no iCloud saving. It is rather uncomfortable to play on iPad in its current state. If you want to go iOS, play this on the iPhone.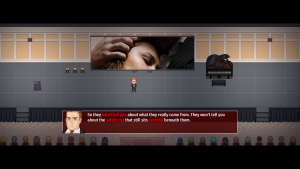 For fans of visual novels, there are some things you likely will not enjoy here in terms of saving and controls. The Vita version has no touch support which is disappointing because you know how much I love using the touch screen to advance dialogue instead of pressing X over and over again. When it comes to the interface, it is pretty barebones for a visual novel like game. There are no options to control text speed or skip dialogue. Early on, the autosaves felt too few and far inbetween causing me to have to replay some sections. Every portable game needs to have save anywhere. Other than that, there isn't much fault with Little Red Lie.
WIll O'Neill's Little Red Lie is something everyone should play. It may be a bit too much mentally for some, but this is the kind of stuff more games should get into with their narratives. Actual Sunlight was already fantastic narratively but Little Red Lie is not just a worthy follow up but a magnificent piece of interactive fiction in its own right. I'm glad this one is available on multiple platforms so I can now safely tell almost everyone I know to get and play this as soon as possible. If you aren't put off by old school visuals and have been looking for something more from game stories than the usual fare, this is exactly what you've been waiting for.
Positives
Fantastic narrative
Great music
Nice art
Negatives
Some interface and save issues
Little Red Lie is a fantastic narrative told over two different sides that will hit home often enough to exhaust you mentally.