Release Date
November 14, 2023
Few games in recent memory have had the gaming community in such a state of cooperative glee as Remnant 2. Gunfire Games played a masterstroke by weaving so many mysteries and secrets into the fabric of their dimension-hopping shooter that it kept gamers guessing for weeks after launch as to the whereabouts and existence of special weapons, unique gear, and hidden Archetypes (classes) that completely change how you play the game. From build-crafting to lore-hunting, it reinvented the wheel in terms of meta-progression. The first DLC, Remnant 2: The Awakened King builds upon those foundations to deliver a new slice of secret-hunting, evil-slaying fun.
While many were hoping for a new world to explore (fingers are still crossed for a return to the deserts of Rhom), the DLC actually sends us back to Losomn. Heading to the World Stone and selecting The Awakened King for the first time will give you access to a "One Shot" version, which delivers only new dungeons and lets you play the story as a cohesive whole.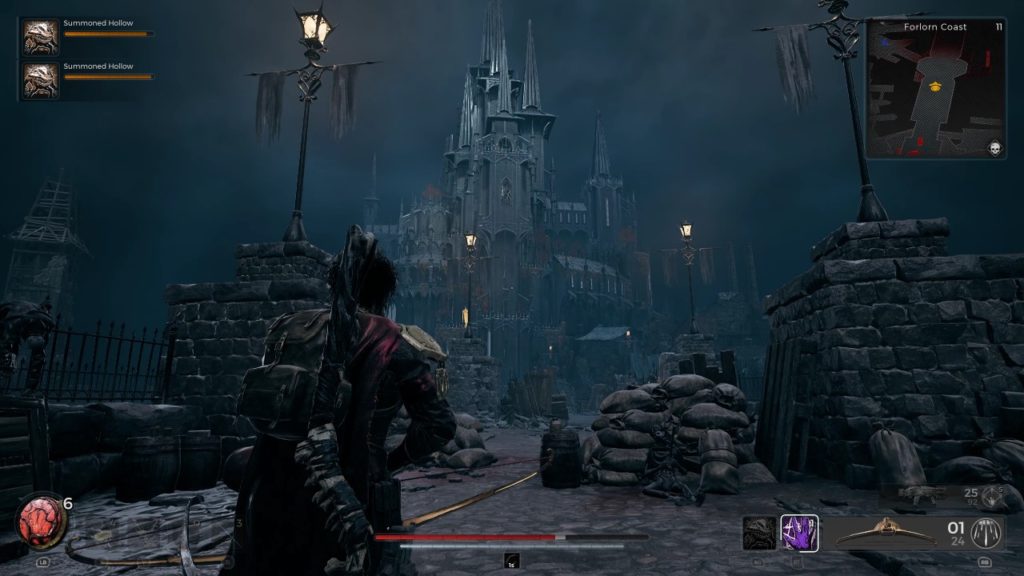 We're dealing with the titular monarch, a godlike entity that was "assassinated" prior to the main game. His apparent death is what sundered the world of Losomn, combining the realms of Dran and Fae with disastrous results. Well, it turns out he wasn't dead at all, and his soul was kept alive by Nimue, who felt guilt over his betrayal and put him to sleep instead. And now he's woken up with a nark on, and flooded Losomn with darkness.
So you head into new locale The Forlorn Coast, the sea-battered docks district of the sprawling city. The new location is beautiful in its macabre decay, with several vistas offering stunning views of the entire district and the angry sea beyond. It's Losomn on the scale of N'Erud, where it feels as though if you can see it you can get to it. And you mostly can, too. The Forlorn Coast is more interconnected than the other areas, with multiple shortcuts leading through it.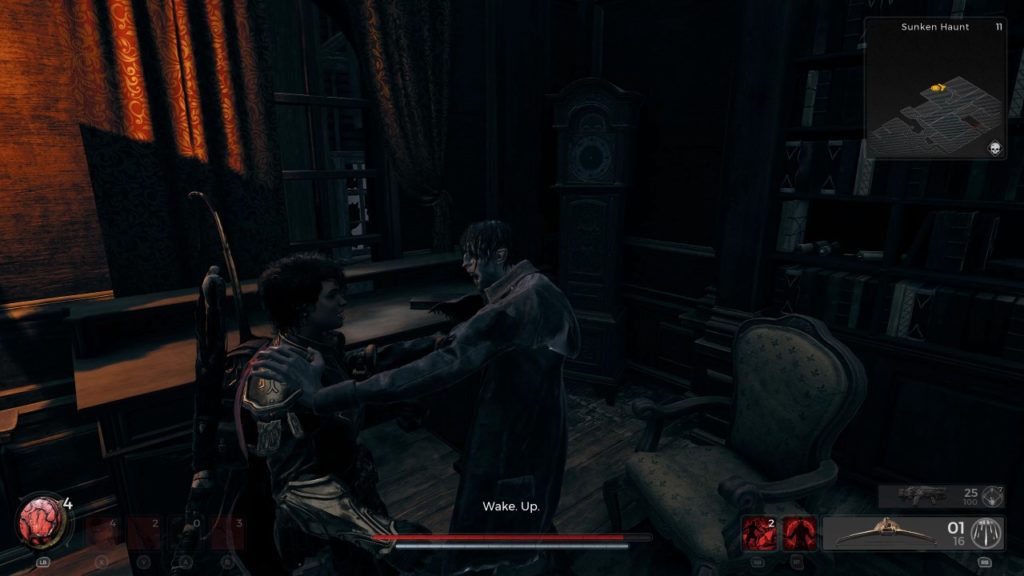 But with a new area comes new threats, such as mutated, bloated beasts that burst from the bodies of the beleaguered Dran. It's quite unsettling to watch and hear, but it adds to the atmosphere that this world is truly, deeply, screwed. A handful of new elite enemies cause problems both up close and at range, such as the relentless Impaler who delights in getting up in your grille, and the cultist who creates a shield of light that absorbs damage then fires it at you. There's even a big lad who looks like the upside-down-faced butler in the Great Hall event, who comes at you with an axe the size of a Ford Cortina. You'll also spot a few new suffixes for Aberrations peppered in to keep you on your toes.
The Awakened King also introduces a couple of new bosses, which may be among the best in the game. Bruin, Blade of the King who was already shown off in the previews is a great fight, switching between tense, close-quarters melee and devastating ranged AoE, while the final boss is monstrously huge but nowhere near as frustrating as the Annihilation fight.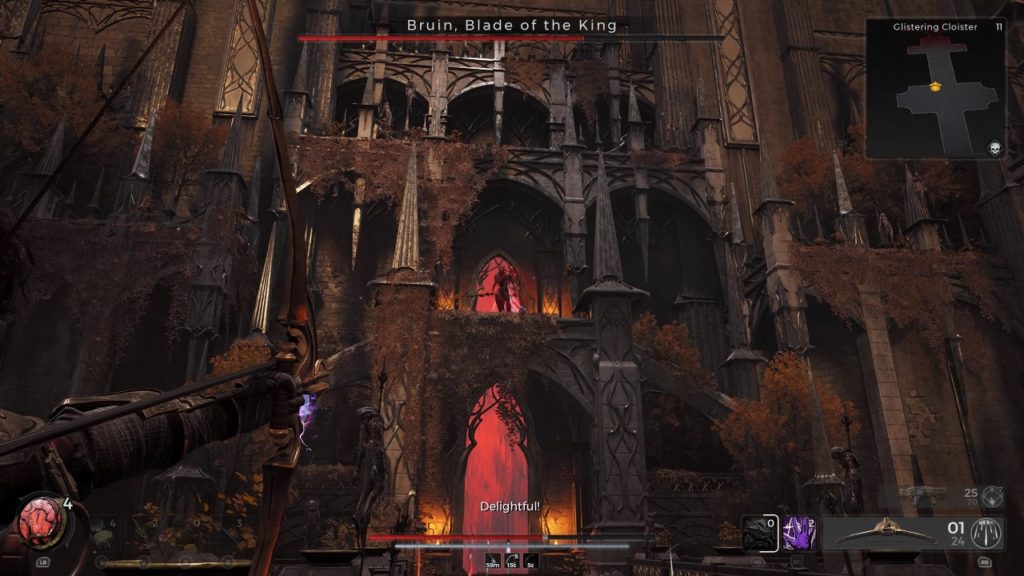 You'll also have no shortage of gear and secrets. There's something in the region of half a dozen new weapons, melee and ranged, and around a dozen amulets and twenty rings to seek out. But the main event for many is the new Ritualist Archetype. Designed to make lethal use of the game's many Status Effects, the Ritualist eschews direct damage in favour of inflicting miasmas on the enemy. It's a class that feels underwhelming at first, but gradually becomes more and more lethal as you level it up. Once you're past level five, it works superbly alongside classes like Challenger, Invader, and Gunslinger, weakening close enemies and allowing you to take them apart in seconds while intrinsically buffing you. Of course, there's also a new well-hidden armour set, as well as a handful of accessories to boost the efficiency of the Archetype.
Remnant 2: The Awakened King is DLC done right. It adds to the existing pool of dungeons and gear without directly affecting the main story, while heaping in new secrets to keep you running it multiple times. Once you've finished the One Shot version, the dungeons will be sprinkled into your normal Losomn playthroughs to beef up the spread of activities.
My only complaint is that the story ends without fanfare, as something that is built up as a world-ending cataclysm is resolved without any real drama. There's not even an ending cutscene, just some tie-off dialogue with a few NPCs, that left me feeling a little bit disappointed that they weren't making a bigger deal of the challenges I'd overcome. But maybe that's a personal complaint – as is the fact that we still don't know where Ford is.
Ultimately, though, this is more Remnant 2, when we already had a ton of Remnant 2, and the introduction of a new Archetype gives you that many more combinations for build-crafting and ways to replay the existing content. The Forlorn Coast makes for a haunting and disturbing holiday destination, but it's just the thing for blowing off those dimension-hopping blues. Remnant 2: The Awakened King DLC is filled with things to do and find, and a promising indication of things to come.
Positives
Great new location
New mysteries to solve
Some superb boss fights
Negatives
Ends a bit abruptly
Remnant 2: The Awakened King DLC is filled with things to do and find, and a promising indication of things to come.