Many will consider Turtle Beach the king of the headphones. Focusing on that area, whether you consider them the best or not, they've rightly got fans due to the quality of the products. Entering the keyboard and mouse market (respectively) poses new questions, that they hope to answer with the IMPACT 700, and, perhaps less so, the GRIP 500.
First of all, a confession: I've become an insufferable prick when it comes to gaming. Despite pretending I'd never become one of those "PC gaming is better" people, I've become exactly that – but with good cause, because I realised it's not a lie, nor is it a brag; it's simply the truth. All of a sudden I started caring about my keyboard and mouse, and where before, I'd just want wireless devices, suddenly wired makes more sense, because latency, man. I jest, I've not gotten that bad yet, but both the 700 and 500 are wired units, so if that bothers you, this'll be where you check out, I guess.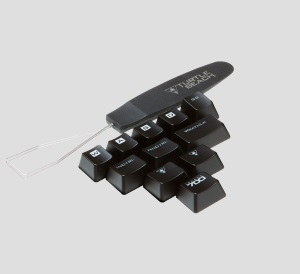 But I am going to be superficial about this, because life is full of simple pleasures, and the IMPACT 700's keyboard sound and feel is the best I've heard or felt. It took some getting used to, but the actual keys themselves now feel second nature, but the real killer feature here is the fact you can plug everything into your keyboard, which is (of course) right at your fingertips. Just behind the Turtle Beach branding (top right of the unit) there are four ports: two USB 2.0; one headphone jack; one audio pass-through.
This means that you can be truly lazy, and when you want to plug a USB device in, you can stay seated and pop it into your keyboard. At first it's slightly awkward because you're not used to it, but after a while the convenience factor is superb. The addition of the audio ports means that if you're not using a USB powered mic or headset, you can plug it straight into the keyboard. Got a handy pair of iPhone headphones (come on, you all do – you're only lying to yourself here), then just plug them into the keyboard and continue into the night, while your family sleeps. This does mean the main cable is larger, more akin to the type you'll find on a PSU (though not quite that big), because on the end there are the corresponding dual USB, mic and headset cables that will need to go into your tower somewhere.
Honestly, the IMPACT 700 feels great. It's not cheap (around £159.99), but no truly excellent keyboard ever is, and it even comes with extra key covers so you can keep them pristine, if you're that kind of person. If you want to go a little less pricey, you can forgo the number pad and audio pass-through, and grab the IMPACT 500 for nearer the £99.99 mark, or the IMPACT 100 (emulated mechanical keys, 104-key, no pass-through) for £49.99.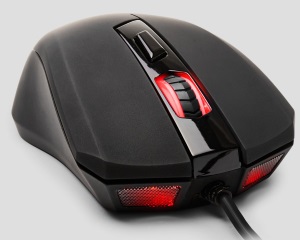 At £54.99, the GRIP 500 is a pricey mouse – there's no getting around that. But it's clearly aimed at the high-end market. With software that lets you customise everything you can think of, it really goes the extra mile for the truly gadget obsessed users. You can even change the colour of the mouse wheel (I'm using yellow, for what it's worth), and if you so choose, have different illumination effects (off, on, steady, breathing, battle mode). It's a nice touch, really, as battle mode intensifies depending on how fast you're clicking buttons. Like I said, it goes the extra mile.
The GRIP is made of a material that doesn't slip from your hands. It feels almost soft vinyl-like (the material, not the music-holding magical black disc from my youth), but it's also soft to the touch. The cheaper 300 model is only £34.99, but has a lower DPI, two fewer buttons (five instead of seven), and is far less customisable. I also checked out a mousepad (the DRIFT Wide), which covers the width of my desk, allowing the keyboard and mouse to sit on it. It's a nice optional extra, and is both comfortable on the hands, while keeping the units still, and the desk tidy.
Truth be told, for a first stab at it, Turtle Beach have knocked it out of the park. The IMPACT 700 keyboard is the star here, and I'd rather use it than any other keyboard I've used before. The lesson here, it seems, is that if you spend thirty years making a certain type of product, when you branch out, you're likely to succeed there, too. Make no bones about it, these first entries into the market are extremely high quality, and it'll be interesting to see where Turtle Beach go next.