This week in the UK video games charts sees very little change in positions, and very little new entries. BioShock Infinite stays on top for the third week, whilst Tomb Raider stays in third place.

EA teams up with London Mexican restaurant chain Chilango to bring you the Army of Burr-TWO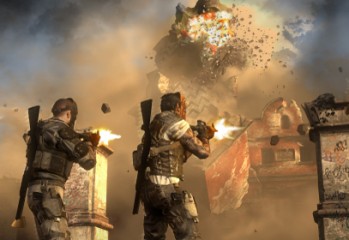 Out today in the States, we've not seen a huge amount of Army of TWO: The Devil's Cartel, which is a shame because fans of co-op might actually be interested in this one.

big Boi from Outkast and rapper B.o.B have collaborated for the theme song for upcoming Army of TWO: The Devil's Cartel theme song.

Not only do we have a new trailer (called "Speak of the Devil", and showcasing gameplay), but EA have also sent word that a demo will be released for Xbox 360 and PlayStation 3 on March 12.

Visceral's upcoming Army of Two: The Devil's Cartel has a new trailer that sees Steezus Christ and the McClungs play some couch co-op.

EA TEAMS UP WITH HIP-HOP ICONS BIG BOI AND B.O.B IN THE CO-OP ACTION BLOCKBUSTER ARMY OF TWO THE DEVIL'S CARTEL
EA has announced the sequel to The 40th Day, Army of Two: The Devil's Cartel, is on its way in early 2013.