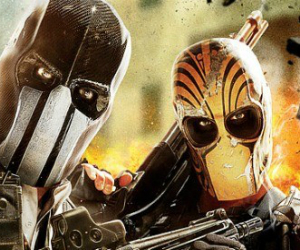 Recently, a couple of pro skateboarders had a go at the upcoming Army of Two: The Devil's Cartel and you can watch them play it. Brilliant, huh?
The McClung brothers and a man called "Steezus Christ" (I'll hazard a guess that he wasn't given that name at birth) stop eating cakes and sitting on the bog – as demonstrated in said trailer – for five minutes and decide to shoot some people in the face, instead.
The four young men get to play some couch co-op of Visceral's upcoming title and judging by their reactions, they quite like it – at one stage, one of the McClung's call their experience; "tight".
This is the Dead Space developer's first crack at the Army of Two series, which has never been in the upper echelon of video games. It will certainly be interesting to see what they do with this EA property. Like necromorphs in Dead Space, you can blow limbs off of bodies…so, eh…yeah.
Check out the "tight" trailer, below.
Army of Two: The Devil's Cartel will be released on March 29 in Europe and March 26 in North America for Xbox 360 and PlayStation 3