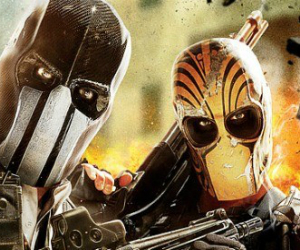 Electronic Arts have long been associated with getting the biggest and best names involved with their games, and their most recent announcement for the latest Army of Two title shows us that fact hasn't changed – as two top stars in the world of U.S. rap have lent their talents to the title.
Big Boi, from the duo Outkast, and B.o.B – famous for his collaboration with Hayley Williams, Aeroplanes, will not only lend their voices and likenesses to the game, but the pair are also performing the theme song to the game, entitled Double or Nothing – which will release alongside the game. The two rappers play T.W.O. operatives Charles "Chuy" Rendall (Big Boi) and Anthony "Baker" Barnes (B.o.B) in Army of Two: The Devil's Cartel, and will be members of the players squad, helping him fulfil his contracts.
Electronic Arts also announced that they will be giving away a pre-order incentive through select retailers, entitled the Hit-Makers Kit. This add-on will feature an additional T.W.O.Contract mission to play through, that will allow them to play as Big Boi and B.o.B's characters, as well as custom masks and weapon skins designed by the artists themselves. This certainly sounds like a better gaming/rap crossover than the infamous 50 Cent: Blood in the Sand.
See a selection of new trailers for the title below:
Army of Two: The Devil's Cartel will be out on March 29 in Europe and March 26 in North America for Xbox 360 and PlayStation 3.