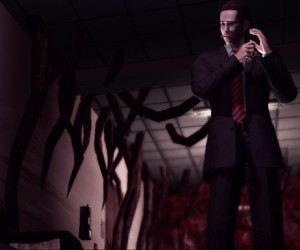 Deadly Premonition seems to be the very definition of a Marmite game. When it was released over two years ago, it garnered rave reviews from some quarters, whilst being dismissed and dissed by other critics.
The game certainly wasn't to the taste of everyone – check out our full review of the original title here – but it has gained a strong cult following, what with its eccentric storyline and characters, open world gameplay and creepy Horror action. GameTrailers.com have been able to get access to three new videos for the title, which show us the intro movie for the game, some footage of exploring the strange town and meeting some of its inhabitants, and an early action scene.
We can't really get a handle on any of the Director's Cut improvements simply by viewing these videos, but game designer SWERY has promised such refinements as a player-controlled camera system, a new in-game mini-map, sharper visuals and an improved aiming system. We recently had the chance to speak to SWERY and he hinted that this new version could also come to Xbox 360 one day, but it is currently only planned for PlayStation 3 release.
See the videos below:
Deadly Premonition: The Director's Cut will be released in North America on April 30, and the European release is expected one week earlier, exclusively on PlayStation 3.