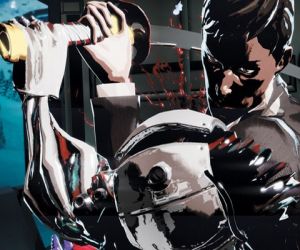 Whenever SUDA51 is mentioned, people get excited – and KILLER IS DEAD is no different. Today, Deep Silver have released the English language version of the reveal trailer, so we can hear how the English speaking voices sound.
If you've been living under a rock, KILLER IS DEAD is set in the not-so-distant future, but in a different world, and tasks the player with controlling an executioner (interested yet?) named Mondo Zappa (now you bloody well must be?), who wields a Japanese sword in his right hand, and interchangeable weapons in his left artificial arm (welcome on board).
Basically, Mondo has to execute criminals littered around the world.
I'm in.
Check out the trailer:
KILLER IS DEAD will be released in Summer 2013 for Xbox 360 and PlayStation 3.