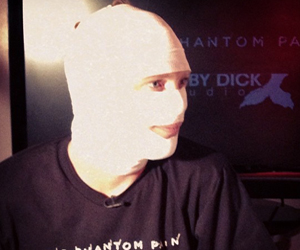 The mystery continues as Geoff Keighley's interview with the mysterious head of Moby Dick Studio aired in North America, last night.
A couple of days ago, Keighley tweeted that he was interviewing the CEO of the developer behind The Phantom Pain. Prior to Joakim Mogren's appearance on GTTV, Keighley posted images of his interviewee on Instagram and tweeted;
"This man claims to be Joakim Mogren of Moby Dick Studios, developer of The Phantom Pain."
Twitter started posing questions to the long-time member of the video game press, which Keighley answered, to his credit. One fan said the obvious – Mogren is Kojima, which Keighley replied to;
"@KratosKilla The guy was definitely not Kojima. He legitimately seemed Sweedish. And I'm skeptical if he is actually a game developer."
Another follower of Keighley's asked if The Phantom Pain is 100% not Metal Gear Solid, or if there was still a chance that TPP was really MGS;
"@TheGhostSix Definitely still a chance, once you see the interview a bit more will become clear."
Did it become clearer? Sort of. In the interview the bandaged man dodged an awful lot of Geoff's questions such as whether the game was next-gen, but he did show some new images of the game. Keighley also spotted a FOX engine logo in the corner of the images and Mogren looked visibly shocked that Keighley saw this. At GDC later this month, Mogren confirmed that a new trailer for The Phantom Pain would be revealed and all questions would be answered.
A YouTube user by the name of VideoGaemz has uploaded the three minute clip, and I would highly suggest that you watch you it. If only for Mogren's "shocked" expression.
Update: In a strange twist, NeoGAF users have began debating the authenticity of one Joakim Mogren. On a thread, discussion has been focused purely on whether or not Mogren was a product of FOX engine. Upon watching it the first time, that thought obviously never entered my head, but…I don't know. Possibly. Perhaps. In all likelihood, no. But, to watch that thread unfold is a joy.