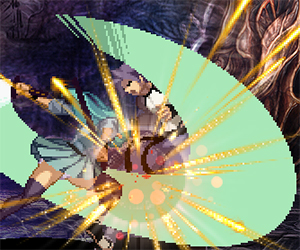 Yatagarasu, a little known 2D fighting game, has been released today for PC through RiceDigital.co.uk. And it looks rather brilliant.
This gorgeous looking fighter takes influences from the 2D kings, with names like Street Fighter III: Third Strike and Kind of Fighters being dropped as comparisons. Anyone that's even spent five minutes with Street fighter III will understand that that is lofty praise. The footage certainly has a Garou: Mark of the Wolves like weight to it.
The quality on display is all the more impressive when you discover that Yatagarasu is the work of three people. The visuals comes courtesy of ex-SNK and King of Fighters artist Kotani Tomoyuki, while the design is from one of Japan's best fighting game players, Umezono. Programmer Shiza is the final member of this formidable three man band named PDW: Hotapen.
for those that need numbers Yatagarasu features eight characters, a unique 'button lock' parry system, and a 'damage mitigation' concept to help players stuck in combos. Inviting stuff.
It also features online play for two people at a time in eight player lobbies.
The version available on Rice Digital is also part-localised. Hopefully that's the important part, and not, say, the post credits sequence. That wouldn't help.
I am getting this game right now. Well, lunch first, but right after that. Just watch the trailer below, it looks superb. Well, it looks 4:3 and that was slightly jarring but it looks slick and satisfying and free of any unnecessary bumph. What's that? Darkstalkers? Yeah that's great, but this looks fresh. You can buy Yatagarasu from RiceDigital.co.uk here: http://www.ricedigital.co.uk/store/yatagarasu
Yatagarasu is available now for Windows PC