Rice Digital just announced an exclusive limited edition of Guilty Gear Xrd -REVELATOR- in the form of the Let's Rock edition.
So far this is the only English limited edition of the game and it has Guilty Gear music on Vinyl for the first time.
The contents are as follows:
– Limited Edition GUILTY GEAR Double Red Vinyl with Art Sleeves – this is the only pressing of this red vinyl on the world, featuring the Soundlive 2014 live recording of Daisuke Ishiwatari's incredible soundtrack
– Full official CD Soundtrack
– GUILTY GEAR Xrd Visual Book
– Bonus Character: Raven DLC code
– And, of course, the game itself (on either PS4 or PS3)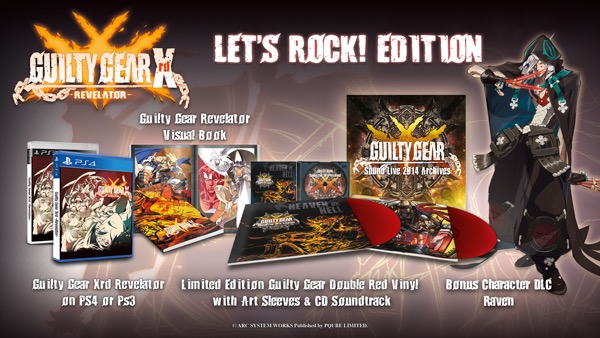 The edition costs $99.99 with free worldwide shipping.
Guilty Gear Xrd -REVELATOR- is set to release on PlayStation 3 and PlayStation 4 on 10 June. If you preorder it on PSN right now, there's a playable demo that downloads right now for you to test out a lot of the game before the full thing releases in June.