Persona 4 Arena Will be Coming to Europe in 2012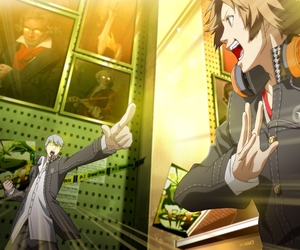 European fans of the Shin Megami Tensei series of J-RPG's have reason to celebrate today as ATLUS and Zen United have confirmed that Persona 4 Arena – the beat-em-up spin-off from the hugely popular Persona 4 RPG title – will be released on Xbox 360 and PlayStation 3 across Europe later this year.
The title is being put together by both ATLUS and Arc System Works (who are probably most famous for their Guilty Gear and Blaz Blue fighting titles). This will be the first game in the series which isn't an RPG of some description, and is an interesting new direction for the franchise. It is promised that the game will still include the same flair for storytelling and RPg elements that fans of the series are sued to, but of course will be a lot more action orientated than before – whilst featuring the hand-drawn 2D artwork that Arc is famous for.
Persona 4 Arena thrusts players back into the sinister Midnight Channel where students are engaged in deadly battles on a mysterious new programme called the 'P-1 Grand Prix'. Here, popular characters from Persona 3 and Persona 4 collide against a backdrop of spectacular visual effects while exploring the events that follow the critically-acclaimed RPG, Persona 4. "ATLUS's Persona series is one of gaming's best-loved treasures. While Arc System Works' artistry in the fighting world is second to none" said Director at Zen United, Geraint Evans. "A collaboration between these two, greatly-revered developers is a mouth-watering prospect for both RPG and fighting fans alike".
It is interesting to see that the game will be coming to Xbox 360 – perhaps this even foreshadows a possibility that the next Persona RPg will also be multi-platform? That would be a first for ATLUS, as the series has been PlayStation-exclusive up until this point. We will have to wait to see for more news on this in the future.
[nggallery id=919]
Persona 4 Arena is scheduled to release on Xbox 360 and PlayStation 3 in Europe later this year.