Any serious PC gamer will tell you that optical mice perform better than laser mice, and if you ever want to leave the Silver ranks of CSGO you had better tool up. But high quality gaming mice can often be expensive, and that's where SteelSeries have stepped in, with the introduction of the Rival 100.
The whole point of the Rival 100 is to offer a professional level optical gaming mouse, on a budget. We took one for a spin to see if it lives up to the hype…
On first grip, you'll notice two things: it's a comfortable fit, with ergonomic right-handed design and thumb grips on the side, but it's also very light. It's quite odd, as the build quality doesn't feel cheap, but the weight reminds you this is a £30 mouse and not a £75 one. Saying that, most expensive mice use weights anyway, so weight isn't necessarily an indicator of price, but there's something psychological and subconscious about it.
Mouse buttons 4 and 5 are on the side, which comes down to personal preference, but I tend to think they fit far better on the thumb-side of the mouse, than the middle. It always seems like an easy solution to the ambidextrous issue, when companies shove the back / forward buttons on the top of the mouse, instead of the side where they belong!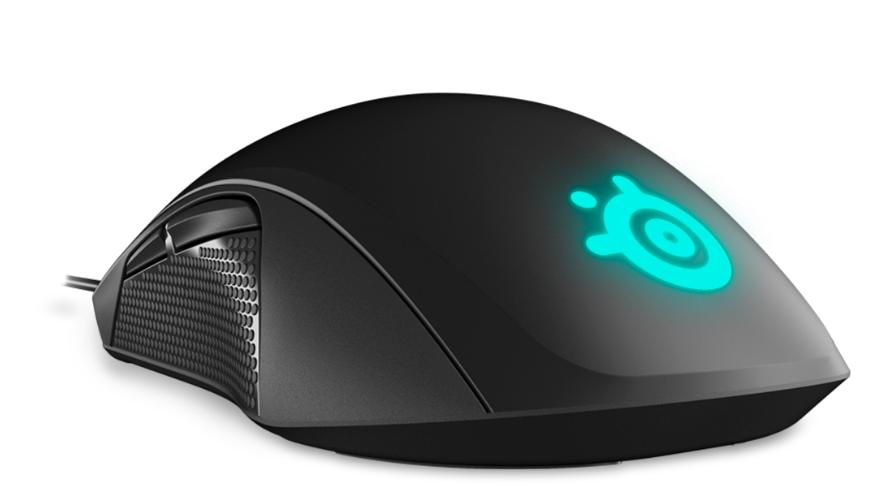 There is a DPI-change button on the top, with 2 settings, to switch between desktop and gaming mode. There's also a nicely textured mouse wheel/mouse button 3 above it.
The main left/right click buttons have a nice tactile 'clickly' sensation to them, which may take some getting used to.
What's really nice about the Rival 100 is the fact that there's RGB lighting for the logo. Using SteelSeries' software – which is actually pretty well designed – you can alter the glow colours to whatever you fancy. In here, you can also alter the button mapping, sensitivity/dpi and acceleration settings. SteelSeries' software is available for both Windows and Mac OS.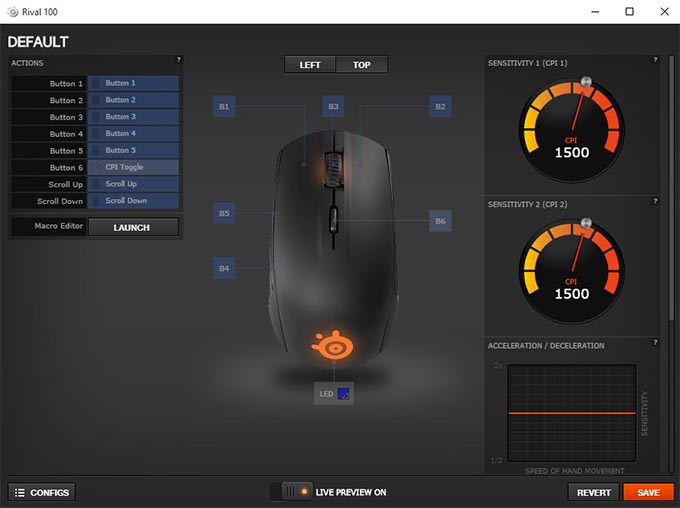 Sensor Name: SDNS-3059-SS
Sensor Type: Optical
CPI: Increments from 1 to 4000
IPS: 140
Acceleration: 20 gs
Polling Rate: 1 ms
Zero Hardware Acceleration
Tracking Accuracy: 1:1
At under £30 on Amazon, SteelSeries Rival 100 is an absolute bargain. We defy you to find a better mouse, for under thirty quid!