Cyborg M.M.O. 7 Gaming Mouse Review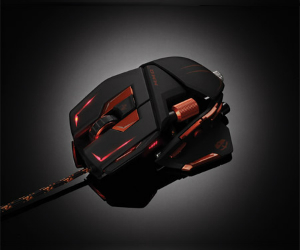 Product: Cyborg M.M.O. 7 Gaming Mouse
Manufacturer: Cyborg
The design of this mouse could be described as quite an acquired taste. It certainly appeals to a certain user, but of course that's totally on purpose. The Cyborg M.M.O. 7 Gaming Mouse is completely and utterly designed for the hardcore MMO gamer, and no one else. You won't find this mouse sat in a corporate environment, not unless your boss is a secret WoW player; and that's to its credit. Every aspect of this peripheral is designed to enhance MMO gameplay, and that doesn't mean they've just added a load of buttons to the side, like other high-end MMO mice. The buttons that have been added to the M.M.O. 7 have been carefully thought out – form follows function, in this case.
Cyborg gadgets are known for their customisation options, and the M.M.O.7 is no different. The mouse comes complete with three different palm rests, three pinkie rests and a selection of weights, all to adjust the feel and comfort of the mouse. There's a larger palm rest to make the mouse more ergonomic for people with big hands, a rough palm rest for added grip, and a large pinkie-rest, to keep your little finger from dragging on the mouse mat. They've really thought of every possible configuration you could want from a mouse. Then there's the buttons…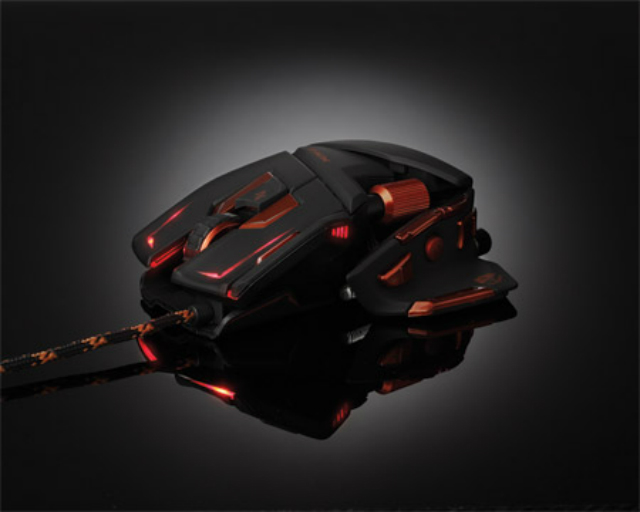 Technically, there are six buttons on the thumb-side of the mouse, but one of them is a kind of analogue thumb-stick, with up/down/left/right and click functions, then there are two sets of forward/back buttons, and a final button placed under the resting position of the thumb. On top of the mouse there are a further six buttons, including the mouse wheel, left click, right click and two lock-down buttons. These lock-down buttons can be pressed to effectively hold-down mouse1 or mouse2, ideal for character control, in-game. The sixth button on the mouse face is the mode change button, this will cycle through three presets of macros, effectively changing the function of every other button on the mouse, all of which are programmable through the included software. There's one additional button on the right of the mouse, which when pressed will provide an alternate mode shift, meaning along with the original mode change button, you have six preset modes to chose cycle through at all times. Finally, there's a side-scrolling 'button', if you will, near the thumb that acts as a horizontal mouse-scroll; handy for scrolling through mobs!
Button functions aren't the only customisable options in the Cyborg software, there's also the ability to change light colours, and the all-important DPI and Precision Aim settings. The mouse can be setup to increase (or decrease) the sensitivity by up to 100% at the touch of a button, an impressive feature for twitch-based action.
The  software itself is pretty straight forward and easy to use. With the six preset mode options, it's quite easy to have a different set of button binds configured for each MMO you are currently subscribed to, and one or two for desktop apps, such as browsing – having two sets of forward/back buttons comes in really handy when browsing, for example, one set for pages, one for tabs. There is also a whole host of presets available for download from Cyborg's website, including all the popular, and a majority of the not-so-popular, MMORPGs.
Included in the box:
Cyborg M.M.O. 7 Gaming Mouse with USB Connection
5x 6-Gram Weights with Storage Canister
2x Additional Pinkie Rests
2x Additional Palm Rests
Storage Box
VERDICT: With 6400dpi and a whole range of both physical and software configurations, the Cyborg M.M.O. 7 is without a doubt the most customisable mouse on the market right now, making it absolutely ideal for MMO gamers.

[nggallery id=835]