Cyborg R.A.T. 9 Gaming Mouse Review
Product: R.A.T. 9 Gaming Mouse
Manufacturer: Cyborg
Price: £119.99
Having a decent quality mouse is something that a lot of people overlook, I was one of those people for a good many years, as far as I was concerned if the mouse worked, and I could point at things on the screen and click on them then I was fine with anything I was using. This was proven on a recent episode of Ding! where I admitted to using a £5 wired mouse from Argos for all my PC gaming. Everything has changed since I recently got my hands on the R.A.T. 9 from Cyborg, a gaming mouse with a list of features usually akin to other gaming peripherals such as keyboards or even controllers. If there's one thing I'm certain of now however, it's that once you go R.A.T., you never go back.
The first time you look at the R.A.T. 9 you'd be forgiven for questioning whether the device is even a mouse at all. Most people would be used to two buttons, a scroll wheel – that may or may not be clickable – and that's about it. The R.A.T. 9 has those features, the two buttons, the scroll wheel – which is clickable in this case – but that's where the similarities end in regards to comparing the behemoth to a standard mouse. Cyborg's gaming mouse has a total of nine buttons and two scroll wheels, most of which are programmable so that the user can get the mouse to do exactly what they want, when they want it to do them.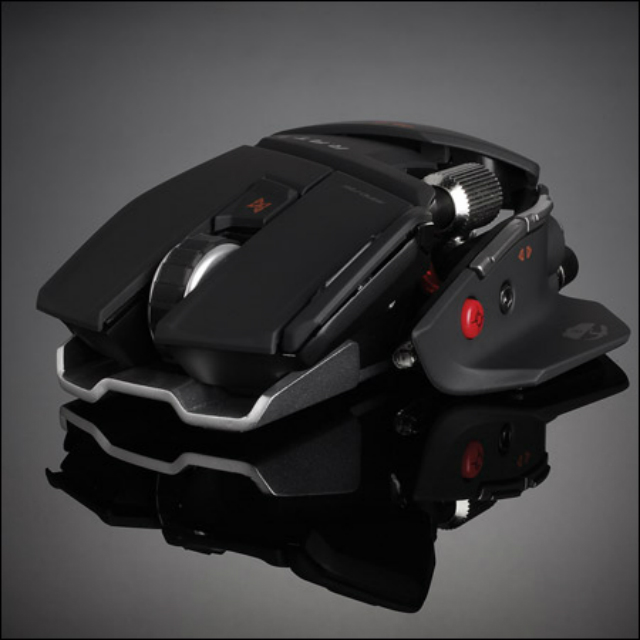 The software that's included with the mouse allows you to program each of the buttons to perform certain tasks, these are most useful when you're in a game but can also be used to perform things when just using the computer normally. For example, I use a Mac and I was using the Magic Mouse's touch functionality to scroll between Spaces in OSX Lion (these are basically full screen applications that can be switched to at any time), I programmed the Cyborg R.A.T. 9's horizontal scroll wheel to perform this action and now I have no need at all for the Magic Mouse that was supplied to me with my iMac; perfection.
There are three modes on the mouse too, so if you usually use a set of different commands for different games you can program the mouse to work with up to three completely different sets of customised commands. Looking at it from a different perspective, this shows that this mouse is hugely useful for even non-gamers, you could use the three modes in the way that I'm using it, Mode One is for all my PC-centric commands, I switch over to my OSX Lion operating system and I move the R.A.T. 9 into Mode Two, my Mac Mode. Lastly, if I want to get down and dirty with Linux, I could have all those specific commands on Mode Three; all three major operating systems covered at the press of a single button. If you need more than three modes however, you can save out your profiles. You can only have three modes programmed into a single profile but you can have as many profiles as you want, these only take a few seconds to load so you can literally have an unlimited amount of customised commands at the click of a button.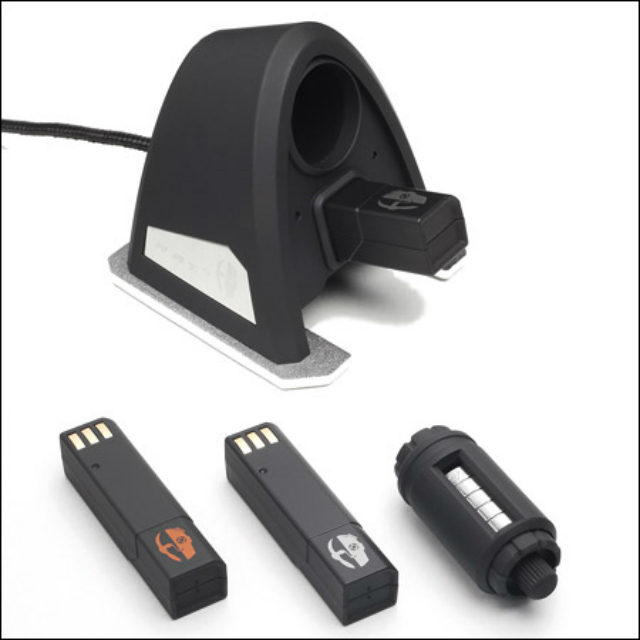 One of the things about the R.A.T. 9 that worried me when it first arrived at GodisaGeek.com HQ was the fact that it's wireless. A lot of PC gamers take a short intake of breath when they see the word 'Wireless', it doesn't matter if it's regarding their internet, their keyboard or – indeed – their mouse, it's a dirty word when it comes to PC gaming. One of the things about the wireless aspect that had be worried was the fact that I thought that I'd have to be constantly changing the batteries. Not at all, Cyborg have you covered in that respect, the wireless receiver has a battery charger built into it and the box includes two of the mouse's proprietary batteries. This means that you'll always have a battery ready to go as you should always have one in the mouse and one on charge; if you haven't, well, that's your fault and you've only got yourself to blame. Even the wireless aspect of the mouse isn't bad at all, I've played about a day of Diablo III using the R.A.T. 9, as well as a plethora of other games and I haven't noticed any problems with random disconnections. There's a small issue where if the mouse goes into sleep mode, if you haven't touched it for a while it might not connect to the receiver properly; nothing that a quick turn off and on won't fix and it's only happened once in a week of constant use totalling about 60 hours.
Arguably one of the main features of the Cyborg R.A.T. 9 is the ability to customise it to however you want it to be. You can swap the palm rest and the pinky rest out for one of three possible versions, you can modify the position of the palm rest and the thumb area of the mouse for the perfect fit for your hand. If things still aren't feeling right at that point, you can modify the weight of the mouse with the built-in modifiable weight system. It will take some time to set up just right, and then it'll take some time to get used to after that, but once you're used to it you won't be able to go back to another mouse; once you get used to it, using the R.A.T. 9 is like putting on a glove, it just feels "right" in your hand. Speaking about feeling "right", one of the major downsides to this particular mouse is the fact that it's for right handed people only, there's no reason for a left-handed mouse user to get the R.A.T. 9 at all unfortunately, it's not going to be comfortable and some of the buttons are going to be practically unreachable. If you're right-handed though, go for it, it's one of the best mice you'll ever have the privilege of getting your hand on.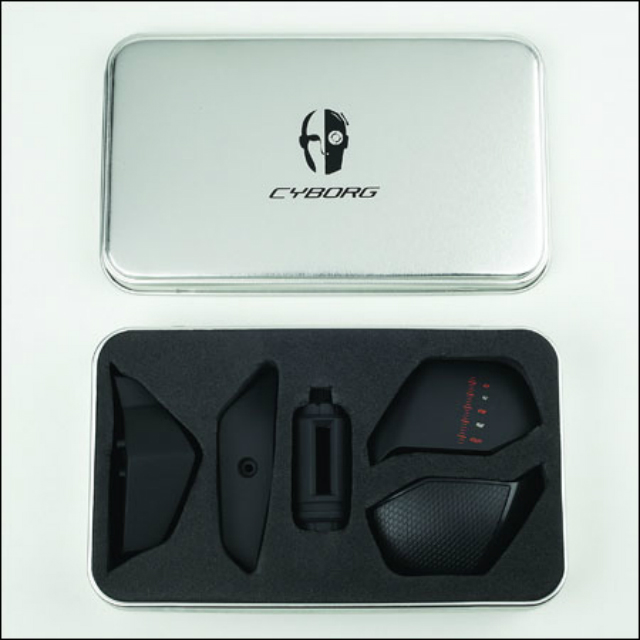 FEATURES:
Zero Latency 2.4Ghz Wireless Technology – A staggering 1ms response time ensures that your lightning fast reactions remain lightning fast.
Wireless Receiver/Recharge Dock – Keeps gaming for as long as the gamer, the R.A.T. 9 is a 24/7 wireless beast, shipping with 2 custom built lithium-ion battery cells. One powers the R.A.T. while the other one charges in the dock, allowing the gamer to perform a 'hot swap' whenever and wherever needed.. Up to 9 hours continuous gaming , Up to 4 days normal use.
3 palm rests

One featuring the same soft-touch finish as found on the body of the R.A.T.
One with a rubber inlay for enhanced grip.
One that is 4mm thicker to increase the height of the R.A.T.

3 pinkie grips

One featuring the same soft-touch finish as found on the body of the R.A.T.
One with a rubber inlay for enhanced grip.
One that offers a 'wing shaped' design, allowing you to rest your pinkie finger during play for increased grip.

Perfect your grip – How do you hunt? Whether you 'palm' the mouse or 'claw' it, the R.A.T. can quickly and easily adapt by adjusting in length to suit your hand size and grip style. In addition, the Thumb Panel of the R.A.T. 9 moves forwards, backwards, and pivots outwards, giving you perfect positioning for effortless gaming.
Custom Weight System – Like it light or heavy? Maybe you change the weight to suit your game? No matter, the R.A.T. has you covered. Five 6-gram weights can be added or subtracted in an instant, giving you the perfect weight for a perfect feel. When not in use, the weights can be safely stored in the supplied Weight Storage Container and kept safe in the supplied Charging Dock.
Precision Aim Mode – Hit your target the first time every time. Use the ST Programming Software to set your desired Precision Aim speed (mouse sensitivity), then hold down the Precision Aim button to slow down mouse movement to a level that works for you. A deadly weapon that will hit your enemy where it hurts.
6400 DPI – Featuring a new generation 'twin eye' laser sensor that reads each axis separately for pinpoint accuracy, the R.A.T. 9 tracks up to a stunning 6 meters per second. Pro gamers who favour low sensitivity with high movement speed preferences will always experience correct tracking and precision.
4 Custom DPI Settings – Use the Rocker Switch to toggle between your custom DPI settings
6 Programmable Buttons – Combine your Programmable Buttons with 2 regular left and right mouse buttons and give yourself a total of 8 buttons available to punish your competition. Assign your choice of key gaming actions to Programmable Buttons to create your own custom profiles.
3 Cyborg Modes – Toggle between three individual R.A.T. modes at the touch of a button. Change sensitivity or Programmable Button actions in an instant and gain immediate access to a mind-boggling 18 commands!
Powerful ST Programming Software – Change your DPI, cursor sensitivity, create custom profiles for each game, and assign commands to your Programmable Buttons. Easy, quick and the power you need right on your desktop.
Lightweight Metal Chassis – Strong yet nimble, the solid metal frame forms the core of the R.A.T. 9 for enhanced rigidity.