Cyborg V.7 Gaming Keyboard Review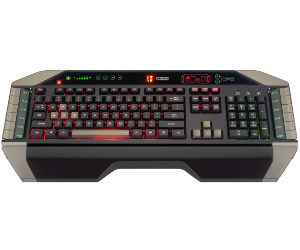 Product: V.7 Gaming Keyboard
Manufacturer: Cyborg
Price: £74.99
If there's one thing that every single gamer wants in their life it's a keyboard that does everything they could ever want it to do. We want a keyboard that light up for those extensive nights huddled over the keyboard trying to clear that "last dungeon" in Diablo III, or headshotting that spawn camper in Battlefield 3. We want macros so that we can cheat our way through our favourite games, or simply shout "Unlimited Power!!" in Star Wars: The Old Republic as we unleash the Force Lightning. We want it all, there's no doubt about that, but we very rarely get it. The Cyborg V.7. Gaming Keyboard brings us that one important step closer to having everything we ever dreamed of.
There's no hiding the fact that the Cyborg V.7. Gaming Keyboard is a mammoth machine. Even something as relatively simple as unboxing the behemoth was a task in of itself, then you get to the cables that are meant to be plugged into the PC. Four of them. Yeah, I can see that look on your face, "Four cables for a single keyboard? What the hell for?", I feel your pain and that's the exact look I had on my face when I first saw it too, but let me explain. There are two USB cables, one that's required to be plugged into the PC in order to use the keyboard – pretty obvious – but then there's another one that serves as an extension for the single USB port that's located on the keyboard itself. The other two cables are audio cables, one for the microphone and one for the headphones. These serve – just like the extra USB cable – as extensions for the headphone in microphone port that are located on the keyboard itself; this is the moment when most people would realise that the people at Cyborg really understand what it means to be a PC gamer, we don't want to be messing about at the back of our rigs, we want to be in game and with the Cyborg V.7. Gaming Keyboard, everything we could ever want is literally right at our fingertips.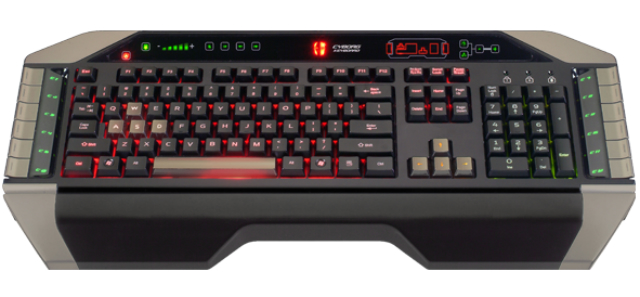 As you would expect from a gaming keyboard, all of the keys are illuminated, meaning that you can play in the relative darkness of your bedroom without having to wonder where any specific button is. This isn't anything new and – as I said – is something that most people would have come to expect from a gaming keyboard by now. What is a little bit different though is that ability to swap between "Normal" mode and "Cyborg" mode. In "Normal" mode you're using a normal keyboard, you can change the colour and brightness of the keys and everything except the macro keys are available to use; nothing special there. Switch things over to "Cyborg" mode though, by tapping on the company logo in the top centre of the keyboard and you'll be whisked away to gaming heaven. This mode is essentially the gaming mode and is what will give you the edge in whichever game you choose to grace with your presence, the first thing you'll notice is that the Windows key is disabled in this mode, a feature that seems redundant at first but anyone who's ever accidentally hit that button instead of the Ctrl button will understand the rage that this small feature will save. Secondly, the macros buttons will all illuminate, informing you that all the macros you've already pre-programmed are available and ready to use. These macros could be as simple as typing "Lol, n00b" into the in-game chat or as complex as issuing servers commands in your favourite Quake 3 mod, the sky is the limit and a lot of gamers will be thankful for all twelve of these buttons at one time or another. The last feature of "Cyborg" mode is that you are able to independently change the colours of all major areas of the keyboard (like on an Alienware laptop), the W, A, S and D buttons can be red and bright while the rest of the buttons are green and dim; it's your choice. Yes, it may seem like a trivial feature, but a lot of being a PC gamer is about looking cool (most PC gamers play on their own, I know, the irony isn't lost on me) and this keyboard certainly looks damn cool.
As somebody who uses a Mac for almost all of my work, I was a little disappointed to see a lack of support for Apple's operating system; at least at the moment. Judging by the support that Cyborg has been giving to its other gaming peripherals, such as the Cyborg R.A.T. 9 Gaming Mouse, I can only assume that they're working on something, but the fact remains that if you only have a Mac, and use that Mac to play games, then you're not going to be able to use the twelve macro buttons on the side of the keyboard at this moment in time. Having said that, the rest of the features of the keyboard are fully functional and the whole thing is a dream to type on (as this review, written entirely on the keyboard in question, can attest), but Mac users should be aware of this downside before they set their hard earned cash down.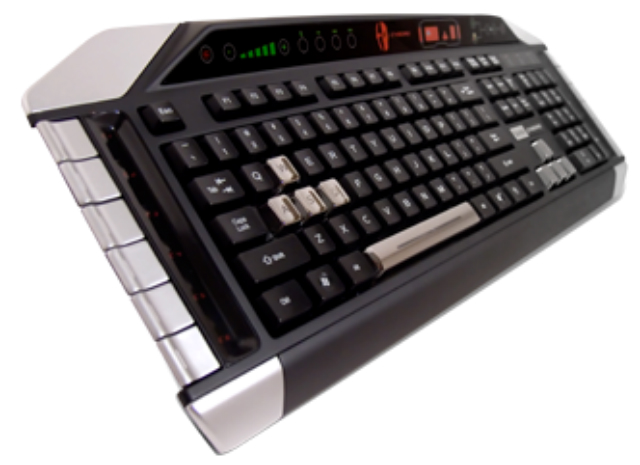 If you're a PC user then there's very few better keyboards out there for you to get your hands on. The Cyborg V.7. Gaming Keyboard has everything you could ever want in a keyboard for your gaming needs and a whole lot more. The entire package is nice and sturdy, even to the point where the most commonly used keys (the W, A, S, D and the arrow keys) are even plated in metal so as not to wear them down as quickly and it's clear to see that this is a keyboard made for gamers but more importantly, made by gamers. If you haven't even considered treating yourself to one of these keyboards then you don't know what you've been missing out on. If you have considered it and for whatever reason haven't made the purchase yet, just do it. You won't regret it for a second.
FEATURES:
Built for 21st century gaming, the V.7 embodies the true essence of the Cyborg range.
Multi-colour Backlighting – Tru-Vu™ illuminations allow you to set the mood and illuminate your world, mixing shades from Red through Amber to Green.
Touch-sensitive, backlit dashboard Control Panel – Configure your lighting, media and volume controls with the brush of a finger.
WASD, cursor, 'Cyborg' and NumPad keys can be lit independently from the rest of the keyboard to highlight commonly used gaming keys – Set each area to your preferred colour or brightness to make the keyboard battle ready.
Cyborg Mode – Instantly disable the Windows® keys and change the colour and brightness of your gaming keys at the touch of a button.
Set and forget – Persistent key illumination settings ensure your colour combinations remain intact, even after a system reboot.
12 programmable 'Cyborg' keys – Store your favourite macros for buying equipment, activating abilities or just for initiating your favourite trash talk.
Powerful ST Programming Software – Create profiles for each game that you play in order to save different button configurations.
Hard wearing, metal-plated key caps in key gaming areas are designed to withstand the punishment that pro gamers demand.
Pass-through USB, audio and microphone sockets means no more crawling behind your PC to change your USB device or audio configuration.
Enhanced multiple key presses in gaming areas for complex in-game commands.
Adjustable wrist rest and keyboard rake angle (front and back).
Gold-plated connectors for USB and audio.