Costume Quest Released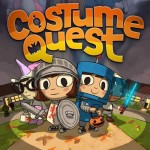 Tim Schafer's Double Fine productions releases its first downloadable game today (October 20th) on both Xbox Live Arcade and the Playstation Store.
Costume Quest has been created by Tasha Harris, Double Fine project lead, and is an adventure-cum-role playing game set on Halloween night in, apparently, a peaceful little town. Unfortunately, some ruddy monsters appear and start to steal all the kids' hard earned candy ('sweeties', in old money). The young 'uns have no choice but to fight back against the monsters using the special powers granted to them by their homemade costumes.
With three areas to explore, stacks of quests and Double Fine's unique sense of humour it certainly seems an enticing proposition. It is priced at £8.99 on PSN and, as far as we can fathom, 1200 MS points on the XBLA. That is cheaper than stocking your house full of sweets for actual trick-or-treaters plus you can now just hide away with your console, playing the game, instead of interacting with the little gannets at your door. Bonus!
If you are already playing it post your comments below. God is a Geek will have a review online as soon as possible.