God is a Geek Podcast Episode 22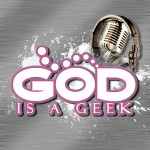 This week we have the four A's with Aaron, Adam, Asim and Aryel featuring in episode 22.  We discuss some of the hottest gaming news and reviews to hit the site over the past two weeks.
Topics include; Castlevania: Lords of Shadow, Super Meat Boy, Sonic 4 – Episode 1, Medal of Honor, Cut The Rope, Fallout New Vegas, BlizzCon, Kingmaker App, Enslaved.
Subscribe to the GodisaGeek podcast via Feedburner or iTunes