Batman: Arkham City Soundtrack Detailed

It feels like it's been a while since we brought you some Batman: Arkham City news, so today we've got the details of the soundtrack for you, released on October 4th on Watertower Music.
The special collector's edition of the game will come with a code to digitally download the soundtrack. Featuring artists such as Coheed & Cambria and Black Rebel Motorcycle Club, the soundtrack is looking mighty impressive, and here's the full tracklist and cover art (which we think looks fab!):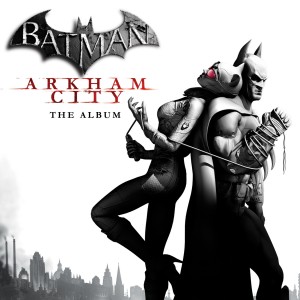 1. Panic! At The Disco – Mercenary
2. Coheed and Cambria – Deranged
3. The Duke Spirit – Creature
4. Black Rebel Motorcycle Club – Shadow On The Run
5. Blaqk Audio – Afterdark
6. The Raveonettes – Oh, Stranger
7. ††† (Crosses) – The Years
8. The Damned Things – Trophy Widow
9. Daughtry – Drown In You
10. The Boxer Rebellion – Losing You
11. Serj Tankian – Total Paranoia
Bonus Collector's Edition track
12. A Place to Bury Strangers – In The Shadow
"The artists featured on Batman: Arkham City – The Album approached their contributions to the album with their own unique interpretations of the stories surrounding Batman. The result is an eclectic mix of dynamic, atmospheric songs for an album that will appeal to fans of both the artists and Batman: Arkham City. Coheed and Cambria front-man Claudio Sanchez said, "I write in a very conceptual format with the stories that surround Coheed and Cambria, but Batman has a much larger, defined history and rules that go along with it. My goal was to find universal themes from Batman's existing history to help give the lyrics legs and dimension so that the song could live within that world."

The highly anticipated videogame will step out of the shadows and onto store shelves for the Xbox 360 video game and entertainment system from Microsoft, Games for Windows PC and the PlayStation 3 computer entertainment system. Published by Warner Bros. Interactive Entertainment and developed by Rocksteady Studios, Batman: Arkham City builds upon the intense, atmospheric foundation of Batman: Arkham Asylum, sending players soaring into Arkham City, the new maximum security "home" for all of Gotham City's thugs, gangsters and insane criminal master-minds. The sequel introduces a brand-new story that draws together a new all-star cast of classic characters and murderous villains from the Batman universe, as well as a vast range of new and enhanced gameplay features to deliver the ultimate experience as the Dark Knight.
Batman: Arkham City is due out on October 21st for Xbox 360, PlayStation 3 and PC.