The Gunstringer Review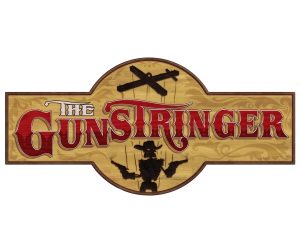 Game: The Gunstringer
Developer: Twisted Pixel
Publisher: Microsoft Studios
Available on: Xbox 360 (with Kinect) Only
If you aren't familiar with Twisted Pixel at this point, you've probably been living under a rock. In their short history they have created more unique and interesting characters and games than a lot of major developers that have been going years. Ms. Splosion Man was the first time they revisited an IP, and "firsts" are a thing that Twisted Pixel like to do.
The Gunstringer is yet another first, as this is the first time a game developed by Twisted Pixel has been available to buy in stores; every previous game has been downloadable via the Xbox LIVE Marketplace. If that wasn't enough, this is also their first game that requires Kinect. Can their humour and fun transpose to real life actions and motions?
STORY: Irreverent would be the best way to describe The Gunstringer's story. A downright daft take on the Western genre, The Gunstringer (a skeletal marionette) has been betrayed by his old gang and left to die in the desert. Back from the dead though, he wants vengeance on them all. From the ridiculously huge-breasted evil female to the wacky waving inflatable tube man, the characters are no less outlandish than you'd expect from Twisted Pixel.
Playing out as a theatrical experience, Twisted Pixel yet again mix the in-game visuals with real-life footage taken from a cast of themselves, and friends and family, clapping after a good performance and cheering The Gunstringer on throughout the game. You'll even see a giant foot smash the bad guys mid level if you are lucky.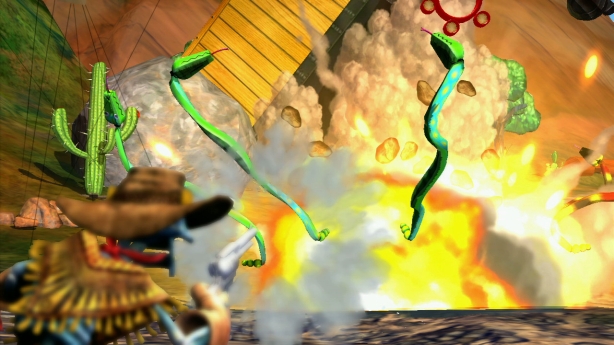 GRAPHICS: The mix of cartoonish visuals and real-life video footage marries extremely well. The Gunstringer, despite his colourful appearance somehow manages to convey quite a bit of menace through his skeletal features. Combine this with first boss (a tutorial really) Wavy Tube Man's appearance, and you'll have a good benchmark for what to expect.
Proving yet again that games don't have to be all about greys and browns, The Gunstringer is vibrant and beautiful, pretty and charming. At the risk of not doing it justice, it looks like most other Twisted Pixel titles, which is to say, fantastic.
AUDIO: With Matt "Chainsaw" Chaney at the helm, it's hard to imagine a bad Twisted Pixel soundtrack, and yet again, The Gunstringer delivers. In a similar manner to Bastion, most of the events of the game are narrated by a deep voiced Western sounding gentleman, who does his best to make you lose concentration because you are laughing at what he is saying. Musically it is exactly as you'd expect and more, with musical instruments you won't always hear in games elsewhere. You really have to commend the audio design for managing to sound so unique and interesting whilst obviously being hemmed in by the Western feel the game requires.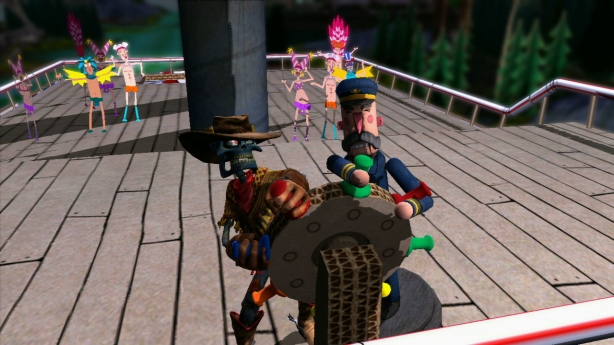 GAMEPLAY: Being a Kinect game, the controllers are simple to pick up. To control The Gunstringer you simply use your left hand for movement (imagine a puppet on strings), left and right, flick up to jump. Your right hand controls aiming, and you drag your on-screen cursor over the enemies (by aiming with your "gun", and I challenge anyone to not make a "pew pew" gun shape when doing this) then flick it up to fire. You can aim at six enemies at once, after all – you are using a six shooter.
The core gameplay for most levels is simply to run through the level, avoiding obstacles and firing at enemies until you come to a section where The Gunstringer will stop and go behind cover. Whilst in cover, the aiming mechanic works exactly the same as before, but your left hand now controls which side of cover you will pop out from to fire. The idea is to aim at the enemies, to queue up your shots if you will, then move your left hand to either side to pop out of cover and shoot.
There is so much more to The Gunstringer than this though, and early on, even though you might be thinking "Oh I get it, this is nice enough, I guess" you'll be shocked when a side-scrolling level starts up that brings Donkey Kong to mind! In this style of level you'll have to jump over obstacles and work your way to the top only for the game to change up again back into a 3D style into-the-screen mode, only now you have two guns, one on each hand.
This, in a nutshell is The Gunstringer, and Twisted Pixel. A core mechanic that is outrageous fun, changed up just at the moment you might be thinking you fancy something different. At any point a second player can jump into the game for some co-op fun, which is yet another example of how the game has been designed from the ground up to be just that; fun.
An important thing to mention is how incredibly accurate the controls are. Testing the game in two different areas (one large open space, one a cramped office barely suitable for Kinect usually) The Gunstringer is absolutely wonderful. You won't find any oddities such as the cursor disappearing, and you won't lose your barings. Honestly, the controls are so responsive it makes you wonder why everyone else can't make Kinect games this accurate.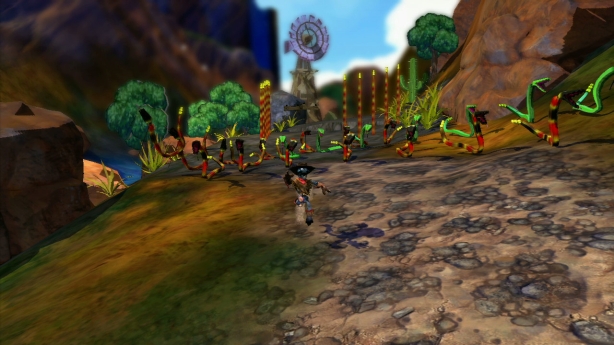 LONGEVITY: A bounty of unlockables populate the bonus store, which are purchased via cash you earn by performing well in levels. Most developers employ something like this these days to elongate a gaming experience, but just like with Ms. Splosion Man, the bonus store in The Gunstringer is definitely worth exploring.
Such a simple gameplay mechanic means that anyone can jump in, and the humour is such that this is a title that can be pulled ouf the bag for all ages, with something for everyone on offer. The Gunstringer is being released at a budget price in the UK (£29.99) and it also includes a free copy of Fruit Ninja Kinect. On top of that, "The Wavy Tube Man Chronicles" is day one free downloadable content. All this means that The Gunstringer will last you quite a while.
VERDICT: Much discussion was had over the move from downloadable title to disc-based title, but when all is said and done, The Gunstringer is a wonderful value proposition. Funny, easy to pick up, fun for all the family – if you own Kinect you'd be mad to miss out on The Gunstringer.
If you don't already own a Kinect Sensor, seeing developers such as Twisted Pixel and Ubisoft (Child of Eden) releasing such high quality games for the device must be making Microsoft wonder what they have to do to get one in your home. The Gunstringer is utterly essential, buy it now!