Bejeweled 3 is Now Available on Xbox LIVE Arcade
If you haven't already played the various iterations of Bejeweled enough – and, to be honest, is there such a thing as "too much" Bejeweled? – then you'll be pleased to know that PopCap Games have just released the latest game, Bejeweled 3, on the Xbox LIVE Arcade. The XBLA version of Bejeweled 3 will cost you a cool 1,200 Microsoft points but will come with a whole host of brand new game modes.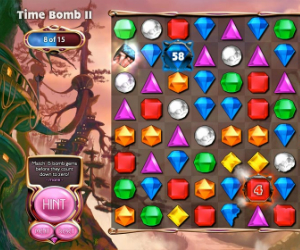 Claiming to contain "twice the game modes of its predecessor", Bejeweled 3 has kept all the classic game modes that you know and love but added a whole lot more. Even more reason to keep playing a game that was already too addictive to be fair in the first place.
This new version of the classic "match-3" game is set to include "high resolution graphics, and leaderboards for Classic, Lightning, Poker, Butterflies, Ice Storm and Diamond Mine modes, plus four special gems, five elite badges, and 15 achievements."
Plenty of stuff to be getting on with then…
Bejeweled 3 is available right now on the Xbox LIVE Arcade for 1,200 Microsoft Points, retail versions of the game will be hitting store shelves for the Nintendo DS, the Xbox 360 and the PlayStation 3 from the 15th November, 2011. Will you be getting this new version of the addictive puzzle game or are you all "bejeweled" out? Let us know in the comments below.