Blizzard Reveals the Fourth World of Warcraft Expansion – Mists of Pandaria
If you're the type of person who keeps your fingers on the pulse of all things gaming then you'll be well aware that, over in Anaheim, California, Blizzcon is currently in full swing. One thing that was expected to be announced at the massive event for all thing Blizzard was the official reveal of the fourth expansion to Blizzards massively popular MMO World of Warcraft. Fans weren't disappointed as Mists of Pandaria was revealed to the waiting masses.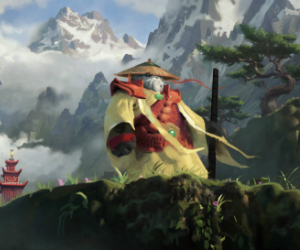 The new expansion will be reintroducing the mysterious Pandaren, a race of Panda looking martial artists, to the broken world of Azeroth, along with a brand new class; the Monk.
"Players have been asking to see the Pandaren in World of Warcraft since the game's launch, and we're excited to finally be able to give them a proper re-introduction to Azeroth," said Mike Morhaime, CEO and co-founder of Blizzard Entertainment. "In addition to the new playable race and class, Mists of Pandaria contains a huge amount of new content, and we're looking forward to sharing more information about all of it at BlizzCon and beyond."
World of Warcraft: Mists of Pandaria will bring a whole host of new features to the now 7 year old game including:
New Playable Race — Pandaren: Adventure through Azeroth as World of Warcraft's first neutral race and decide whether to side with the Alliance or the Horde.
New Playable Class — Monk: Unlock the secrets of pandaren martial arts and do battle as a damage dealer, healer, or tank.
Level Cap Increased to 90: Learn potent new spells and abilities while exploring uncharted zones and taking on challenging new content.
New Zones: Explore the lush Jade Forest, treacherous Kun-Lai Summit, and other exotic areas of Pandaria designed for high-level characters, and uncover the mystery of the Wandering Isle.
Scenarios: Join up with some friends to achieve a common goal, such as mounting a defence against invading monsters, in a flexible new type of PvE challenge.
Dungeon "Challenge" Modes: Master the ultimate five-player time trial to earn prestige rewards in a new dungeon mode that will put your resolve and coordination to the test.
Pet Battles: Challenge other players' companion pets with your own collection in a new tactical mini-game, and find out who's king or queen of the pint-sized battlefield.
New Talent System: Customize your character to suit your play style with the newly overhauled and improved talent system.

No release date has been set for the new expansion to World of Warcraft but as soon as we know, so will you.
Are you excited for the new expansion? Is it what you were expecting? Will you be rolling a Pandaren? Let us know in the comments below.