Konami Release More Information About myPES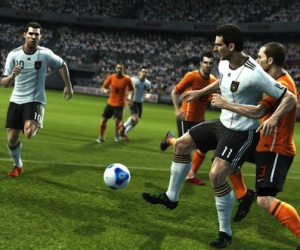 Today is the day that all Pro Evolution Soccer fans have been waiting for – the latest in the series is finally available to buy here in the UK. But there's more, Konami have also revealed more information about the myPES Facebook App.
The myPES app is compatible with the Xbox 360, PlayStation 3 and PC version of PES 2012 and will allow users to create leagues and show off results from one-on-one matches, but not just online matches! Even the offline matches can be shown off.
On top of that, Konami will be rewarding myPES users with things like double points – just for using the app. They also plan on using hidden bonuses as well.
PES 2012 seems like a true "return to form" for the series, and you can read our very favourable (9/10) verdict on the game here.
Rather than us tell you about how cool myPES looks, why not take a look at these screenshots that have been provided. What do you think? Are you excited about the prospect of this level of social interaction with PES 2012? Let us know in the comments below. Otherwise, take a look at the app by clicking here.
[nggallery id=625]
PES 2012 is out now for Xbox 360, PlayStation 3 and PC.