NBA Jam: On Fire Edition Review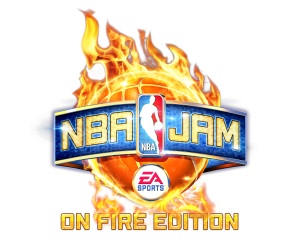 Game: NBA Jam: On Fire Edition
Developer: EA Canada
Publisher: EA Sports
Available on: Xbox 360 & PlayStation 3 (Reviewed on Xbox 360)
When I was a youngster, frequenting the then-plentifully stocked amusement arcades of my fair city, the most popular cabinets were always either the top-tier Capcom/SNK fighting games, or the huge, incredibly noisy Midway behemoths that housed their mega-hits: Mortal Kombat and NBA Jam.
Mortal Kombat was an attraction due to the evisceration and by-proxy cool that came with playing something that had been deemed controversial by the powers that be. But NBA Jam was a different proposition. Capitalizing on a golden period for the sport, where larger-than-life stars like Shaquille O'Neal, "Sir" Charles Barkley and my favourites, the pick and roll duo of John Stockton and "The Mailman" Karl Malone, were gaining popularity on this side of the Atlantic. NBA Jam gave arcade patrons a brash, officially licensed, four player game of basketball, the likes of which they had never seen before.
Two-on-two, with very little in the way of actual rules, and an emphasis on crazy slam dunks, NBA Jam gave you the opportunity to select your favourite NBA player, complete with impressive digitised likeness, and send them whizzing around the court at turbo speed, jamming the ball into the hoop in a series of outlandish tricks, and even setting the ball on fire if you manage to pull off three unanswered scores with the same player.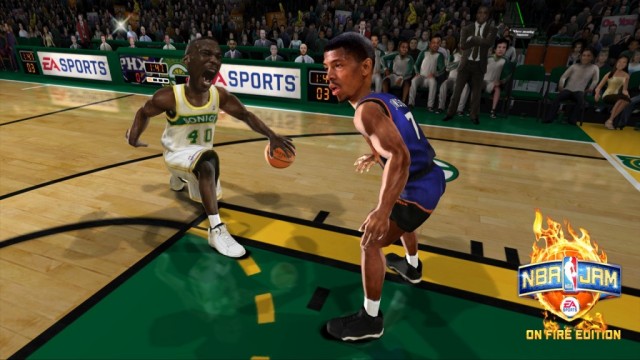 The original arcade version made millions of dollars in revenue for arcade owners. Anyone who stepped into a bowling alley, fairground arcade, or similar, during that period would have heard the familiar sound of the commentator exclaiming "Boomshakalaka!" as four excited players crowded around an NBA Jam cabinet. Of course this meant that home ports were inevitable. Excellent arcade conversions were released for the Super Nintendo and Sega Megadrive (there were also stripped-down ports for the handhelds of the day), with the superb action augmented by a bunch of crazy Easter Eggs and secrets, such as hidden characters accessed via the "Enter Initials" screen, and special modes such as an ultra slippery court or grossly enlarged bobble heads for your players. In keeping with the zeitgeist (and publicising another of their hugely popular titles), it was possible on early versions of the game to unlock Mortal Kombat-ants Kitana and Jax and take them to the court, however this was swiftly removed once the wholesome NBA got jittery about being associated with high levels of violence and bloodshed.
As the years went on, there were sequels and remakes, but none of them captured the imagination of the original NBA Jam. Rather than stick to the time honoured formula, Acclaim, the game's publisher, started changing vital aspects of the game, such as remodelling it into 3D, adding extra players to create 3-on-3 or even 5-on-5 matchups, completely missing the things that made the OTT, in-your-face, 1993 coin-op such a cast-in-stone classic. Indeed, first sequel Tournament Edition from 1994, which made a few minor tweaks, updated the rosters and added more secrets and craziness, was the apex of NBA Jam action, and remained the best version of the game to have been released, until 2010.
Acclaim bit the dust in 2004, and the NBA Jam name lay dormant for some seven years. EA Sports had already partaken in stripped down versions of other sports with its Street titles and decided to have a go at creating a new Jam game for the Nintendo Wii. With glowing reviews all round, and a straight up return to the crazy dunks, stylized players and fiery-balled mayhem of its forebears, EA Canada did exactly what they promised on the front of the box – reignited the classic arcade franchise. It was a success, even without online play as standard, and was only a matter of weeks before the game was released in full HD with online modes for the Xbox 360 and PlayStation 3.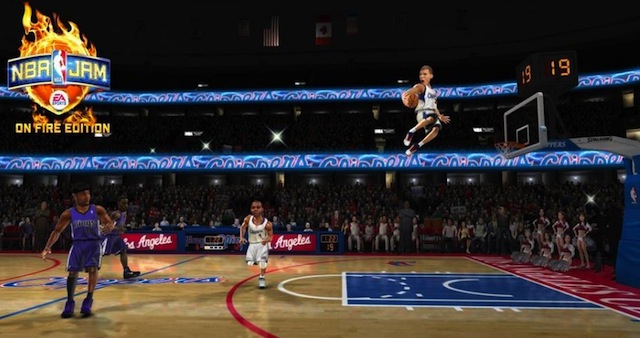 Being an EA Sports concern, a sequel was almost inevitable. As well as a few roster alterations, what EA Canada have done is trim the fat from the preceding game, and refined the whole experience, both multiplayer and single player, on and offline.
The standard multiplayer matchups are as thrilling here as NBA Jam has ever been. You can play locally or online with up to three mates, as well as challenging random strangers online and sharing your scores and achievements on online leaderboards. Playing four player Jam is a multiplayer gaming rite of passage, right up there with the first time you Multi-tapped Bomberman, only now you can do it without inviting your hairy arsed friends round to crowd your personal space.
Earlier NBA Jam titles were defined by their multiplayer experience, with their single player modes often something of an afterthought. Not here. Road Trip mode allows you to take on every team in the NBA, at a variety of different levels of difficulty, with set challenges to complete along the way. These challenges could mean winning a game where a shot from outside the 'D' is worth 4 points, or achieving a particularly difficult trick or shot on the court. Beating all of the teams on each of the four difficulty modes and defeating the huge number of challenges should keep you going for a fair while. The cool thing is, the online battles also feature challenges to complete, so as well as the bragging rights that come from slamming a brutal dunk into your mates' hoop, you also get to compete over who can progress to "Diamond" status first.
Throughout the game, completing challenges, winning games and beating various modes rewards you with Jam Bucks, in-game currency that allows you to enter the Jam Store, where you can purchase new uniforms, new hidden characters (including NBA legends) and upgrades to your online profile card used in the online "Arena" mode.
Thankfully, the excellent range of modes is matched by perfectly pitched gameplay. The two-on-two format is retained, and you are able to choose whether to stick with one player, or have the option to switch between the two. As with earlier games, you have a "Turbo" ability which is governed by a bar that decreases with use. You can perform evasive tricks like crossovers and spins, and of course launch your player ridiculously high into the air for the many variations on the slam-dunk. Alley oops feature and can be hugely satisfying to pull off, for those not familiar with basketball, this is a co-operative manoeuvre where one player gives an assist by throwing the ball toward the ring, allowing his partner to leap up, catch it and slam it home.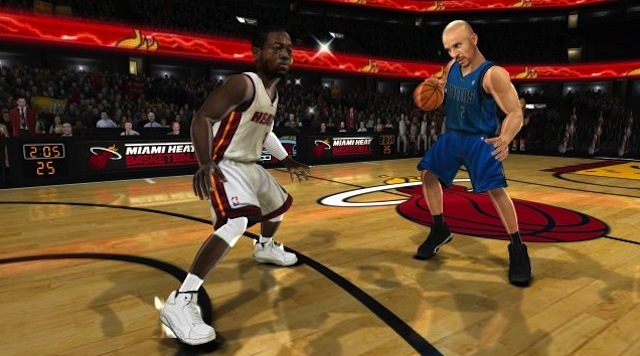 Scoring three unanswered field goals with the same player will cause the ball to set on fire and make your man near-invincible and more likely to score on each attempt, until your opponent scores in reply. Score three alley-oops in succession and your entire team are given "on fire" status for a set period of time. Retaining possession and bringing the fire to your duo is a sure fire way of racking up a huge lead against your opponent.
EA have been implementing new AI and physics upgrades in all of their recent sports games, and NBA Jam, whilst being an exaggerated version of a sport, features decent AI for both computer opponents and team mates when playing alone. Their competence does alter depending on which skill level you are playing at, but even on the easiest setting it is very seldom you will find yourself completely annihilating teams. You still get to perform leaping, somersaulting and flaming dunks, but you will have to pass the ball around and make good use of your crossovers and fake shots to find the space to do so.
We have established that NBA Jam: On Fire Edition is a damn fine game of two-on-two basketball, but how does it look? In a word: magnificent. The licensed stars of the NBA are out in force, with brilliantly quirky, instantly recognisable, high resolution faces all sitting atop impressively animated 3D player models. The arenas are great, with the glossy hardwood surfaces reflecting the players beautifully, superb looking courtside backdrops , a sea of moving digitised fans, with cheerleaders, substitute players and even the actual real-life team coaches in the foreground. It doesn't just look good, it sounds good too. You get the squeaks of sneaker-on-court, the shot clock ticking down, the fan noise, but best of all, original NBA Jam commentator Tim Kitzrow returns, bellowing his huge array of catchphrases and one liners. These include a massive array of player nicknames and quips, the aforementioned, now-legendary "BOOMSHAKALAKA!" and a plethora of pun-tastic exclamations that are always relevant to the onscreen action. "I love it when you call me Big Blocker" was a particular favourite of mine, paraphrasing the late Notorious B.I.G, and making me chuckle in the process.
VERDICT: If you like playing fun, multiplayer sports games, then it is a no-brainer – grab yourself a means of payment and download NBA Jam: On Fire Edition, pronto. It is a superb game for a budget price, which will appeal to fans of the NBA, those who fondly remember the eighteen year-old original, or simply those who love fun, competitive action with their mates. The last time I enjoyed a game of this ilk, to such an extent, would have been the much slept-on Mario Strikers Charged, or even the NBA Jam-esque NBA Showtime: NBA on NBC, which was over a decade ago. That was then, this is now. Go get your Jam Bucks and hit the court.