2K Games has been dominating the digital basketball courts for some time, and whilst many thought EA would give up after NBA Live 16, they've thrown their hats back on the hardwood, revealing the next iteration of their take on one of the most intense and colourful sports in the world. A demo has just been released on the PS4 and Xbox One online stores, and I've put quite a lot of time into it to see if it's got the potential to rival NBA 2K once again.
In the demo, you can either play an official NBA match, participate in the single player mode called 'The One', or take your game online and play on Venice Beach in a bit of street ball. In the NBA match you can choose between the Warriors or the Cav, which is great because you'll get to see how the best players in the league play, look, and interact on the court. Steph's got the post-basket swagger, Draymond Green has the power and dominance when defending, and LeBron James has the speed and ruthlessness on the attack. Both teams look and act very much like their real-life counterparts, however, when it comes to sharpness and that finesse in the smallest of detail, 2K still owns it. Some of the animations were a bit off, and players can sometimes move unorthodox, but that could be because the game's not finished. I won't discount it yet, besides, it still looks amazing.
'The One' is where the game towers over NBA 2K because it streamlines all the faff and allows it to breathe. My problem with the single player campaigns of previous 2K basketball games lacks in the playing side. You watch cut scenes, get to play brief moments of matches until you're subbed off, and it all feels a bit style over substance. There is a story here, and there are cut scenes (in the form of ESPN's very own Stephen A Smith and Max Kellerman which have been shot specifically for NBA Live 18 and are great to watch), but when it comes to the games, you're playing the whole thing.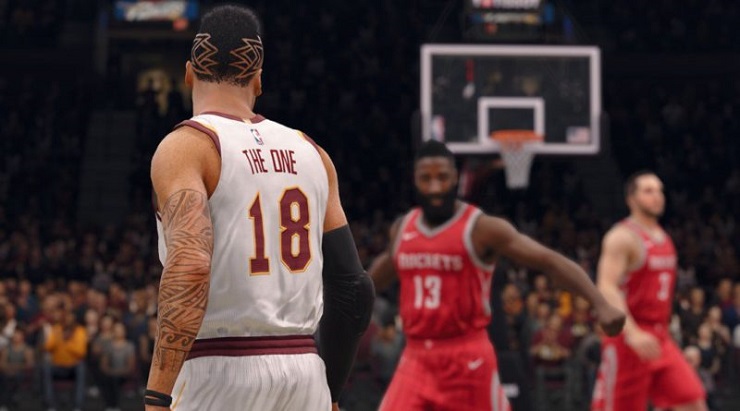 You're playing street basketball at some of the most renowned courts in America, such as Rucker Park and Venice Beach, and you get to play in the Drew League, ending with the NBA Draft which determines where you'll no doubt be continuing with the mode once the game finally releases next month (Milwaukee Bucks FTW!). The game heavily features the Rockets' James Harden, who narrates the short history lessons behind the famous locations right before you play at them, but he also decides to take you under his wing in 'The One'. He's a phenomenal player, and it's cool to see him play a huge role in NBA Live 18.
Finally, there are also Co-op online matches where you will play with other real players taking on a team of NBA stars like Kevin Durant and Zach LaVine. It's not really the game's fault, but in all the matches I had, many of the players loved to go for glory i.e. go for the dunk only to fail, and allow the opposition to crap all over us. It frustrates no end, but what can you do? There were games when I had a team who'd work together, and those were some of the finest games of basketball I've ever played. It'll be nice to see more of the online when the game gets released, as I spent a lot of time in the lobbies and not getting to play any ball whatsoever.
In terms of gameplay, there are both pros and cons in what I've seen so far, but the most important improvement is in the control system. They're rather easy to get to grips with, especially in the dribbling. You have basic moves like the crossover and the 360 spin, but incorporating them into a fast break flows rather well, and you'll be able to break past defence with a combination of skill and speed. When taking a shot from the 3-point line or on the inside, you'll get an accuracy gauge pop up. By reaching the green, you're pretty much guaranteed to score, however, if your stats for the trey aren't to perfection a la Steph Curry, you'll find the line on the shot meter moves faster, providing more of a chance to mess it up.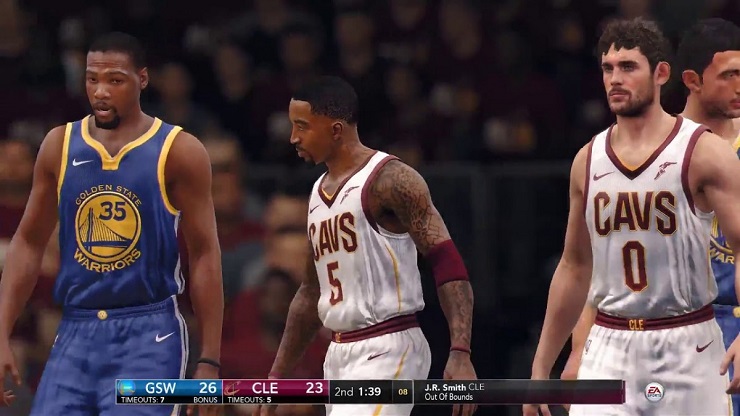 Defence has also been overhauled, using L2 to get yourself in a defensive stance, using left or right to stand in the opposition's way. If you do it successfully, you'll be able to block their path to the basket, and it feels satisfying when you can hold off a powerful driver like Kyrie Irving. It also teaches you to be smart when trying to steal the ball; bashing the Square button won't always be the smartest thing to do, causing fouls or reaches in that'll no doubt draw a foul if persistent. Green arrows will pop up if you've blocked an opponent from passing you, providing a smart opportunity for a turnover.
I'm not sure why, but certain runs struggle to stop. If I'm moving around without the ball, or I'm dribbling to the opposition's half, players don't tend to stop straight away. Obviously, there should be a natural halt, but for some reason it takes it's time, and the movement isn't as responsive as it should be. Whether movement is going to be like this when released or not, it can be a pain when you're trying to get into an open position, or at least trying to get out of a crowded spot when you have the ball.
I'm a big fan of what I've played from the NBA Live 18 demo. There are plenty of positives, and a few negatives, but overall, there are many opportunities for it to be a legitimate rival to 2K. Another of my concerns is the blatant Overwatch inspiration, mainly because I don't want Loot Boxes to determine the gear I wear. If I see an item I want, I like to just buy it. I don't want to spend loads of points on loot boxes in the hopes for a rare pair of Air Jordans or a Celtics hoodie. It's a minor gripe to be fair to it; this is a game with plenty going for it, from the smooth gameplay to the nice touches to its solo game mode, NBA Live 18 is great to play, and I'm more than excited to see the full title when it hits on September 15.