Skylanders: Spyro's Adventure is Available Now!
It's been a long time since we first heard any decent details about Spyro's new, cross-platform, adventure but the day is finally here and Skylanders Spyro's Adventure is available to buy from retailers everywhere.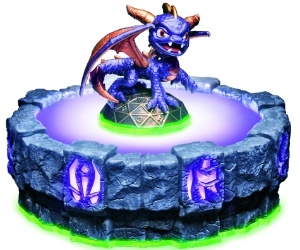 Skylanders Spyro's Adventure is a game for the Nintendo Wii, Nintendo 3DS, PlayStation 3and Xbox 360 that allows players, who are going to more than likely be children, to play with these new toys in the real world and then take them into the digital world and play with them there too. Adding an entirely new dimension to play time. How many of you are wishing that were a kid again right now? I know I am.
The game uses its own peripheral, a Portal of Power, to enable the toys to come to life and be used within the game. A user will buy one of the toys, of which there are a possible 30 to collect each with their own unique powers and abilities, place them on the Portal of Power and watch the character they've been playing with come to life in the digital world. Skylanders Spyro's Adventure is even written by top Hollywood writers Alec Sokolow and Joel Cohen, two of the Academy Award-nominated writers of the original Toy Story movie. Even the legendary movie composer Hans Zimmer created the game's theme song, so there's no doubt that you're getting something of a pretty high quality here.
Skylanders Spyro's Adventure is available now on the Xbox 360, PlayStation 3, Nintendo Wii and Nintendo 3DS.