1,600 "Douches" Banned from Call of Duty: Modern Warfare 3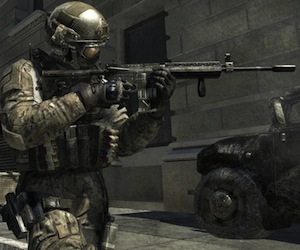 Infinity Ward aren't happy. 1,600 CoD Heads have been banned from the biggest game ever. The 1,600 in question have been reported to be using certain glitches to their advantage in the FPS' online modes.
"Any attempt to cheat, hack, or glitch in #MW3 will not be tolerated. 1600+ bans issued," tweeted Infinity Ward's creative strategist, Robert Bowling.
He confirmed that updates are in development to eliminate some of the glitches that the naughty Call of Duty players have been exploiting. He has urged players to name and shame any offenders using the report function after the match. Bowling has said that the bans are distributed in accordance with the "level of douchiness of the offense".
Have you seen any "douchiness" by Modern Warfare 3 players or are you one of the "douches"? Please let us know in the comments below.
Call of Duty: Modern Warfare 3 is available now on PC, Xbox 360, PS3 & Wii.
Thanks, PCR