Dizzy: Prince of the Yolkfolk Confirmed for Mobile Devices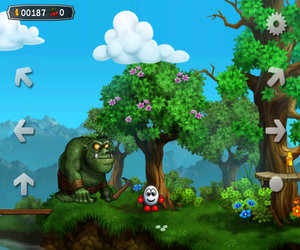 After Codemasters revealed a teaser website and trailer yesterday, that suggested a new game starring their Egg-like hero Dizzy was on its way, more details have today been announced. The game will be a remake of the 1991 classic puzzle title – Dizzy: Prince of the Yolkfolk.
The game has been developed for iPad, iPhone and Android, and is out on Friday, 9th December – and the game will feature High Definition re-drawn graphics and newly-recorded sound. The new makeover has been developed by DNA Interactive, who worked under the supervision of Paul Ranson as Director – which was the same role he filled when the original game was produced.
Ranson stated that; "For once, this is a retro classic that doesn't require rose-tinted glasses to appreciate its design and gameplay – Dizzy: Prince of the Yolk is simply a great puzzle-solving romp that's been brought up-to-date with glorious visuals."
The Dizzy titles perfectly blended puzzle-solving with platforming action, and were notoriously tricky to complete one-hundred percent. It will be fun to see how well the controls translate over to touch-screen devices and, as you can see from the screenshots below, the arrows for movement are located all around the playing area in a logical order. Precise jumps were always the order of the day in old Dizzy games, so lets hope the touch controls aren't too fiddly – or there will be a lot of aggravated mobile gamers out there, screaming at their phones.
Check out the new trailer and images below:
[nggallery id=654]
Dizzy: Prince of the Yolkfolk will release on December 9th for iPad, iPhone and Android.