L.A. Noire: The Complete Edition gets new Launch Trailer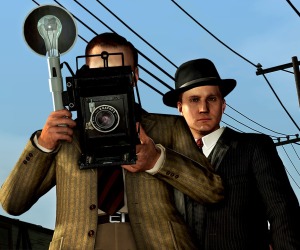 This week, the new L.A. Noire: The Complete Edition launches on PC. The complete edition contains all of the previous DLC from the game, which includes the 'Nicholson Electroplating' Arson case, 'Reefer Madness' Vice case, 'The Consul's Car' Traffic case, 'The Naked City' Vice case, 'A Slip of the Tongue' Traffic case, The Badge Pursuit Challenge, and all weapons and outfits that have been added to the game to date.
This will be the first chance that PC gamers will get to sample the game, and the new PC version will also support the 3D experience, for those gamers who have a 3D PC set-up. Console gamers won't miss out on the chance to get all of the add-ons in one package either though, as a console release will follow shortly. The add-ons cases all fit in within the main story of the game, so in this new version the whole thing should play out seamlessly. To see whether you want to pick up the title or not, check out our full review of the game here.
check out the new launch trailer below:
L.A. Noire: The Complete Edition is due for release on November 11th on PC, with the PlayStation 3 and Xbox 360 versions of the updated edition arriving a week later on November 18th.