Watch the Call of Duty: Modern Warfare 3 Launch Right Here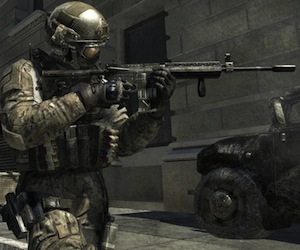 Want to experience the thrills of the Official UK launch for Call of Duty: Modern Warfare 3, but are too busy/lazy? Those thoughtful chaps at Xbox have you covered; offering you the option to view the evening's festivities from the comfort of your own home/bed/chair/beanbag.
From 19:00 GMT this evening, a smorgasbord of video content will be livestreamed straight to your face via Youtube, Facebook, the Call of Duty website; and even THIS VERY PAGE (see below). The evening's content will be hosted by T4 regular Rick Edwards, Graeme Boyd (AKA AceyBongos, Xbox Social Marketing Manager) and YouTube Super User DaveyBoyz.
You can look forward to all sorts of Call of Duty goodness, including:
Sledgehammer and Infinity Ward developer interviews
Content from No.1 selling UK artist, Example
Celebrity interviews
Live coverage of the pan-European Call of Duty: Modern Warfare 3 Multiplayer Championship powered by Xbox Live
Live coverage of the pan-European celebrity multiplayer tournament
Interviews with UK MP team Infinity- runners up from the CODXP global competition
Live link ups with Berlin and Paris launch events
Midnight store opening coverage with all the fans
The event starts at 19:00 GMT on Monday 7th November (Tonight!) and will end at 00:30 GMT on Tuesday 8th November (Tomorrow morning!), so get yourself on this exact page later to see what's going on! In the meantime, check out our preview.
Are any GIAG readers out there going to a local launch event? Why not tell us all about it on our Forums?
Call of Duty: Modern Warfare 3 will be released on Tuesday 8th November on Xbox 360, PC & PlayStation 3.