Call of Duty: Elite Premium Members to get at least 20 Pieces of Content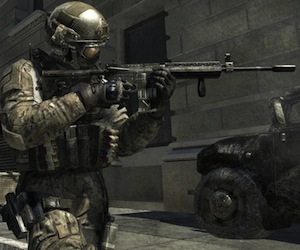 When I first heard about Call of Duty: Elite, the social-networking service for the Call of Duty games, I was a little sceptical at first. Especially seeing as to become a premium member, and so gain access to features such as competitions, you had to pay a yearly subscription fee. However, Activision have just announced the Modern Warfare 3 Content Season for Call of Duty: Elite; a nine-month schedule of content releases, including new multiplayer maps, Special Ops missions, new game modes and much more. Considering premium members will be getting all this content for free, it suddenly makes that yearly fee seem not too shabby.
Call of Duty: Elite premium members on Xbox LIVE will be the first in line to receive the new DLC. Starting January 24th, and lasting for nine months, premium members of the Elite service will begin to recieve regular updates which will total at least 20 pieces of new content for Call of Duty: Modern Warfare 3. PS3 and PC users, as well as those who have not signed up for the premium service, will be able to get their hands on the new content at later dates.
The first two content drops will be two new multiplayer maps, which will also be playable in Survival Mode. The first map, called Liberation, is set in Central Park and is a large map that is perfect for those who prefer to snipe their enemies from a distance. The second is titled Piazza, and is a sleepy Italian village that's not quite as sleepy as it should be.
The third content drop will be available for download in mid-February, and two more are planned to hit in March for Call of Duty: Elite premium members. These members will continue to get new content once a month until September.
Also in March, the first Modern Warfare 3 Content Collection will become available for purchase by the entire Modern Warfare 3 community on Xbox LIVE. This will enable players to get their hands on the content that was previously available for premium members of the Elite service. Other platforms will be able to download the Content Collection at a later date.
Eric Hirshberg, CEO of Activision Publishing, had this to say about the content drops:
"The mammoth launch of Modern Warfare 3 and the breakout success of Call of Duty Elite were just the beginning. Call of Duty Elite provides an 'always-on' connection to our fanbase, and the MW3 Content Season is the ultimate way to demonstrate our ongoing commitment to the Call of Duty community and provide tremendous value to Call of Duty Elite premium members.

With the Call of Duty: MW3 Content Season for Call of Duty Elite we are delivering on our promise of more new content, more often, and with more variety than ever."
To celebrate the launch of each content drop, Call of Duty: Elite will be running special events for real-world prizes throughout the nine months of the Modern Warfare 3 Content Season. More details about the Content Season, as well as the Content Collection series, will be announced throughout the year.
You can check out a video explaining the Modern Warfare 3 Content Season below.

So it seems as though Modern Warfare 3 players are going to be kept busy over the next 9 months. Do you think the early access to the 20 pieces of content is worth the subscription fee? For those of you who are not premium members of the Elite service, would this convince you to sign up for it? Let us know in the comments below.