Wii Balance Board Breaks Records, Makes Money, Weighs People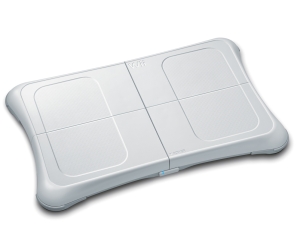 Nintendo have entered a Guinness World Record for their phenomenal success with the Wii Balance Board peripheral, and have sold a shedload of copies of Wii Fit/Wii Fit Plus.
It seems that the Wii Balance Balance board has been all conquering, since it's arrival in December 2007. Today, Nintendo announced that a Guinness World Record has been awards for "The best-selling personal weighing device" – Beat that, bathroom scales!
Between launch and November 2010, the peripheral sold 32,114,428 units (22,663,321 bundled with Wii Fit, and 9,451,107 bundled with Wii Fit Plus).  By the end of September 2011, this figure rose to a whopping 22.67 million copies of Wii Fit, and 9.31 million copies of Wii Fit Plus worldwide.
By December 2013, there will be more Wii Balance Boards than people – They will become self aware, sentient machines that will enslave the human race and the Wii Fit Age will begin.*
Laurent Fischer, Managing Director of Marketing & PR of Nintendo of Europe comments: "The launch of Wii Fit with the Wii Balance Board revolutionised the way people got active at home, making it fun and easy to exercise in the comfort of their own living room. As the Guinness World Record shows, sales of both Wii Fit and Wii Fit Plus have remained healthy since the day they first went on sale and, with Wii now having sold over 30 million units across Europe, Nintendo hopes this trend will remain strong."
Is there any Wii owner who doesn't have a Balance Board?
*This statistic is a complete fabrication on my part – That might not happen, but I'd like to take this opportunity to say on record that should this situation arise, I welcome our flat white/black overlords.