Mad Catz Wireless Force Feedback Racing Wheel Review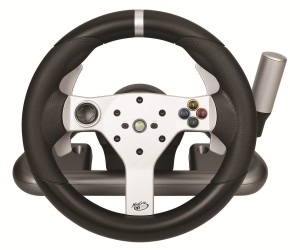 In a crowded, yet niche, market of racing peripherals that are usually of a high value, Mad Catz are yet again bringing the thunder with their own take on matters. The Wireless Force Feedback Racing Wheel is not a cheap item, but it's pretty much the top-spec one that they make. How does it fare when put through its paces though, is it worth the price tag?
The first thing you'll notice is the build quality of the wheel itself, it really is very sturdy and well built, with a high level of attention to detail throughout the entire unit. If you were a rough-racer, you will immediately be at ease; there's no part of this wheel that is going to come away in your hands. Once secured onto a desk using the included bracket, there is more likelihood that you'll pull the entire desk over than the wheel coming away in your hands.
Options, as with other recent Mad Catz products, are yet again at the forefront of the design team's minds. As well as the "bolt-on" method of using the wheel, you can also screw in (the screws are included) some lap-pads. These have a nice rubberised finished underneath so when you are steering around with vigour, the pads will grip to your trousers (or pants if you are the more relaxed type) so for a change, this is a wheel you can actually comfortably play without a hugely expensive setup (racing chair, framing etc). For goodness sake don't play whilst wearing shorts or you may experience leg-hair-removal. The lap-pads are a great idea, but the practicality comes into question given how strong the force feedback can be at times.
On top of this, you have the choice of using the flappy paddle gearbox or the gear stick that can be attached on either side of the wheel (American drivers rejoice!) whereby pulling the stick towards you changes up a gear, and pushing away changes down. The pedals come as two parts which are easily joined together and create a larger than usual pedal set, giving you plenty of room to place your heels down and relax a bit more if on a straight. These can be a little slippery at times and given the options in every other area, it may have be an idea to make the bottom of the pedal unit a different material, perhaps with some kind of anti-slip design for people with wooden floors.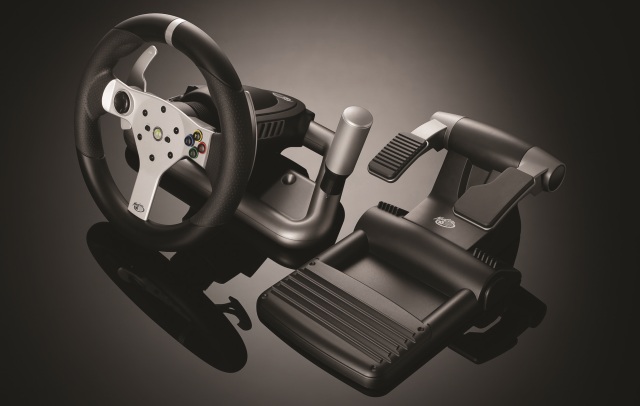 Although it connects via wireless to the console, there are wires involved in the wheel overall. Obviously you have to connect the pedals to the wheel itself via a cable, which, if we're being super critical, could do with being slightly longer. The other cable comes in the form of the expected AC adapter.
In terms of how the wheel feels, we tested it with stellar racing titles F1 2011 and Forza Motorsport 4. On previous wheels that I've experienced, I've never really felt like I was actually driving the vehicle rendered on-screen, it just felt lifeless and, ultimately, a bit pointless. However with this Mad Catz Wheel, the force feedback functionality gives an excellent feeling of driving, with precision movement; all motions are re-created, one-to-one, in game.
When you lose it and spin out (see the video), you really do feel the panic that it would cause, you have to fight back against the wheel to regain control. It gives off a phenomenal feeling when you have to jolt the car back into life after a spin out.
Whilst I could explain more about how the wheel actually feels to race, we decided to put together a video showing you the wheel in action. So take a look at the video below, showing what you'll get in the box as well as noting the one-to-one responsiveness of my movements on the wheel being replicated on the screen, I think you'll agree the results are rather impressive.
As you can see, in both Forza Motorsport 4 and F1 2011, there is an incredible one-to-one replication of the controls to on-screen movement. The vibration felt when hitting rough ground or the rumble strips is really felt through the wheel itself, making any desk it is attached to vibrate enthusiastically.
VERDICT: Whilst a racing wheel is always an expensive proposition, hardcore fans of the genre will always be open to the latest and greatest wheel on the market. The Wireless Force Feedback Racing Wheel from Mad Catz is most definitely a serious contender, despite the reasonably high price tag of around £199.99 from the official store.
However, with a little time behind the wheel, that price tag justifies itself pretty quickly. Whilst nothing can compare to being in the seat of a real racing car, this is as close as you're going to get. This wheel really does feel as though you're driving whichever vehicle is on the screen, as well as making you use your instincts instead of just reacting to what you see and hear from the game.
If you have the money and are a racing game fan, then this is a no-brainer.