Modnation Racers: Road Trip Review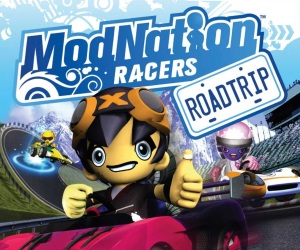 Game: Modnation Racers: Road Trip
Developer: SCE San Diego Studio
Publisher: Sony Computer Entertainment
Available on: PlayStation Vita only
With it its cutesy kart-based tomfoolery, Modnation Racers has become a brand that Sony are keen to push to the consumer. Billed as a big part of the "Play, Create, Share" ethos kick-started by Media Molecule's excellent LittleBigPlanet, it started life on the PlayStation 3 before having its very own PSP version too. Now, Sony's San Diego Studio are bringing the fun to PlayStation Vita, with all the bells and whistles they can muster, along with plenty of touch based joy too. But was the time and effort worth it?
GRAPHICS: As is quickly becoming the norm with PS Vita titles, the game sticks very closely to the big brother console's visuals. Even though we've seen the Vita push out some incredible visuals with the likes of Uncharted: Golden Abyss, the more cartoon-stylings of titles like Modnation Racers really shine through with crisp and clean, colourful visuals.
There really is very little to complain about here, in fact the title is so close to the PlayStation 3 version visually that the comment of "A portable PS3 experience" is very close to the truth here.
SOUND: All the sound effects you'd expect from a Kart racer are present and correct, screeching tyres and exploding power-ups. The soundtrack is chirpy enough, but there's not much to talk about when it comes to the audio in Road Trip.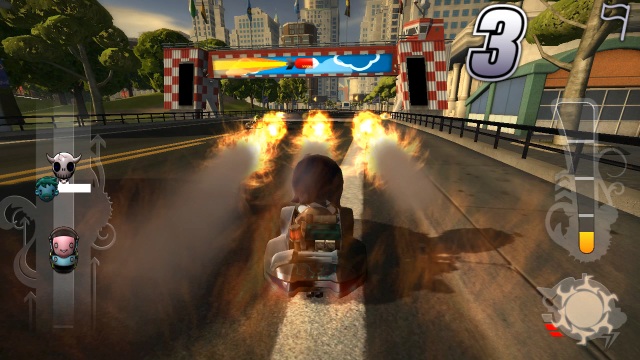 GAMEPLAY: Karting has become a competitive market, with the excellent Mario Kart 7 leading the way on current hand-helds, Modnation Racers: Road Trip doesn't stray very far from the other Modnation Racers games at all. As per normal, you will race around in a go-kart competing with other racers on the track, using power-ups to knock them out of the way and race to victory. You also have a boost-meter that you can fill up by performing power-slides around corners; used tactically this can give you the edge.
Campaign mode is where most players will spent the majority of their racing time, and this is built up of increasingly difficult challenges across 6 tours (5 challenges per tour). There is no online multiplayer to speak of, only ad-hoc multiplayer meaning that if you want to play with friends, they'll have to be in the same room as you, which is a massive shame.
The simplicity of the actual basic kart-racing in Modnation Racers is excusable when you realise the sheer diversity of courses that can be created with the create mode. Despite being a hand-held version of the franchise, along with the fully customisable racers and karts, you can indeed create your own race-courses to tear around whenever you feel like it.
PlayStation Vita's touch screens make this creation so much more simple than ever before. Rather than using an on-screen pointer to draw a road, you can literally just draw it with your finger. Fancy creating a hill underneath the road? Just use the rear-touch to do so. Where people may have found the creation mode a little too tricky in a game like LittleBigPlanet 2 – or even previous Modnation Racers titles – because of the touch-screen controls, everyone can (and will) have a go at creating something to race on. Better still, creations (tracks, mods and karts) from the PlayStation 3 Modnation Racers can be download to enjoy in Road Trip.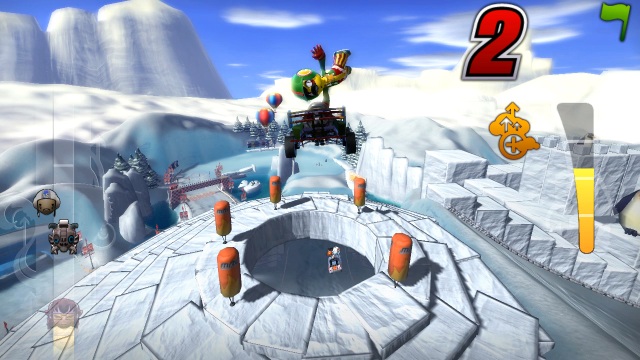 LONGEVITY: Kart racing titles are never particularly hard and almost always end up having their true life played out online. The lack of online multiplayer really hurts Road Trip, as sharing courses online will only go so far, you'll want to actually play against other humans at some point. Playing against the A.I. won't last you long, so it's a relief that the creation mode is easily accessible and you can share courses online or via the Vita's Near functionality.
VERDICT: Modnation Racers: Road Trip is, without doubt, a fun game, but it isn't very long or very hard. The lack of multiplayer is a baffling omission which means Road Trip has to be saved by the fact you can upload and download all manner of created and customised creations from both this Vita title, and the PlayStation 3. It's good to see PlayStation 3 games coming to PS Vita with all the optional support it deserves, but Road Trip just feels like it is missing a key ingredient.