Pokémon Black & White 2 Announced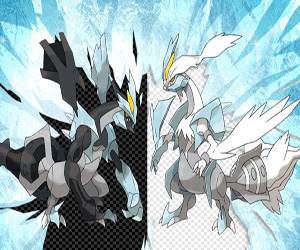 Last year, the latest games in the Pokémon series – Pokémon Black and Pokémon White – came out and obviously, true to form, sold an awful lot. Within the first 10 days, both games sold over one million copies in Europe alone. People were awaiting an announcement for a new Pokémon. But the one question on everyone's lips was…what colour will they choose?!?!
Well, after covering the majority of pigments known to man, Nintendo have announced direct sequels to Black and White that will be coming to Europe this Autumn. The next couplet of games in the pocket monsters series will be called…Pokémon Black Version 2 and Pokémon White Version 2. The naming of the titles seem a bit conventional for a Pokémon game, but hey, it's new Pokémon all the same.
However, the more surprising thing is that the game is coming out for the Nintendo DS. Not Nintendo's current handheld, the 3DS. The thinking behind this move seems strange. 3DS owners will still be able to play it, but only in 2D obviously. That's all we know at the minute, with Nintendo saying that more information on the game will be released gradually, throughout the year.