Naruto Shippuden: Ultimate Ninja Storm Generations Review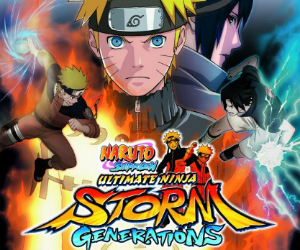 Game: Naruto Shippuden: Ultimate Ninja Storm Generations
Developer: CyberConnect2
Publisher: Namco Bandai Games
Available on: PlayStation 3 and Xbox 360 (Reviewed on Xbox 360)
Last time I got into bed with Cyberconnect2, it was to play the dazzling Asura's Wrath, which remains one of the most memorable titles I have ever played, an assault on the senses that will stay with me forever. Playing out like a high-end interactive anime, it comes as no surprise to hear that the developer pretty much prepared for their effort with Capcom by working on the Naruto video game franchise in its myriad of forms; which is now well into double figures across all formats.
Being a massive fan of what you would call traditional, tournament-worthy fighting games, I have always shied away from the likes of Naruto, Dragon Ball Z and Bleach games, given that they often present what is a watered down approximation of one-on-one (or roaming 3D) combat, aimed at fans of the source material. However, the past twelve months at GodisaGeek.com have taught me the error of my Japanese-cartoon-ignoring ways; I have been lucky enough to enjoy some commendable instalments in all three of these long-running animé and manga-based concerns. Naruto Shippuden: Ultimate Ninja Storm Generations is the latest snappily named rumble I have been asked to take a look at. Is it another surprisingly ace affair, or one strictly for the fans?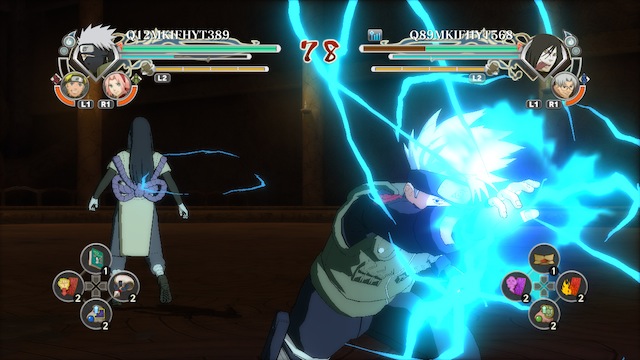 STORY: The Naruto manga has been around, in one form or another, since 1997, with the original TV series following five years later, and running for five years and in excess of 200 episodes with the Shippuden sequel animé series is still going strong. Naruto games have been around since 2003, when the anime tie-ins began on Saint & Greensie's handheld of choice, the Wonderswan.
This particular game covers events from the entire Naruto and Shippuden story arcs, and, as such, is packed with spoilers if you haven't managed to catch up with the entire anime; but this is mostly irrelevant. It seems a bit odd that this is the third game in just over three years to cover pretty much the same ground, the same storylines, particularly when you realise that American audiences are still behind the Japanese series in receiving the localised version of the animé. God knows where that leaves us Brits; but I am getting ahead of myself, let me focus on what does float my animé boat in Generations.
The generous folk at Cyberconnect2 have teamed up with the guys behind the TV show to produce some new mini-plots that run through the story mode of the game, including brand new scenes, all in glorious high definition. These juicy story extras feature some dream battle scenarios and key dramatic moments from the Naruto-verse. Admittedly for those not au-fait with the source, all of this is going to be fairly indecipherable, but it is certainly impressive.
GRAPHICS: CyberConnect2 have done a wizard job of translating the aesthetics of the animé into a living, breathing fighting game, all in dishy high-def. It looks amazing, like the recent Dragon Ball game I peeped at, or indeed the crazy Asura's Wrath, it really is incredible to behold in action.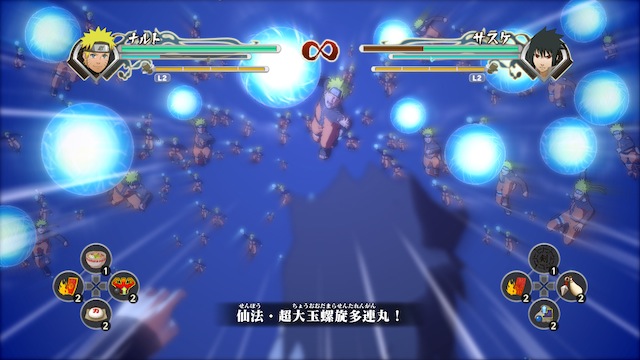 SOUND: Original Japanese voice acting is fully included, as are a selection of tunes that span the ten year history of the series. Anyone who has ever watched an animé or played a game based upon one should know exactly what to expect here; and I wouldn't want it any other way.
GAMEPLAY: You don't buy a Naruto game expecting a technical fighter to rival the likes of BlazBlue or Street Fighter III. Combat in this title, like the others in the series, is carried out using only one button for attacks, with variation dependent on directional presses to mix things up. You select from one of the massive roster of characters (there are a staggering 70+ including unlockables), and then choose two assist characters, who help from the sidelines as opposed to forming a switchable tag team.
Gone from previous Naruto games are the QTEs, which is surprising given how simplistic the combat is already, and how, in the previous instalment in the series, the incredibly animated QTE bits were a joy to behold and actually sat quite well with the rest of the fighting engine.
If the QTE removal is baffling, then the way the dodge manoeuvre is implemented goes some way towards balancing things out. In the past, particularly in VS mode or online, Naruto battles could quickly devolve into a duel between two spamworthy abusers of the dodge manoeuvre. Here, you are limited to how many times you can use it (there is an on-screen bar). It is crucial you keep an eye on this as once you lose the ability to dodge, you are far more likely to get your head caved in and lose the bout.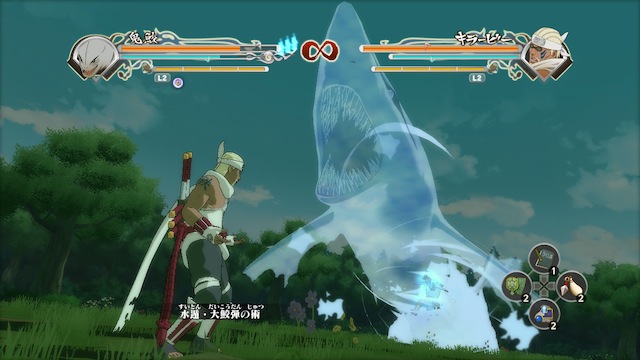 Another new addition is the Awakening Mode mechanic. Once your life bar reduces past the halfway mark, you can unleash a fearsome alternative version of your character, increasing their strength and lending them a bestial appearance in the process. Series pin-up boy Naruto turns into his scary Tailed Beast Chakra alter-ego in this form, which gives you a limited amount of time to inflict some spiteful "desperation" style damage on your foe.
LONGEVITY: Story mode features the aforementioned animé cutscenes and different tales to work through depending on which character you select. Only a few of the roster have their own story mode, which is understandable, I guess, given the numbers involved. Unlockable characters, and special unlockable assist characters who cannot be used in straight-up combat, are unlocked through the Story Mode. Sadly, I found that a large proportion of the characters were simply palette swaps or slightly altered versions of existing ones with nothing in the way of new moves, so although there are an impressive amount, it is unlikely you will be bothered to get them all; unless you are a Naruto-obsessive.
Versus mode is understandably catered for, and there is a great, progressive Survival mode, featuring attainable, bite-sized chunks of action as opposed to an endless, aimless slog. Surprisingly, Generations really does shine with its online modes, with a plentiful amount of options to tinker with. It is simple to enter into, say, four and eight player online tourneys, at the click of a button. The online code was flawless when I played, with speedy loading times and zero lag.
Like most of today's fighting efforts, you are asked to create a "gamer card" which features the option to include status-changing cards that can alter how your character plays in the custom version of online play. Some of these cards are apparently tied in with codes that are given away with the actual Naruto Trading Card Game, something which I am unable to pass judgement on, seeing as I gave up rectangular collectables after Panini's World Cup 94 sticker collection. It is hardly on a par with Capcom's recent Gem system, but makes things a little interesting nonetheless.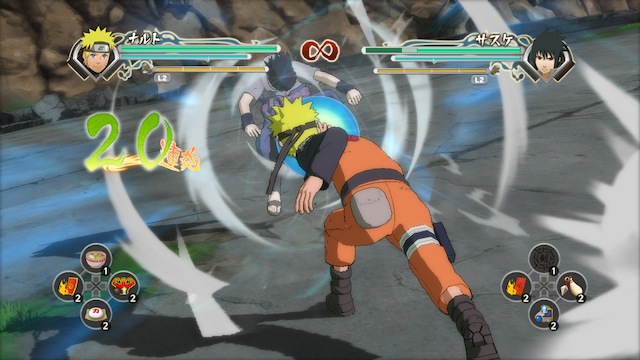 Progression through the game unlocks in-game currency which can be used in the virtual shop to purchase additional artworks, movies, titles and cards for your gamer card, among other goodies.
VERDICT: This is a curious release. Is there really any reason to recommend this over the preceding Naruto Shippuden game? On the plus side, Cyberconnect2 have done the fans proud with the high-quality animé scenes that have been included, which were done with the assistance of the animation studios responsible for the original series. The game looks and sounds brilliant and has a rock-solid online mode that delivers the goods for those wishing to play with like-minded Naruto-heads across the globe, including the introduction of the ninja card battle stuff, which is well-implemented. I was also impressed by the excellently paced Survival mode.
In terms of progression and the actual core gameplay, the game almost takes a step backwards. There is still only one button. Say what you like, but for a fighting game in 2012 that is an unacceptable lack of depth. Tactics boil down to successful and infrequent use of the dodge manoeuvre, coupled with some button mashing and the occasional transformation into beast mode.
You know what though? It is still fun, for a while anyway. Seeing a fully interactive Naruto animé unfold before your eyes is always going to be impressive, and I am always a sucker for any kind of Japanese crazyness, and this has it in spades. Long term fans are going to love the soulful movie scenes, and dig the mega-roster. Just be wary if you already own the last two titles in the series when deciding whether to shell out on this latest version.